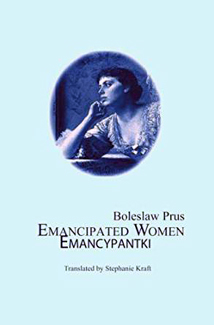 Emancipated Women
(Emancypantki)
By Bolesław Prus
Translated by Stephanie Kraft
Great storytelling and social history are the essential elements of 19th century novels.
Stephanie Kraft's new translation of the Bolesław Prus novel, Emancipated Women, does this beautifully. In Prus, Kraft found a surprisingly modern writer, a man ahead of his time. Emancipation? Manners and morals notwithstanding, the key is in the economy, ladies.
While Dickens and Trollope certainly addressed social issues such as class and poverty, in Emancipated Women Prus also addresses a very modern issue – the liberation of women – and his approach took me by surprise.
As it happened, I was just in the process of moving to a new home when I was reading Kraft's translation and as I was sorting through things, including books, I chanced across an old copy of Daisy Miller. Yes, the spirited and lively American Princess who wanted the freedom to be herself, not giving too much thought to the fact that it was a freedom she only had because a rich Daddy made it possible. Still, she was an exception in a sea of women all of a type, all mired in conventional thinking.
But that was not Prus's view of women, nor his idea of liberty. His novel is a canvas with such diverse female figures, all of them working: teachers, seamstresses, shop assistants, clerks, headmistresses of their own schools and proprietors of boarding houses, actors and laundresses. Warsaw is a hive of working women. Though to be sure, a level playing field it was not.
Work was the important thing. At real jobs, and paid for their work. They had dreams, but they wanted to realize their dreams through their own efforts, on their own terms. Liberation could only be achieved through economic independence. Really! Bravo, Mr. Prus.
There are other social issues. Class. Education. Prus doesn't address the political situation. Voting rights for women are not an issue at a time when Warsaw was under Russian rule and nobody voted anyway. National independence? Prus doesn't go there. It's all about education, work, accomplishment. Deeds not words. A Positivist through and through.
And a good storyteller. Emancipated Women comes in two volumes. In the first, our heroine, Magdalena, is at school. Studious and disciplined, she is also quiet, obedient, and shy. She blushes at the first hint of attention and casts her eyes down when addressed. Prus was obviously so aware that the ideal woman of the time was not to draw attention to herself, let alone be assertive, he rather overdoes the blushing… but by Volume II Magdalena has overcome this.
This is a novel about women and has a great cast of female characters from every walk of life, each one with a distinctive personality, each with her own specific struggles which she addresses in her own distinctive way. We meet early feminists in the Women's Alliance who argue about tactics and strategy but also women whose lives are constricted by custom. And, always, they live under the shadow of those intractable difficulties: unwanted pregnancy and men.
What about the men? Not nearly so interesting as the women. Work? Not so much. Charming and irresponsible? Rather much. Was Prus too hard on his own sex? Or merely a keen observer? If custom can have an effect on women, it's only natural that it can also affect men, especially when custom is so much in their favour.
For all its characters, the novel contains not a single clergyman, though some excellent portraits of nuns. Working women again: hospitals, orphanages. Not much about church attendance. In the 19th century, the Roman Catholic Church was far from monolithic and ethnic and religious pluralism remained as much a feature of the country as it had been during the Commonwealth. Indeed, Prus scarcely notices the various religions then common in Poland, other than a couple of brief mentions of Jews in neither a negative nor a positive position, merely people from whom you could buy a horse or borrow money. On a different level, however, there is some philosophical discussion of established religious thinking, especially the key issue of belief in a God, or in an afterlife.
But class can't be avoided. Prus was not a great admirer of the nobility, especially those frozen in a world of such limited horizons that, privileges notwithstanding, one can scarcely believe they themselves could stand it. Still, they too could aspire to something better, a life based on work and merit. Such characters do appear, enlightened members of a growing new class, the intelligentsia.
At a time when Poland was, as Alfred Jarry put it, "Nowhere," the Poles in Poland were very aware of all those others who were somewhere. They admired all things western, imagining everybody so far ahead of them in all things, including the emancipation of women. They would probably not have believed the ridicule and humiliation endured by suffragettes in England. Oppressed by Russia, surrounded by powerful empires, the Poles believed the promised land was clearly in the West. How little has changed.
Stephanie Kraft has really given us a gift.  Emancipated Women is so full of surprising information about 19th century Poland, a society of diverse attitudes, opinions, aspirations and longings. Asked what inspired her to translate this novel, Kraft said it was a film based on another Prus novel, Lalka. She was electrified the moment Mariusz Dmochowski, in the role of Wokulski, appeared in the film.  Lalka would make a great TV serial, she said, much of the action taking place in a Warsaw store.  Like Mr. Selfridge?
Kraft is of the opinion that Poles consistently underrate their own culture. They are still in thrall of the "West," much like the characters in this novel. It is one thing to want to learn from other cultures, but it is quite something else to think that your own has nothing to offer.
Kraft's first attempt at translation was with a few short stories by Stanisław Dygat. When finished she showed them to Robert Rothstein who teaches Slavic and Yiddish literature at the University of Massachusetts. He was kind enough to read them and, better still, thought her work pretty good. That was all she needed to get on to a Prus novel.  For that, I am very grateful to Rothstein.
I heartily recommend Emancipated Women. A wonderful change from the tiresome search for husbands in an Austen novel, and as enjoyable as Dickens and Trollope – though perhaps offering a bit more for discussion. It's a wonderful window on Polish culture in a bygone era and issues we are still grappling with today.
Prus also gives us a surprise ending, in that he doesn't end it at all, much like Shaw's Pygmalion. Yes, dear reader, he leaves it to you to decide how Magdalena will choose to lead her life. And just that alone could launch an animated discussion. So gather together the romantics, the pragmatists and the cynics among your friends, read Emancipated Women, and see if you can agree on the perfect ending.
CR