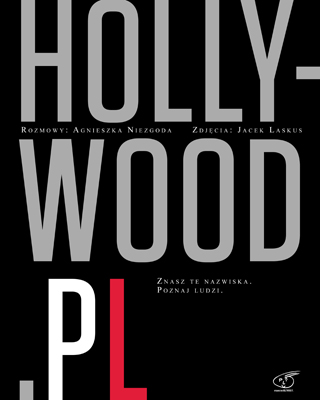 When Hollywood.pl was brought to my attention, I was not much attracted. Described as a "coffee table book," with all that implies – an overweight picture book with bits of bland text – it took a bit of nudging to give it a look. I will be forever grateful to the nudger.
The idea for the book was casually mentioned at a boozy dinner in a Warsaw flat when the conversation turned to successful Poles in Hollywood. Photographer Jacek Laskus mused that he'd like to photograph them; journalist Agnieszka Niezgoda threw in a casual offer to interview them. This unpromising start turned out to be the miraculous conception of Hollywood.Pl: Beyond the Dream: Personal Roads to the Silver Screen, a series of portraits and interviews with successful and engaging Polish artists working in film in America.
Sure enough, the book is heavy, with lots of photographs. But these are not just pictures; they are studies of artists, reflecting character, intelligence, mood, and spirit. Laskus is a gifted artist himself. And then there's the text, every interview on par with the fabulous photographs. There's one photograph taken not by Laskus but by Niezgoda, on her cellphone but this plain black-and-white picture says so much about the man who, asked about success, simply said: "Maybe it's a matter of talent, is it not?"
You won't find any manufactured celebrities here. Hollywood.pl is about talent and complex lives; it is about emigration, about life in America and Poland, France and England, about culture shock and adaptation, and about multiple identities, but also very much about the artists' skill and their passion for their work.
Niezgoda and Laskus were not interested in name-dropping or scandals. They sought out 23 artists – directors, screenwriters, composers, actors, cinematographers, production designers and wardrobe designers – creative people who realized their own dreams of success in the dream capital of the world. Although, they are not mere dreamers, as quickly becomes evident.
And if among this stellar cast there is a supporting player worthy of an award, it is the National Film School in Łódź, an oasis of freedom in communist Poland, where all of these artists could watch film masterpieces denied to the public at large, where they could have free discussion, friendships untouched by the regime, and where they acquired the skills that placed them among the world's best. It's not easy to select a few for mention but here goes.
A successful screenwriter, Agatha Dominik, made it in a field where women are a tiny minority and foreigners are almost non-existent. She writes "without an accent," so producers don't realize she's not American. Or that she's a woman… until after they've read and liked her work.
Oscar-winning composer Jan A. P. Kaczmarek's arrival in America is crazier and more exciting than anything a Hollywood script could dream up. And where do you find a character like him? A youthful "anarchist" who hated the constraints of communist Poland, played with a rock band, studied with Grotowski, did anything to go beyond the "barren utilitarian horizon of socialism." Asked how to compare gloomy Eastern Europe to sunny California? In Poland, "the allusiveness of expression was alluring to me. Americans are blunt, but effective." He said much more. Read the rest.
Zbigniew Rybczynski is an artist, a painter who applied to the film school in Łódź with no portfolio, only hundreds of rolls of his canvasses. He was accepted because "they never saw such a madman before." He recalls pre-1989 Warsaw ("Buñuel's surrealism") and the great excitement of Solidarity. Now, he thinks New York and the Mediterranean coast are the "heart of the world." He loves living in Wrocław too, but he could live anywhere.
Anna Biedrzycka-Sheppard, a costume designer, who designed for Zanussi and recalls a three-week hunt for materials for one costume in Warsaw but in a flash was able to understand "a summer mink coat." She left for London, a discouraging time working "a day job" in London in a clothing boutique when suddenly she was asked to design for Spielberg, then Polański, Captain America and Quentin Tarantino and commands a design team of 80 people. All that balanced with love and devotion for her daughter.
And on it goes. Oscar-winning production designer Allan Starski can work anywhere: New York London, Hamburg, Paris and feels well wherever he goes. But he can only live in Poland.
Cinematographer Adam Holender's life would not be believed if filmed: he saw his first movie in a Gulag camp, starving prisoners shown decadent America. He arrived in this America, in New York, in 1966 with a few hundred dollars and was struck by "a hypnotic impression of urban energy. Of severe poverty juxtaposed with opulent wealth, people of all races, mingling, bumping into each other, some of them nice, some rude. The heart of humankind!" He drove a truck until life imitated a Hollywood movie and, like an understudy, he stepped in for another cinematographer and from there he worked with the greats: Dustin Hoffman, Faye Dunaway, Al Pacino, Paul Newman. Unwilling to compromise his artistic integrity for money – any more than formerly with communism — he partnered in a profitable company producing commercials, leaving him free to choose only the scripts that interested him.
There's no Polish Hollywood without Roman Polański, whose first impressions of America were that the people were genuine, friendly, open to new talent. He noted the welcoming charm of Hollywood, especially by people who were already established. Quite a contrast to his introduction to France. Another early memory: the Farmer's Market in LA dazzled him with the incredible perfection of the fruit on display… which was totally tasteless. The opposite of Poland, where it was ugly but delicious. His "sentimental feelings for Poland grow" as time passes; he recalls friends, parties, vodka, food. But he left without hesitation; he was "an optimist and arrogant," as to be expected from the young. Great conversation.
Agnieszka Holland did not come across as sympathique. However, reading on, I noticed that so many of the others talk about her with great affection, noting especially her generosity. Just as some people are photogenic while others are not, I came to the conclusion that she just doesn't interview well. But her admirers more than made up for it.
Buy this book, for yourself and also for everyone on your gift list. Much more interesting and long-lasting than flowers. If you teach, there's no better text for social history, or studies of identity and memory.
Niezgoda brings together people whose lives and views on life are as exhilarating to read as they must have been to live, people who have not been restricted by any borders, while at the same time remained comfortable in their affections for their own, for the familiar. And by no means is this for a Polish niche audience.  Here you will find the mutual perceptions of people encountering a new society, and that society's response to these new "others."  Not a bad thing for anyone, and rare, possible only in a book about people who have successfully crossed cultural divides. Niezgoda and Laskus are to be congratulated, and thanked.
CR