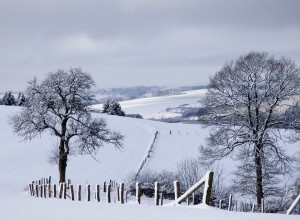 The focus this issue is books. But first, CR has an important announcement. Due to the heavy demands of her new job, Justine Jablonska has had to reluctantly bid farewell to CR, at least so far as handling the website and layout. We are delighted to say, however, that she has joined our stellar list of Contributing Editors and you'll be hearing from her again.
To the rescue came Margaret (Małgorzata) P. Bonikowska and Tomek Kniat, appearing like dei ex machina at a critical moment. CR is once again in capable hands. Margaret is the editor-in-chief of Toronto-based GAZETA as well as the web editor of its online version www.gazetagazeta.com, which she produces with Tomek. They are soon launching a weekly English language podcast – Polcast – that will feature conversations about (and with) interesting people, places and things Polish. We are appreciative of their offer to handle CR's website and look forward to a successful collaboration that will introduce us to a much larger audience.
Back with CR and books, we begin with a long-awaited book about an odyssey that is an essential part of the identity of thousands of survivors and their descendants in Canada, the United States, and across the world. Nobody could tell this story as well as Norman Davies in his latest book, Trail of Hope: The Anders Army, an Odyssey Across Three Continents. I assigned this review to myself because, as you will note from the start of the review, I love this story. If that is a conflict of interest – I can only say that not to love it would be tantamount to saying I do not love my life. Like all postwar immigrant kids I encountered the taunts: you are a DP, what boat did you get off of (their grammar, not mine). Well, said this Polish kid: Yes! I've been all over the world. I came to Canada on the Empress of France, and before that sailed from Africa to England on the Caernarvon Castle. Do you want to see the pictures? It was quickly established among my new friends just who had the most interesting stories to tell. Trail of Hope is not an academic work, and to date there is none, but any young scholar who reads this and is not seduced by the most unusual story of WWII – dramatic, sad, poignant and sometimes funny – is missing an exciting opportunity to break new ground.
We depart from our usual policy of reviewing only books in English because Olga Tokarczuk's novel, Księgi Jakubowe, is impossible to ignore. The subject is the little known event that occurred in 17th century Poland when Jacob Frank, a messianic Jewish leader – to some nothing more than a rogue and a charlatan – converted to Christianity and took thousands of his followers with him. Condemned by the Jewish community, rather suspicious to some Poles, the Frankists were nevertheless largely welcomed by Poland's upper classes with many nobles standing as godparents at the first mass baptism, Augustus III himself standing for Frank. Frankists have a rich and colourful history, counting among their descendants the composer and pianist Maria Szymanowska, the multi-talented Boy-Żeleński, and Poland's national poet, Adam Mickiewicz. If you are just learning Polish, Tokarczuk's novel is not for beginners, but you definitely should know about it. We hope it will appear in translation before too long. Publishers, take note! Polish readers can find a Polish review in GAZETA.
New York Review Books has published a new edition of Miron Białoszewski's Memoirs of the Warsaw Uprising, translated by Madeline G. Levine. First published (though censored) in the 1970s, this is a gripping account of that unheralded agony, that of civilians. Terror becomes the normal, home is where you make it, food you share even if made with just two ingredients, and you greet friends you thought dead happily, but calmly. "You're alive." No exclamation point. Patrice Dabrowski is back with her usual incisive review.
Witness: Passing the Torch of Holocaust Memory to New Generations is a collection of prose and poetry compiled by Eli Rubenstein, the national director of the March of the Living in Canada. Powerful, sensitive and inclusive, it promotes respect and dignity for all people in our troubled world.
Maja Trochimczyk returns to CR to review John Guzlowski's memoir in prose and poetry, Echoes of Tattered Tongues. It's a son's beautiful, sometimes heartbreaking, always moving tribute to parents for whom the war never ended.
Early Polish immigrants to the United States had a voice — and a lively press to record it. Anna Jaroszyńska-Kirchmann's new book, The Polish Hearst, Ameryka-Echo and the Public Role of the Immigrant Press, tells that story. Karen Majewski reviews. CR has noted both Jaroszyńska and Kirchmann before.
For a fast forward to the 21st century, Joanna Mishtal's The Politics of Morality weighs in on contemporary issues seemingly just as contentious in Poland as in America. Jodi Greig reviews.
Last fall, I moved to Ottawa, my new home not far from a cinema hosting the European Union Film Festival. Didn't have time for all thirty – still unpacking – but enough to decide on two favorites: Poland's Bogowie, Estonia's The Fencer (actually, a film from Finland), and a brief note about a quirky doc about that English fellow who has been translated into virtually every language in the world.
CR is pleased to introduce a new contributor, Tom Frydel, reviewing Joshua Zimmerman's thoughtful examination of The Polish Underground and the Jews, 1939-1945.
Frydel joins a growing list of young scholars contributing a fresh look at issues old and new related to… things Polish. We have featured Diana Sacilowski, University of Illinois, Urbana-Champaign; Alena Aniskiewicz, a PhD candidate at the University of Michigan; Łukasz Wodzynski, who has completed his PhD and is teaching Polish and Russian literature at the University of Toronto and McMaster; Michał Kasprzak, PhD University of Toronto, teaches at Ryerson University and serves on the Board of the Canadian Polish Research Institute; Jodi Greig, a PhD candidate at the University of Michigan; and Amanda Chalupa, pursuing her PhD at McGill focusing on children caught in the deadly vortex of war.
We take great pride in adding their voices to those of our contributing editors, notably Beth Holmgren, Magda Romańska, George Gasyna, Tamara Trojanowska, Nathan Wood, and Anna Mazurkiewicz. To that, add Patrice Dabrowski and Maja Trochimczyk, M.B. Biskupski, Thaddeus Gromada and Piotr Wróbel… well, that's the crème de la crème. Thank you all.
Much as we appreciate the academy, we delight in some others. First, Lynn Ludlow and Maureen Mroczek Morris with their marvelous stories of Polish California in its Golden Age. This issue features a belated invitation to a gala at the Metropolitan Opera in honour of Madame Helena Modjeska. Black tie, RSVP. 
Agnieszka Tworek has provided profiles of Poles and Polish Americans in the arts. Agnieszka Niezgoda looked at Hollywood. Former Globe and Mail journalist, Stan Oziewicz, recalled his family's history… and brought to our attention that Poland and Italy are the only two countries that mention one another in their national anthems. And, of course, Justine Jablonska took extra time to write features, interviews, and to make CR's photo essays so memorable.
And since gratitude is the order of the day, we propose a toast to Antoni Kowalczewski, who has hosted CR from day one, handling glitches, and rescuing us from hackers, and all this pro bono. This year CR felt this must be noted, so we made a donation in his name to War Amps, the wonderful organization set up after WWII and since then offering major support for child amputees.
Welcome to Cosmopolitan Review Winter 2016.