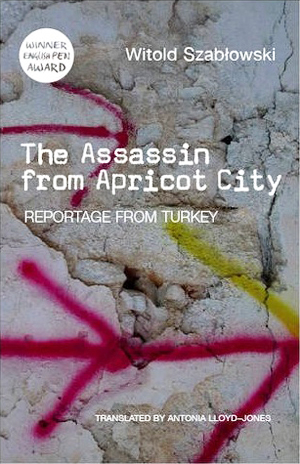 The Assassin from the Apricot City: Reportage from Turkey
By Witold Szabłowski, translated by Antonnia Lloyd-Jones
Stork Press 2013
The Assassin from the Apricot City is a collection of stories set in Turkey written by a young, very talented, award-winning Polish journalist, Witold Szabłowski. This is literary reportage at its best, rendered beautifully into English by the award-winning translator, Antonia Lloyd-Jones, though the book cautions that the characters are fictional.
The story that gives its title to the book is the tale of Mehmet Ali Ağca, born in the village near the city of Malatia, where the summer is green and orange, with the scent and flavour of apricots. When you think about Turkey, the man who shot the Polish pope, John Paul II, rarely comes immediately to mind. However, Szabłowski describes Ağca not just as "the would-be Pope murderer," but provides insight into Ağca's childhood circumstances to explain his actions.
Szabłowski researched and identified connections between Poland and Turkey and showed that there are more things in common between the two nations than one might believe. Ali Ağca's story is just one example. Others include a story about Konstanty Borzecki (known also as Mustafa Celaleddin Paşa) whose mid-19th century book, Les Turcs anciens et modernes (The Ancient and Modern Turks), articulated his belief that Turkey should be treated as an European country. Mustafa Kemal Atatürk – "the Father of the Turks" – took this perspective to modernize Turkey along European lines. With that sort of influence, it is not surprising to know that Borzecki has been called "the Forefather of the Turks."
Szabłowski uncovers other connections, such as the story of Hikmet – the Polish-Turkish poet well known for his deep belief in the communist system and his never-ending love affairs. And many other similar stories that help the reader discover and see Polish politics, the past of the Polish nation and the Polish people from a very different, new, and incredibly interesting perspective.
Szabłowski's collection of stories shows Turkey as a deeply bipolar country. On the one hand, it is very modern with a strong dedication to individual rights and a liberal approach to sex. In stark contrast, Turkey is also a very conservative country with existing practices like honor killings or arranged marriages, which young Turkish people nowadays don't really want to follow.
We are sailing from Europe to Asia. The journey takes about a quarter of an hour. Here there are businessman along with beggars, women in chadors with women in mini-skirts, non-believers with Imams, prostitutes with dervishes, the holy with the unholy – all Turkey on a single ferry (…) Every Turk hovers between tradition and modernity a thousand times a day – the hat or the charshaf [veil]; the mosque or the disco; the European Union or dislike of the European Union.
Szablowski creates the connections that make this book so interesting. Not only is he often in the right place at the right time, but he is a good listener. As an accomplished journalist, he is able to draw information from his subjects to paint a vivid picture of contemporary Turkey.
Examples of the questions that Szabłowski asks (and tries to get the answers to):
how to put a rubber on an aubergine?
how to hold a Pride March in Turkey?
how to cure not-good fick-fick?
how to pick up a Turkish girl?
how to burn off your hair?
"Everything is politics," he notes, quoting Thomas Mann, and Szabłowski clearly agrees. This is why some of his stories have a strong political undercurrent, especially when he explores the Kurds and their contemporary situation in the eastern part of the country; the position of women in Turkish society, as part of a magnificent description of Turkish ex-prostitutes who decide to run for political office; or the well-known debate about wearing the Muslim veil.
There are a lot of colors, flavors, smells and sounds of Turkey in this book, and many incredibly vivid and interesting stories about particular Turkish cities and villages like Adana, Gaziantep or Edirne. As Szabłowski uncovers Turkey, his book is like traveling around the country and discovering different places, cultures, environments and very different people that one may meet on his/her Turkish way.
And this is the Turkey that Szabłowski presents in his collection. If you want to explore such a country, it is a real must-read! And fingers crossed wishing for the Szabłowski's next book. Can't wait!
CR