Looking for a foreigner's guide to Polish literature? Or to visual arts, theatre, dance? Or how about Poland's six centuries of diplomatic relations with Turkey – even during the partitions when Poland's other friends turned away. Check it out and if you're visiting Istanbul this spring, go see the exhibit at the Sabanci Museum. This year is Polish Year in Turkey and this exhibit is just one of many cultural events celebrating Poland-Turkey taking place this year.
---

Editors Kasia Jaronczyk and Margaret Nowaczyk have secured Guernica Editions, a Canadian publishing house focusing on "the pleasurable understanding of different cultures" to publish an anthology of short stories connected to the Polish diaspora.
Kasia, who is a microbiologist with a special love for literature, has published short stories and poetry in Canadian literary magazines. Her friend and co-editor, Margaret, is a pediatrician and clinical geneticist who finds creative writing the perfect complement to her busy professional life. She has published a number of short stories as well as a best-selling book on genealogy, Poszukiwanie Przodków (Searching for Ancestors) in 2005.
The submission deadline is January 31, 2015.
---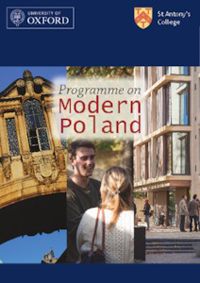 The best program in Polish Studies ever was launched in July 2013 at St. Anthony's College, Oxford. The Programme on Modern Poland, also known by its very cool acronym, POMP, is part of the European Studies Centre, which "ensures that the study of Poland is removed from the traditional Cold War, Soviet and Slavic oriented approaches, and undertaken in comparative, interdisciplinary and transnational perspective with other European countries, regions, institutions and developments."
POMP's founders are stellar authorities on the subject: Professors Timothy Garton Ash, Norman Davies, Jan Zielonka and Margaret MacMillan (Warden of St. Anthony's College). The goals of the Programme are to correct Western European bias in British academia and public sphere and to direct and coordinate conferences, seminar series and workshops, academic publication, scholarships, translation funds, and help establish international networks of scholars and student exchanges.
The initial funds to establish POMP were generously donated by Dr. Leszek Czarnecki and Getin Noble Bank who was inspired both by Poland's success and by his belief "that private capital has a serious obligation toward Poland where, as a result of the transformation, we have had an opportunity to build our businesses."
---
The English version of a graphic novel about Jan Karski's life and times has just been released. Commissioned by the DC-based Jan Karski Institute to mark the 100th anniversary of his birth and the Polish Parliament's declaration of 2014 as the Year of Jan Karski, the book tells the story of the heroic Polish underground courier who tried to alert world leaders to the tragic events leading to the Holocaust in German occupied Poland during World War II. With artwork beautifully rendered by Ewa Labej and an excellent script by Jerzy Porebski, it is an essential addition to every library, at home and at school.
CR