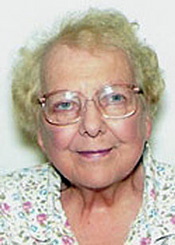 Professor Anna Cienciala, who died on Christmas Eve, was a brilliant scholar, an internationally recognized authority in the field of diplomacy in Eastern Europe and wartime relations in the 20th century, and a great teacher whose warmth touched everyone lucky enough to have met her.
It was my pleasure to invite Professor Cienciala to be a speaker at the first "Poland in the Rockies," a symposium in Polish Studies held in Canmore, Alberta in 2004. When told she would be speaking to a group of 40-some young people who may know very little about Polish history, she cheerfully said, "Then my lecture better be good!" As if she could do anything but.
Professor Cienciala's most recent work was co-editing, with Natalia S. Lebedeva and Wojciech Materski, translations of selected Russian documents, Katyń: A Crime Without Punishment, published by Yale University Press (2007) as part of a series, Annals of Communism and described by YUP as the most important publishing project of that time documenting a 70-year reign of terror that was largely ignored by Western intellectuals when not actively indulged by them. Over the course of her long career she published a great many articles in US, Polish, Russian and German publications, and authored two books in international diplomacy during World War II.
A brilliant scholar, she also had an extraordinary personality, cheerful, indefatigable, open-minded, patient, helpful, kind, and always interesting. Joining her at Poland in the Rockies were such stellar speakers as Norman Davies, Tamara Trojanowska, Bill Johnston and Krzysztof Zanussi so naturally discussions continued long after classes ended, in the grass shaded by leafy trees, at a barbecue, or around a campfire. Never tiring, Professor Cienciala insisted she got more out of it all than she put in. Well, that was her way, but we knew better.
A few years later, when alumni from PitR started cosmopolitanreview.com Professor Cienciala offered not only encouragement but generous support, plus an op-ed piece, Poland, Russia, and Katyn: Is Reconciliation Possible? This was a topic that meant a great deal to her, and it was a great honour for CR to publish it, but she said she was very pleased to get this "assignment."
It was always such a pleasure to have lunch or coffee with her whenever we met at a PIASA conference. She will be sorely missed at the next one, in Toronto in June. But she will always be fondly remembered, for her smile, her friendliness, and her wisdom.
CR