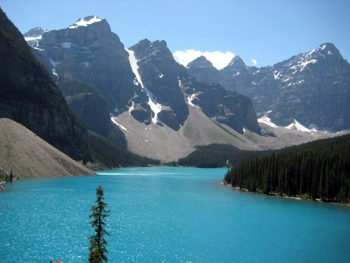 UPDATE, January 2014: PitR alumni wouldn't let this happen. PitR 2014 is on!
Last issue, CR announced that Poland in the Rockies would begin a new cycle in 2014, the 10th anniversary of that first joyful, stimulating, totally original symposium that explored being Polish, no matter where you were born or what language(s) you spoke. They came from all across Canada and the United States, as well as from Europe and even South Africa. Half Polish, all Polish, or not Polish at all, participants arrived equipped with English heads and Polish hearts or acquired these essential elements soon after arrival.
PitR alumni kept in touch, telling us about their continuing activities in things Polish, ranging from starting Polish book clubs to taking courses in Polish studies – no matter what their main filed of study is. Some must be mentioned.
Kinia Adamczyk left PitR and immediately set to work to get a "newsletter" for the alumni to keep in touch. Well, that very first issue of the newsletter came out as cosmopolitanreview.com, and is still going strong. The original webmasters, Antoni and Jan Kowalczewski, are still with us, and they are engaged in other things Polish pretty much non-stop. Also on the original team was Judith Browne, now back in South Africa writing, editing and engaged in community work. Justine Jablonska is currently an editor of CR, Anna Kisielewska has done double duty working both on CR and heading The Canadian Foundation for Polish Studies, co-organizer of PitR together with the Polish Canadian Association of Calgary. Kamil Mroz dreamed up the first Quo Vadis conference in Ottawa, now an annual event staged in both Canada and the US. And Paul Sulżycki, the indefatigable spark behind Iskra. All of these people would immediately want to include all their collaborators and CR would like to expand this list to include everyone who has continued contributing to the PitR goal: integrating the Polish narrative into the mainstream, wherever we are.
PitR was dreamed up by Calgary-based lawyer, Tony Muszynski, whose idea was to create the kind of program that he would have liked – and needed – when he was at university. Part of his plan was to invite the most stimulating speakers we could find, and that first edition of PitR set quite a standard: Norman Davies, Tamara Trojanowska, and Bill Johnston, all of whom were to make return appearances, Bill not missing a single one.
They were the first to be invited to the new cycle in 2014 but, unfortunately, PitR 2014 has had to be cancelled, though nothing will ever erase the wonderful memories. We reprint below, with permission, Paul Sulżycki's paean to PitR, which he wrote when he first heard that plans were afoot for a new cycle of PitR. It's not surprising that he singles out our three essential friends of PitR, Professors Davies, Trojanowska and Johnston.
Paul wrote this to inspire more young people to attend. As it turns out, it is, instead a farewell to Poland in the Rockies. But oh, what a heartfelt and eloquent farewell it is. Thank you.
* * *
White Magic
By Paul Sulżycki
It was one of the most memorable summers of my life. I had just a few courses left at university before I would be an official graduate. Not quite an adult, yet no longer fully immersed in the snug university bubble, I was still far enough away from the Real World to forget about it a little while longer. This was where I made one of the smartest decisions in my life: I packed my suitcase and hit the road.
That summer I set out to chase down opportunities that I knew would soon be out of reach. Barely finished my exams, I flew to Jonquière to take part in a 5-week intensive French immersion program, then moved to Ottawa for a few weeks to work at Bluesfest, finally heading out to a once-in-a-lifetime experience in tranquil Canmore, Alberta.
The ten days I spent there changed my life.
Poland in the Rockies is… oh gosh, where to begin. It's billed as a "unique 10-day program for young Canadians and Americans of Polish descent, mainly for those who do not speak Polish, have little or no contact with Polonia, but would like to learn more of the history and culture of Poland". Simple enough. But it is much more than that. It's a connection and, if you're standing over the Atlantic with one foot here the other there, it's home. Here, listen:
A significant turning point in my life occurred in Canmore. While there, we would often coalesce, our group 50-strong, into a ring around a speaker as they told us of Poland's history, her chivalry, her romance. During one of these gatherings we were at a high-class conference centre (everything at PitR is ritzy), huddling around Bill Johnston and Tamara Trojanowska. Bill is a lauded translator of Polish texts and professor of comparative literature at Indiana U who, aptly enough, reminds me a bit of Indiana Jones in his calm demeanour and quiet, relaxed presence. Tamara is an esteemed professor of Polish literature at U of T who rings transatlantic like Christopher Hitchens, but with more grace and charm, and whose class lends her an unmistakable Izabella Scorupco air.
And so began my immersion into a completely new world.
"I'm going to read you a poem by Baczyński, only I might tear up. I've never been able to finish it aloud before."
All right, Bill had my attention.
"Tamara, if I falter can you just pick up where I leave off? Thanks. Okay… Stojąc przed lustrem ciszy…"
He didn't make it very far. Somewhere between the lover's thoughts and the serene imagery, Bill collapsed, huddling inwards, choked on his tears, and quickly handed the text over to Tamara.
It was like watching a movie.
I had only been hit hard by a poem once before, but this was something else. And the poem, the poem was sublime. It was naked, stripped of all but the pure, the necessary, the image. And it enthralled.
Read on in Polish if you can. Slowly.
Biała Magia
Stojąc przed lustrem ciszy
Barbara z rękami u włosów
nalewa w szklane ciało
srebrne kropelki głosu.
I wtedy jak dzban – światłem
zapełnia się i szkląca
przejmuje w siebie gwiazdy
i biały pył miesiąca.
Przez ciała drżący pryzmat
w muzyce białych iskier
łasice się prześlizgną
jak snu puszyste listki.
Oszronią się w nim niedźwiedzie,
jasne od gwiazd polarnych,
i myszy się strumień przewiedzie
płynąc lawiną gwarną.
Aż napełniona mlecznie
w sen się powoli zapadnie,
a czas melodyjnie osiądzie
kaskadą blasku na dnie.
Więc ma Barbara srebrne
ciało. W nim pręży się miękko
biała łasica milczenia
pod niewidzialną ręką.
Krzysztof Kamil Baczyński
4 I 42r. w nocy
White Magic
Barbara stands at the mirror
of silence, and her hands reach
to her hair; in her body of glass
she pours silver droplets of speech.
And then like a water pitcher
she fills with light, and soon
she has taken the stars within her
and the pale white dust of the moon.
Through her body's trembling prism
white sparks of music will leap
while ermine will creep through her
like the downy leaves of sleep.
Bears are rimed in its hoarfrost
with polar starlight imbued
and a stream of mice pours through it
in a clamorous multitude.
Till slowly she drifts into sleep,
filled all with milky white,
while time melodiously settles
deep down, in a tumble of light.
So Barbara's body is silver.
The ermine of silence within
arches its white back softly
at the touch of a hand unseen.
Krzysztof Kamil Baczyński
January 4, 1942, three o'clock in the morning
Translated by Bill Johnson
I don't know what captured me. It might have been the beauty of the Polish tongue through my mind, fully felt for the first time: the low, present rumbling of r's, rolling like thunder in the distance, the rhythmic clacking of t's and k's – lightning lighting up the smooth flow of c's and s's, themselves swishing like a gentle breeze through the trees of prose. It might have been hearing perfect silence in a full room as a grown man was dismantled by just words, it might have been the intense feeling of all of us hearing our story for the first time, together. I do know, however, that something clicked in me that day, something changed. I began experiencing the world differently, more acutely, more thankfully, more intensely.
Editor's Note: Paul wrote this piece once he'd heard there would be a 2014 Poland in the Rockies. Now that that's not to be, he's written a new ending to his piece, as follows:
Poland in the Rockies, in a very literal way, made me who I am. It showed that I am not alone and that there are others who have the same history, the same questions, who wonder at the same things. And it sparked (and then fed) an unabashed pursuit of the finer things in life. For all this and more, I cannot help but be infinitely blessed and grateful. Goodbye? No. The imprint left is too meaningful. Until we meet again!