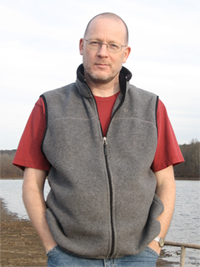 "Bill Johnston… was from another world. When many of us were dreaming about leaving Poland, here he was, settling right in!" – So recalls Tamara Trojanowska of her early encounter with an English teacher who mastered the Polish language.
I have been getting used to Bill Johnston's thriving career for the last twenty years, with each translated book and its subsequent success, the news of which was reaching me one award at a time. I remember the useful Fellowships of the National Endowment for the Humanities that allowed him to work on his translations, the honorific award of Amicus Poloniae, as well as the prestigious AATSEEL and Found in Translation Awards. This last award I recall particularly well, for I was able to celebrate it with Bill in person at Indiana University during the 2008 International Conference in Polish Studies, the first progeny of a now bi-annual conference series that I initiated two years previously at the University of Toronto in collaboration with Bill, among others.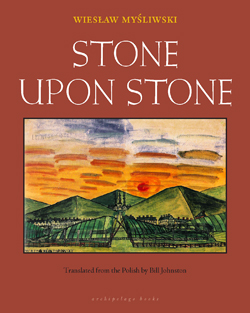 Over the course of 2012, however, it became increasingly clear to me that I would be sending congratulatory notes to Bill in quicker succession than ever before: not only did his translation of Wiesław Myśliwski's novel Stone Upon Stone win three prizes—the PEN Translation Prize, the 2012 Best Translated Book Award for Fiction, and the AATSEEL Translation Award—but, on top of it all, Bill was once again recognized by the Polish government, this time with the Officer's Order of Merit of the Republic of Poland.
When I first met Bill thirty years ago—in the capacity of an English teacher at language retreats that I attended in Poland—I could not have predicted that he would become the best and most prolific translator of Polish literature of his generation, the most effective ambassador of Polish culture in North America, and a very dear friend. It was the early 1980s, and I had just started my academic career in Theatre Studies at the Jagiellonian University in Kraków where Bill taught English to the faculty. The times were particularly unattractive. Martial Law deflated the enthusiasm and pride we felt during the Solidarity carnival of freedom; our surroundings were no less gloomy, and the conditions of everyday life still harsh. The countless bottles of vinegar adorning the otherwise empty shelves acted as a synecdochic reminder of the sour taste that December 13, 1981 left in our collective "mouth".
Many of those who took English language courses with Bill were in their prime: we were starting our careers, falling in love and getting married (though not necessarily in that order). Bill was no exception… well, except for one important thing: he was from another world. When many of us were dreaming about leaving Poland, here he was, settling right in! What was he doing among us—in long lineups for rationed food of questionable quality, packed like a sardine on trams and buses that never came on time, and managing life as best as he could under the circumstances, with much needed invention and imagination? Young, handsome and Oxford-educated, Bill lived among us as if he were born a Pole, enduring the outrageous absurdity of the Polish People's Republic with surprising stamina. For, unlike most of us, Bill was equipped with something that we all liked and admired—a distinct, no nonsense, dare I say British sense of humor: wry and ironic, for sure, but also less desperate and thus more robust than ours. No less impressive was Bill's impeccable Polish, which he speaks without a traceable accent and at a level that could be envied even by well-educated Poles. The combination was truly perplexing for all who studied English with him. Perhaps by way of neutralizing this paradox, it was not long before we considered Bill to be Polish. I am not sure how much he appreciated such outright appropriation of his identity, but it was really difficult to think about him otherwise.
Our paths crossed again in the 1990s when both of us were already established as academics in North America: Bill as a linguist (though Poles often overlook this side of his very successful career) and the long-term Director of the Polish Studies Center in Indiana, and I as the director of the Polish Language and Literature Program at the University of Toronto. Since then we have met at numerous conferences, collaborated on several projects, and lectured together at "Poland in the Rockies," where Bill's translation sessions became an instant hit with students and guest lecturers alike. The passage of time has not diminished Bill's enthusiasm, communicativeness, or sense of humor as a teacher, which I remember so fondly from Kraków, but only sharpened with experience his pedagogical edge. As someone familiar with the challenges of a long teaching career, I would not be in the least surprised to hear at some point in the future that Bill has added a Lifetime Achievement Award for Teaching Excellence to his growing award collection.
It has been my pleasure to watch Bill flourish as a teacher, a linguist, and especially a superb translator over the last two decades. In this last regard, he has done what very few before him had managed to accomplish for both old and new Polish literature. I can hardly imagine teaching Polish literature without the books that he has translated now; no easier to imagine is the time when I will stop hearing about Bill's next translation success. We should not take what is so good for granted too soon, however. For my part, no amount of congratulatory notes on awards received can express my deep appreciation for Bill's significant and continuing contribution to Polish Studies abroad; may his talent, effort and commitment to Polish literature and culture never go unnoticed.
CR