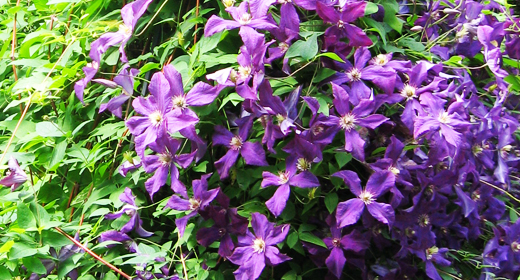 With a fresh and lively look, new writers, lots of reviews and book news, plus great features, CR blends topics light and serious, old and new, all of them focusing – or merely touching upon – something Polish, but not necessarily from a Polish perspective. We remain transatlantic, transnational and transcultural, but always with a distinctive, essential Polish core. Or, if you prefer – Polish spirit, inspired by the magnificent clematis cultivated to celebrate it and named Polish Spirit, pictured here.
For something light, we introduce a designer who combines youthful urban chic with a touch of Polish folk color, and a graphic artist who designs new fonts inspired by old signs from prewar Poland. We have a review of Thaddeus Gromada's book celebrating the mountain culture of the Tatras, while Maja Trochimczyk offers an incisive study of the Polish-American love of folk dancing and of Mazowsze, one of the world's best dance troupes, and its not entirely benign origins.
Beth Holmgren, who wrote the acclaimed book about 19th century star Helena Modjeska, takes a look at some of Poland's cabaret stars of the interwar era, and their influence on the modern Polish woman, while Andrew Borkowski, author of Toronto's 2012 Best Book Award Copernicus Avenue reviews Aga Maksimowska's Giant, which may well win the same prize for 2013.
History is huge, this issue: Iron Curtain, reviewed by Piotr Wróbel; Halik Kochanski's The Eagle Unbowed reviewed by Mikolaj Kunicki; Peter Hetherington's magisterial Piłsudski biography, Unvanquished, gets a stellar review by Patrice Dabrowski; while Michal Kasprzak's review of Aquila Polonica's The Auschwitz Volunteer cuts to the heart of this gripping wartime report. Also reviewed are Kaia, part memoir, part conversation with a heroine of the Warsaw Uprising, and a film, Róża, reviewed by Jodi Greig, which focuses on the grim and complex post-war reality. And Irene Tomaszewski recalls Jan Karski's memorable 1995 visit to Montreal where he captured the hearts and captivated the minds of hundreds – both young and old. A very humble man with a wonderful sense of humor.
Finally, what better way to celebrate Cosmopolitan Review's return than with a party, albeit a virtual party? The guest of honor is CR's favorite poet, teacher and translator, Bill Johnston, who was showered with so many honors in 2012 that anything CR can add would be rather redundant… Still, we must try: We gathered a colleague and some former students just to remind him how wonderful it was to get to know him.
This is, perhaps, the perfect moment to announce that the international Polish studies symposium, Poland in the Rockies, will begin a new series starting in the summer of 2014. This is where most of us met Bill Johnston, and he has already agreed to once again return to the Canadian Rockies to speak about Polish poetry, fiction and translation. The PitR website will be up soon with more details.
Check out our Bulletin Board for exciting news, in brief, about books, writers, and more. It's one of our most popular features, and this time around, we're thrilled to include news on so many books that we've reviewed – either in past issues or this newest one.
We apologize for our long absence but a number of serious issues came up, one of them being that our website was hacked. So now we know and share this news with you: seems we are at least as important as the CIA, Mossad and MI6.
As for the New Look, our intention is that the new website design let our content shine. We'd love your feedback, as you – our readers – are truly the most important part of CR. And if you're interested in being part of our team, we've included submission guidelines  as well.
Happy reading!
© 2013 The Cosmopolitan Review | Vol. 5 No. 1