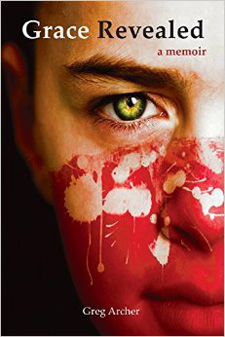 Grace Revealed
By Greg Archer
NorLightsPress
Bedford, IN 2015
An entertainment reporter, a television host, a writer and a talker, Greg Archer begins his memoir with a frenetic account of his Hollywood life, its glitz, its celebrity culture, and its short attention span.
The style is decidedly American, or perhaps just very pop culture, slangy and irreverent, full of punchy one-liners many of them of the inspirational self-help variety and all of them coming at you at break-neck speed.
Mood swings, bi-polar, 12-step meetings, Higher Power, Zen Buddhism, yoga, therapists of every variety, and signs. In short the ever-changing panorama of symptoms and treatments that seemed to fit distressed Americans, whatever their issues.
But alongside all this frantic activity there was a constant: his family in Chicago. Seems he had tried to get as much distance as possible between himself and them, not just geographically but culturally; however, forgettable they were not. They were loud, generous, demonstrative and, most of all, loving. They were always in his mind, even while he was interviewing Joan Rivers or Ewan McGregor. He could never forget his family's conversations when they talked about exotic places, not exotic like California but exotic like Siberia, Uzbekistan and Tanganyika.
Eventually, Archer came to the realization that he was bored, and that the cure for this condition was in his own self. He had to know where he came from, and how he got here, from there. So back to the beginning it was, and here, with the transcripts of taped testimonies from his Polish family, the book takes a different tone.
The voices of his grandmother, his parents and their siblings, are eloquent. While the stories they tell are by turn painful, tragic, desperate, hopeful, and always inspiring, their tone is spare and serene. There is no grandstanding, no self-pity, just a straightforward telling of their story, with its valor, its horror, and ultimately its redemption.
There is something special about Archer's grandmother especially, the mater dolorosa, desperately trying to save her children. She clings to her rosary, her hands clasping it with all her strength because she believed so long as she held on to that, she held on to life. Who is to argue?
Archer did research the background to piece his story together and does so largely accurately. No need to argue about statistics; he's writing about people not numbers. He read, he consulted archives, and he made his first trip to Poland. His first plan was to visit the site of their deportation, a village now in Ukraine, but in the end he decided to visit the village where his parents met and married.
Finally, he tells the amazing story of his family's incredible journey, and does so in his inimitable, fast-paced, at times self-indulgent but sometimes furiously funny way. And ultimately his book is life-affirming.
Grace Revealed is an unusual but interesting addition to the intergenerational literature on discovering and exploring a Polish family's WWII history – simply because it just wouldn't leave the author in peace.
CR