75 years ago – in February 1940 – Stalin began mass deportations of Poles to Siberia. He'd been arresting individuals and POWs from the earliest stages of the Soviet occupation.
World War II was raging, and Poland had not one, but two occupiers.
Hitler and his Nazis had already begun their atrocities in Poland's German-occupied territories.
In Poland's Soviet-occupied territories, entire families, communities, villages, were being packed into cattle cars with no sanitation; little food and water. The journeys were inhumane, as was the destination – the frozen wastelands of Siberian Gulag. Many died. But not all, so this story doesn't end there.
This roundup of CR pieces tells the deportation saga: from the endless journeys and the camps and then, for some, escape – and the most extraordinary odyssey of WWII.
---
THE YOUNGEST "ENEMIES OF THE STATE"
We begin with the youngest "enemies of the state" – the children, because this was an attack on the very existence of the Polish nation, and even babies were considered a threat. Many testimonies of children enslaved by the Soviet system exist, but the first record of this horror was written by the great Polish writer Gustav Herling-Grudziński. His book was first published in 1952 and largely suppressed.
A World Apart
Gustav Herling-Grudziński was 19 when he was arrested and exiled to the Gulag in 1939. He had already been published Warsaw's literary magazines in Warsaw, though his interest was in literary criticism. His experience in the camp gave birth to a new writer. Real conflict, he writes, is essentially of one kind: "between the recognition of the essential worth of a man and its cancellation."
Children in Exile: Recollections of Children Deported to the Soviet Gulag
There's not a single historian or "expert" authority in Chris Swider's award-winning documentary. His subjects were all children when they were either deported with their families or alone, taken directly from their schools. Among them: Gen. Wojciech Jaruzelski, who would go on to become an infamous case of Stockholm syndrome.
Recovering a Stolen Childhood: Wesley Adamczyk
In spring 1940, Wesley Adamczyk was 7. Russian soldiers came for him and his family in the night. Wesley and his sister survived, his mother did not, and his father was one of the 20,000 Polish officers killed in the Katyń massacre. Wesley's book, "When God Looked the Other Way," was published by the University of Chicago Press in 2014, and is a profound, emotional read.
---
THE GULAG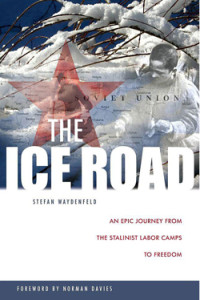 The Ice Road: An Epic Journey from the Stalinist Labor Camps to Freedom
Enslavement was "re-education" in the labor camp where Stefan Waydenfeld and his family were imprisoned. Men and women, young and old, were all expected to cut down trees. Otherwise, they wouldn't eat. When winter came, the work continued – with or without proper clothing. Boots were made from newspapers held together by rags. And the work went on.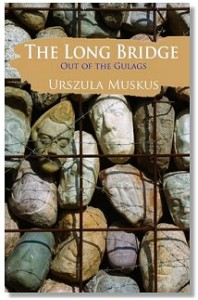 The Long Bridge: Out of the Gulags
Urszula Muskus survived 14 years in Stalin's Siberia. Her "Long Bridge" is so much more than a personal memoir: She observed the environment where she had been condemned for those long years. She writes of the landscape, the prisons and labor camps, the Soviet Secret Police, the political prisoners, and the exhausted Soviet citizens everywhere. She's an amazing writer who describes gazing at the night sky, identifying stars and constellations – knowing they're eternal in contrast to the cruelties of tyranny. She infuses a soul into a world without one.
---
AFTER THE DEPORTATIONS:
JOURNEYS AROUND THE WORLD
When Germany invaded Russia in 1941, Stalin needed help from the Western Allies, and Poland was one of them. He couldn't defeat the mighty Wehrmacht on his own. And one of the Allies' conditions was that Stalin release his Polish prisoners, and allow the formation of a Polish army. He agreed – but offered nothing beyond that. And so the Poles who were still alive made their way – at times on foot (yes, from Siberia) to Uzbekistan on the Caspian Sea, where the Polish forces had gathered.
There, most first needed intensive medical care. And then – they were scattered across the world. Polish military men and women served with the Allies wherever needed. Polish women and children civilians went to safe outposts in locales as distant as New Zealand. Here are some of their stories. And the lifesaving "kindness of strangers" in some of the farthest corners of the world.
CR has previously covered some of the stories of Africa, India and Mexico, but readers have written to us about their parents or grandparents who had been in Isfahan, Beirut and New Zealand. Our Spring 2015 issue includes some of their stories too.
---
THE SOLDIERS
Lost Between Worlds
Edward Herzbaum's prose is exquisitely graceful and his story is powerful: from filthy, terrifying Soviet prison to battlefields in Italy with Gen. Anders' army. His daughter discovered his journals after his death – containing old, yellowed notebooks, some with scraps of paper glued into them, and gorgeous watercolors. A superb writer, a gifted artist, and a truth teller, all in one.
---
THE CHILDREN: FIRST PERSIA
Isfahan: The City of Polish Children
The first contingent of Polish refugees arrived in Iran (Persia) the spring of 1942. The refugees included 18 thousand children of all ages, many of them terribly ill, all of them filthy and lice-infested. Isfahan, which would become known as the "city of Polish children" took them in: There, they were healed, educated, loved. And because Polish social services treated the plight of the children as a national tragedy, restoring them to health was both a matter of personal recovery and national recovery.
The Indomitable Spirit of Halina Babinska: A Very Special Coming of Age Story
Halina Babinska was 11 when she and her family reached Iran after the horrors of Siberia. Her mother died soon after coming ashore; Halina took over the care of her sisters and all were taken to Isfahan. There, they recovered. And then – as many of the other children whose first stop was Isfahan – they went on: to Beirut and eventually a permanent home in Canada.
---
THE CHILDREN: INDIA
In this refuge for Polish children, the landscape included elephants, exotic fruit, generous Maharajas and a superb cast of characters that ranged from cabaret stars to theosophists.
The Noble and Compassionate Heart of the Maharaja Jam Saheb Digvijay Sinhi
Almost 1,000 Polish children and their guardians lived in idyllic settlements on the Kathiawar Peninsula in India not far from the summer residence of the Maharaja Jam Saheb Digvijay Sinhi between August 1942 and November 1946. They had come at the Maharaja's invitation.
The Cabaret Star and the Orphans: From Warsaw to India
Lithe, blonde, willowy and a free spirit, prewar cabaret star Hanka Ordonówna was to become a wartime rescuer of children and a sensitive chronicler of their harrowing story.
Second Homeland: Polish Refugees in India
Anuradaha Bhattacharjee turned a rejected newspaper story into a PhD thesis and a book. And what a story: orphaned children, a loving maharaja, an inspiring Gandhi, and the kindness of strangers.
Wanda Dynowska / Umadevi: A Polish Guide to Indian Culture
Already surprised by a land of unimagined wonders, the Polish children now beheld a serene, sari-clad woman who spoke Polish and cared deeply about both her countries.
---
THE CHILDREN: AFRICA
Polish children once frolicked with boa constrictors in Africa. It's true! (Just ask our very own Irene Tomaszewski.) Our Poles in Africa trilogy comes from the perspective of people who cherish the memory of their enchanted childhood, complete with an escape from the clutches of a monster. And they hold regular reunions in Wrocław.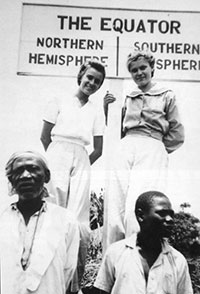 When Rhinos Roamed the Polish Prairie: The Exotic Homeland of Poles in Africa
The world's largest crocodiles cooled off in nearby water, and hippos and baboons helped themselves to lunch. But it was entertaining. And Irene Tomaszewski was there.
In the Shade of the Baobab Tree
From captivity to an enchanting world of freedom – growing up in equatorial Africa.
Once Upon a Time in Africa…
Former students from the worlds' "most exclusive schools" came from all over the world to attend a 25th reunion in Wrocław. They were all once children in Africa together. And oh, do they know how to have fun!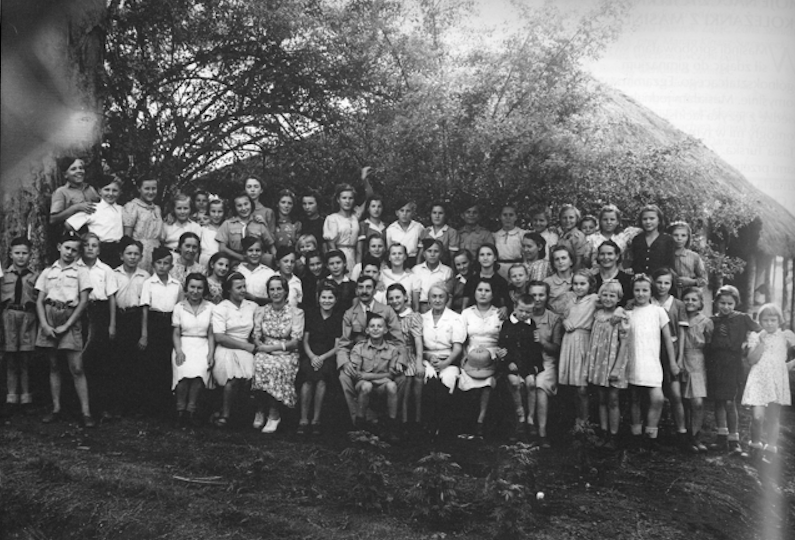 By 1949, most wartime African refugee settlements had been evacuated—but not all. Myra Dziama's documentary tells the story of 123 young people who set off from Africa via Italy to Canada under the guardianship of a young priest who was then accused of kidnapping by the new Polish communist regime.
---
THE CHILDREN: AND BEYOND
Mexico, Mount Kilimanjaro – and New Zealand. Polish children were taken in all over the world.
Hacienda Santa Rosa: a Polish Refuge in Mexico
A harrowing 20-thousand kilometer odyssey ended with an unforgettable welcome in Mexico. "It was something incredible," says one of the Polish Mexican refugees. "Until now, we were unwanted trespassers, who bring with them illnesses and suffering. Here, they met us as awaited guests, and it is hard to describe the feeling of appreciation and surprise we all felt for their hospitality."
From the Snows of Siberia to the Snows of Kilimanjaro
This Polish refugee settlement at the foot of Mount Meru, with Mount Kilimanjaro shimmering in the distance, boasted various levels of schools; a YMCA; a library; a cinema covered by a roof on stilts but without walls; an open-air theatre; a co-op bakery and a co-op store. It was set up to be as self-sufficient as possible, and accomplished this with amazing success.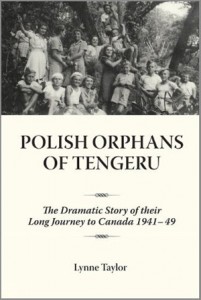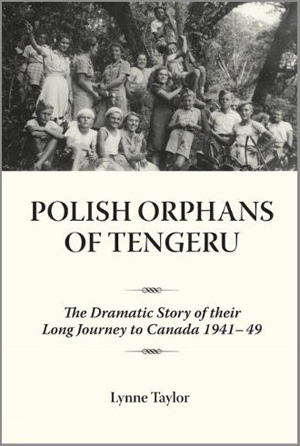 Polish Orphans of Tengeru: The Dramatic Story of Their Long Journey to Canada 1941-49
Canada was one of the last and permanent destinations for Polish children refugees, and 123 were brought there in 1949.
The Warmest of Welcomes: New Zealand
When the Polish children who had been sent to New Zealand disembarked at the Wellington wharf in 1944, they were greeted by cheering crowds and speeches and a band and a film crew. That hospitality and excitement lasted long after that first day. Amanda Chalupa also looks at the welcome practices of host countries and their treatment of child refugees, and why this may be the world's best example: New Zealand sets the gold standard for welcoming traumatized refugee children of war with genuine hospitality.
---
AND NOW THE DESCENDANTS
Poland was taken over by Russia and turned into a communist satellite at the end of the war in 1945. Since the Western Allies agreed to this takeover, it was not surprising that Soviet crimes were overlooked, the emphasis placed entirely on Nazi Germany.
Most of the world is still unaware of the depth of Stalin's crimes. Which makes these telling these stories all the more important.
We now hear the voices of the descendants, who continue to discover, explore, process and understand what happened to their families and in their communities.
Greg Archer Interview + Book Review
Fast-paced, sometimes self-indulgent but at times furiously funny, Greg Archer looks at his family's traumatic experience in the Soviet gulag after years of running away from it. We review the book, and also chat with him in a conversation that ranges from Cyndi Lauper and Ewan McGregor to his indomitable family and the after-effects of war.
A Son's Pilgrimage to Monte Cassino
Longtime Globe & Mail reporter Stan Oziewicz is the son of a Polish WWII pilot; his aunt was also with the Polish forces – the 2nd Corps in Italy. Stan's pilgrimage to Monte Cassino had a profound effect on him; as it does on all who travel there.
---
And a last word: Please buy the books listed above; make sure they're in your local libraries. Watch the documentaries. And support the authors, directors and creators who tell these stories. They're few, though not far between.
CR