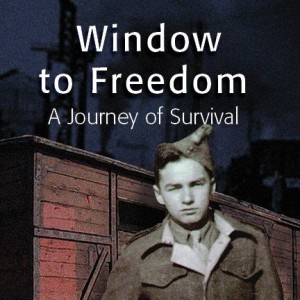 Window to Freedom: A Journey of Survival
By Marian Wiacek
It was this picture that caught my attention: a schoolgirl with her grandfather in the library of her school where his book, a family memoir, is now in the collection.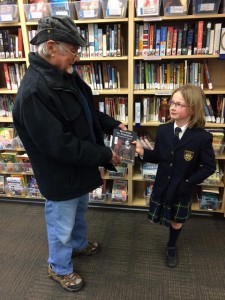 Lucky girl. She will know where she came from, she will know about the indomitable strength and resilience of her great grandmother and the amazing courage and family spirit of her children—Caitlyn's grandfather and his siblings.
Marian Wiacek, the author of Window to Freedom, was nine years old when his part of Poland was occupied by the Soviets—by agreement with Nazi Germany—and his father was arrested. Shortly after, the rest of the family was summarily evicted from their home and deported to the Soviet Gulag. This year, at 86, he published his memoir. Self‑published, because he had delayed long enough.
But his story begins with his childhood in Poland, a time of peace, security, a loving family, and lots of fun.
Childhood then was a time of freedom and adventure, fishing, hunting, swimming, gathering mushrooms, nuts and berries, and gardening. All of this was seamlessly integrated with school, playing with siblings and friends, and helping his parents. Little did he realize that this was the best possible education for the challenges—and the adventures—that lay ahead.
There is something in the Polish trek from the depths of Siberia to the Middle East and Africa – what Norman Davies called the Trail of Hope—that can never be reduced to a sad story of victims. More than anything else these were people who overcame brutality suffered at the hands of a powerful state, and a system designed to break the spirit if it couldn't break the body.
The Wiacek family exemplified this. Marian's mother, who had lived a rather easy life in Poland proved herself capable of everything required to keep her family alive. The children helped her to ensure she worked the "norm" required to earn food. Most touching was little Lala, only five years old, taking care of her mother and brothers when they all fell ill. She was to repeat this in Africa, when she was eight years old and they all fell ill with malaria. No matter what, the family carried on, for years not knowing what had happened to Marian's father.
It was when Marian got to Africa that he started keeping a journal, realizing that he had to record all that he had seen and lived through. Once they reached a refugee settlement in Africa, they were free from Soviet brutality but they now lived with everything from an invasion of army ants to leopards on the roof. But fear was not an option and Marian's adventures are the stuff of an unforgettable childhood.
The second part of the book is written with a change of tempo. At 15, he leaves his family to join the junaki, the cadets of the Polish army in Palestine, in part to prepare for being a soldier but very much also to further his education. It reads like a journal from an exclusive private school: excellent teachers, strong sports program, and a cultural program enriched by field trips to ancient sites in the Holy Land. Still, the cadets could not look forward to admission to Oxford or Cambridge but instead lived in suspense, not knowing what was next. When the war ended, the young Poles knew their home had been given to the Soviets; there was no going back. But although the British may have suggested it, there is no sign of pressure. Instead, young Marian's choice to join the army secured his family's admission to England. At 17, he abandoned his studies to work and to prove to the British that he could take care of his mother and siblings.
Marian Wiacek is leaving his granddaughter a proud heritage. The story is now out of the family album and integrated into the grand mosaic of immigrant literature, to teach and to inspire.
Although for people in western countries the war ended in 1945, for the people of Poland, consigned to the cruelties and confinement of a communist regime imposed by Moscow, liberation did not come until 1989. And for Poles who found themselves outside their homeland after the war, it took just as long for their memories to be liberated as well.
Their memories, and their history. For this reason, Window to Freedom includes a brief historical background because the author assumes, quite correctly, that few people know that his country was invaded and occupied by both Nazi Germany and the Soviet Union. Indeed, few people even realize that although the Soviets ultimately defeated their hated former ally, they did not liberate anybody. They only completed their original conquest.
While in England, Marian met his wife Danuta. She too had been removed from her home, when her mother was sent to Germany for forced labour. They married, moved to Canada, and raised a successful family.
Marian and Danuta's wartime experience encapsulates Poland's war experience. Neither of them knew the whereabouts of their fathers until after the war. Marian's father was killed in 1940 along with 22,000 other POW officers, by an order signed by Stalin. Danuta's father was killed at Dachau concentration camp in Germany.
Window to Freedom ends rather abruptly, telling us very briefly what happened to other members of the family—the mischievous Tolek went on to a daring life at sea, brave little Lala finished university in England and married, and their mother, a tower of strength, also married.
CR