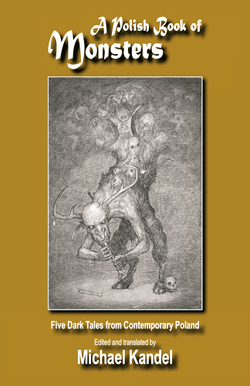 A Polish Book of Monsters: Five Dark Tales from Contemporary Poland
Edited & translated by Michael Kandel
New York: PIASA Books, 2010
Polish speculative and imaginative literature – fantastyka in the vernacular – so far has had a rather meagre reception in the West. This is an unfortunate state of affairs given how dynamically this branch of literature has developed in Poland over the last two decades – both in terms of quantity and quality. A recently published collection of short stories, "A Polish Book of Monsters. Five Dark Tales from Contemporary Poland," edited and translated by Michael Kandel (who is a well-known translator of Stanisław Lem), is a modest but commendable attempt to introduce some of the most interesting samples of Polish fantasy and science fiction to English-speaking audiences.
The theme of this anthology is a very current one, as indicated in the recent trends in popular and mainstream literature as well as in the increased scholarly attention. Monstrosity, it seems, has always been present in our culture. At first it embodied the menacing and chaotic forces of nature, both externalized and – in the form of destructive passions – internalized. With the advent of the age of modernity, "monsters" ceased to be the mere archetypal allegories populating ancient fables and folk tales. They began to function as a crooked mirror to the culture of enlightenment, representing real and imagined threats to the ideals of humanism, progress, reason and a moral order based on Christian values. Evoking revulsion and fascination alike, monstrosity continued to subvert and challenge the values of modern culture throughout the nineteenth and twentieth centuries. However, in the recent years there came a sweeping wave of romantic revisions to the icons of monstrosity (of which the Twilight franchise and its countless spin-offs is but one example). By turning monsters into figures of fatal lovers, troubled teenagers, etc., popular culture seems to be gradually depriving the very concept of monstrosity of its unsettling and transgressive power. This phenomenon is paradoxically tied to the increasing presence of monsters as such in literature and film. Even the literary classics get caught up in this trend: a visit to any bookstore brings a discovery of at least one stand with titles such as Pride and Prejudice and Zombies, Jane Slayer, or Romeo & Juliet & Vampires. In this peculiar context, the question of monstrosity once again calls for examination – artistic, as well as intellectual. What is monstrous and what is human? Where do we draw a line between these concepts? "A Polish Book of Monsters" appears just in time to be a valuable contribution to this debate.
The collection comprises five stories by five well-known Polish authors: Marek S. Huberath's "Yoo Retoont, Sneogg. Ay Noo," Andrzej Sapkowski's "Spellmaker" ("Wiedźmin"), Tomasz Kołodziejczak's "Key of Passage," Andrzej Zimniak's "A Cage Full of Angels" and Jacek Dukaj's "The Iron General."
Marek S. Huberath (a pseudonym) is known mostly as the author of the dark and experimental science fiction novel "The Nest of Worlds" (Gniazdo światów, 2000), but his short stories are equally remarkable. The tale opening this anthology, "Yoo Retoont, Sneogg. Ay Noo" is his literary debut. It presents a world in the aftermath of a nuclear holocaust. Vestiges of humanity struggle for survival by means of a nightmarish eugenic lottery: since most of the human offspring are born with severe mental and physical defects, children are raised in small groups in laboratory prison cells. Their progress is constantly supervised and evaluated. In the end those deemed worthy of becoming "humans" are released into the society. The hapless rest end up as biological "raw material," harvested for body parts. The narrator and protagonist of the story is one of the successful specimens that can call themselves human. But his attachment to his former cellmates triggers a series of decisions that will not only unsettle the established order of the protagonist's society, but also show a true sense of what it means to be human. Huberath's intelligent and beautiful tale is a definite highlight of this collection.
Andrzej Sapkowski's name is familiar to any enthusiast of Polish imaginative fiction. His seven-volume "The Witcher Saga" is immensely popular, went through several editions, and is considered one of the best fantasy cycles ever written (not just in Poland). Everything started with Sapkowski's debut short story "Wiedźmin," a title most often translated as "The Witcher" or "The Hexer." Kandel translates it as "Spellmaker," which is a somewhat problematic choice (more about this later). Sapkowski's imagination owes in equal parts to Slavic folklore and the classics of the fantasy genre (such as J.R.R. Tolkien). His debut tale revolves around a creature of Polish legends known as strzyga – "the gomb" in Kandel's translation – terrorizing a medieval city. To make matters more interesting, the gomb is the king's daughter, cursed upon birth by an unknown party. Geralt, the titular "witcher" or "spellmaker," belongs to a cast of wandering warriors trained to slay monsters that threaten human settlements. He is given the task of releasing the princess from the curse. The story highlights the best qualities of Sapkowski's writing: intertextual playfulness (especially with respect to his source material), wit and humour. Gombrowicz's remark about Sienkiewicz ("surely there never was such a first-rate second-rate author") is just as easily applicable to Sapkowski and his work. A great example of what a talented author can do with even the simplest fairy tale model.
Tomasz Kołodziejczak is a very active persona in the Polish world of science fiction, fantasy and children's literature. He is a writer, screenwriter, publisher, editor and a recipient of numerous awards for his accomplishments in all these areas. Although not an exceptional author, some of his works (like the award-winning novel "Colours of the Banners") make for a good and quite interesting reading. Unfortunately, the story included in "A Polish Book of Monsters" is not his best. It belongs to borderlands-type fiction: the real world and the world of fantasy co-exist on a shared plane, in this case post-WWII central Europe. There is an interesting twist in the plot that dramatically shifts the locus of monstrosity half-way through the story, but as a whole, "Key of Passage" reads like a standard spy thriller with some occasional horror elements and a few amusing touches (such as injecting elves, dark riders and magic into the mechanism of military intelligence).
Andrzej Zimniak belongs to an older generation of Polish science fiction writers (he born in 1946). His fame rests mostly on his short stories of which so far eight volumes have appeared in print. Zimniak's prose is difficult to classify, as he tends to alternate between modes and genres. Most of it focuses on problems of subjectivity. "Cage Full of Angels" is the first story from a collection by the same title. The protagonist and the narrator of all these stories is Enkel, a rogue and an adventurer with an uncanny ability to enslave his opponents in a kind of mental prison, absorbing their power and abilities. There are some interesting stylistic nuances about this story – like the jocular and boisterous voice of the narrator that borders on inappropriateness – which are nicely rendered in Kandel's translation. However, there is disappointingly little substance to this story that makes it, together with "Key of Passage," one of the less appealing components of this anthology.
Jacek Dukaj has been bestowed with the title of Lem's successor to the throne of Polish science fiction literature, even though the styles and preoccupations of the two authors are very different. Dukaj is arguably the most successful Polish science fiction writer in contemporary Poland (he is a recipient of five Zajdel Awards, a Kościelski Award and the EU Prize for Literature, among others) and his literary talents gained him universal critical acclaim. There is a saying that one short story by Dukaj has more original ideas than an entire oeuvre of most other authors. There is hardly a better story to illustrate that than "The Iron General," a true exercise in the power of imagination. It describes an alternative world where technology (trains, space travel, etc.) and magic coexist, although the latter is clearly the dominating force. But it is a world that faces massive changes and not all political forces find them welcome. The plot revolves around the millennium – old arch-magi, general Rajmund Żarny, the protector of the royal house and the supreme commander of the imperial army, who plays a key role in this time of troubles. The story is fun to read but also poses very important questions with respect to the theme of monstrosity: What is the role of monsters and monstrosity in history and politics? What are the limits of power for a human being? Can collective symbols be viewed as monstrous entities? These and other issues raised by this tale make it one of the best ones in this anthology.
Even if not all of the stories in "A Polish Book of Monsters" are masterpieces, it is nonetheless a recommended reading for all who have appreciation for imaginative literature. Allegorical reading is required to fully appreciate some of these works, but they are certainly worth the time and effort. The only problem with this collection is that the title might be slightly misleading. Four of the five stories are more than a decade old and even though they were authored by the biggest names in Polish fantastic literature, their source is hardly "contemporary Poland." Kandel's translations are for the most part flawless, perhaps with the exception of "Spellmaker," where for some reason he decides to replace all of the proper names. Thus, for example, Velerad, Wizima, Mahakam, and Foltest become Ethmond, Klothstur, Apiph and Hrobost. Danusia Stok's translation of the story does better justice to the original by preserving its "Slavic" spirit. Also, the term wiedźmin already has a well-established translation as "the witcher." Kandel's "spellmaker" is not only confusing, but also descriptively inaccurate. But given the scale of the undertaking, these are minor issues. Hopefully, other such volumes will follow.
CR