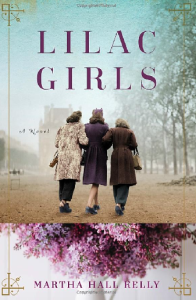 Lilac Girls
By Martha Hall Kelly
New York: Ballantine Books 2016
A novel about Ravensbrück? My first reaction was negative. But it's hard to resist opening a book once it's in front of me and the opening chapters did little more than arouse my curiosity. And curiosity doesn't leave one in peace until it's satisfied.
I knew a lot about Ravensbrück and the medical experiments performed on Polish girls—most of them in their teens, members of the scouts who had joined the Resistance—but I had never heard of Caroline Ferriday, a New York socialite who brought these women to America for treatment.
Luckily, Martha Hall Kelly has recovered a great story about a warmhearted, generous woman who should never should have been forgotten. Kelly fills her book with many details, a deep understanding of the terrible occupation imposed in Poland, and the unfair post-war situation created by what had been Poland's allies.
Kelly tells the story with three parallel narratives, one by a Polish teenager, one by Ferriday, and the third by Herta Oberheuser. It's an interesting approach but confusing at first because they all seem to speak in the same, decidedly American, voice.
Still, the story is so gripping that I continued; eventually the three voices not only became distinct but the justification for writing this way became apparent. By having the narrators speak in an American idiom, readers can connect with them, even identify with them. This is important because Kelly's book, while containing fictional details, is about very real people, real historical events, and terrible crimes.
The story begins with Caroline Ferriday, a wealthy Francophile and the first narrator who is involved in charitable efforts on behalf of French orphans. For her, Kelly adds a fictional element of romance. Not too much to be intrusive.
Far from Ferriday's life of fun and luxury, Kasia Kuzmerick's story unfolds in occupied Poland where the 17-year old's school is closed and she joins the resistance. She is ultimately arrested, together with her sister, a doctor, and her mother. Unlike Ferriday, Kuzmerick is a fictional character, a composite based on actual Ravensbrück prisoners, some of whom the author met during a research trip to Poland. While Kasia is invented, the historical details are not.
The third character, like Ferriday, is not fictional. Herta Oberheuser, an ambitious surgeon totally committed to Nazi ideology and German war aims, performed hideous experiments on healthy young Polish women. She volunteered for Ravensbrück to further her career,
convincing herself that her work was essential for Germany's interests. After the war, she expressed no remorse and served only one year of her 20-year sentence in prison before resuming her medical practice.
A former copywriter for an ad agency, Martha Hall Kelly couldn't have chosen a more difficult subject for a debut novel. Or perhaps it chose her. She once lived three-hours away from the Ferriday family estate, "The Hay," and went to visit it, primarily because of her interest in lilacs. While there, she noticed a photograph of Ferriday with three other women. She asked the guard who they were and when told they were Polish women who were once prisoners at Ravensbrück, and that Ferriday had brought a large group of them to America to get medical treatment for the painful debilitating effects of the medical experiments they endured, Kelly knew immediately this was a subject she had to pursue.
She researched her book for ten years, in all three Ferriday archives—in France, New York and the family Connecticut estate—and travelled to Poland where she visited the Muzeum Martyrologii pod Zegarem (Museum of Martyrdom Under the Clock) in Lublin. There she met the museum director, Barbara Oratowska, who facilitated Kelly's research. Later, in Warsaw, she met and interviewed former Ravensbrück prisoners and survivors of the experiments, as well as historians of this era who assisted her in this undertaking.
Among the many surprising Polish details in the book is a reference to Szatan z siódmej klasy (Satan from the Seventh Grade), a popular book for school children that I had long forgotten. Kelly discovered that the secret letters the Ravensbrück prisoners sent to inform their countrymen about the experiments were written in invisible ink by using a toothpick and urine, inspired by the invisible ink used in Szatan, though in that case lemon juice was used.
After the war, Ferriday went to France several times, continuing her work with French orphans. While there, she learned about the Polish women subjected to experiments, and discovered that they received no support from Germany. She was aware of the devastation Poland had suffered and knew that conditions under Moscow-imposed communism were dire.
Back home, she embarked on a plan to bring the Ravensbrück lapins (experimental rabbits) to America to get them the best possible medical help for physical and mental rehabilitation. With her social network mobilized, she raised the funds for their travel and found homes for them during their treatment in America. Some Ravensbrück women stayed with her at The Hay, and they remained her lifelong friends. She also persuaded top doctors to undertake the work, among them Dr. William Hitzig who travelled to Poland with Ferriday to evaluate the women's medical needs.
After the women returned to Poland, Ferriday continued to lobby her influential friends to insist that Germany provide the Ravensbrück survivors with support. She located Dr. Oberheuser, living comfortably and practicing medicine, and lobbied the American government to force Germany to revoke her medical licence.
Among the photos sent by the author is one of Mrs. Stanisława Sledziejewska-Osiczk, one of five survivors of the experiments still living. Martha Hall Kelly met her and describes her as loving and forgiving. It is the courage and the ethos of such people that must be a guide to the future if we want a better world. The nationalism and ideology of Poland's oppressors, with their racism, nationalism, intolerance of different opinions and religions, and their thirst of revenge and domination brought about the terrible suffering and death toll that will forever mark the 20th century as one of unbridled evil.
Martha Hall Kelly has done a great service bringing attention to this wonderful American woman, the "Ravensbrück godmother."   It is surprising that she is almost unknown, even among the Polish-American community. Posthumous recognition is in order.  But not a monument—an inanimate object wouldn't do justice to the very energetic Ferriday—but an annual lecture at a university, or an annual cultural event at a Polish-American Foundation would keep her memory alive, and that of the Ravensbrück prisoners, while inspiring others to follow her example, would be perfect.
And Ms. Kelly has also honored Poland and Polish people by bringing this little-known story once again to our attention. For decades Poland's history was neglected, when not actually distorted by Soviet propaganda. It is time to write it and teach it, always with a view to a better future.
Curious about the press coverage of this story at the time, I asked CR's Maureen Mroczek Morris, who can find the most obscure newspaper stories imaginable. She located a few. Of special note is the May 31, 1959 New York Times article by Howard A. Rusk, M.D. who sharply criticized as "eminently unjust" Germany's failure to pay the survivors any compensation. Rusk also praised Caroline Ferriday's initiative and the generous American donation of funds, as well as medical, dental, psychiatric and rehabilitation services.
CR