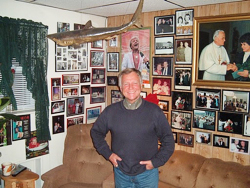 The ceiling began to spin. He clutched his neck, spurting blood. The half-hour struggle with his cellmate was over. He had finally reached the guard station after the intercoms failed. Jan 'Lewan' Lewandowski slumped to the floor. This man who once had a direct line to Lech Wałęsa as well as Bobby Vinton and Donald Trump lay on a prison floor, drowning in his own blood. His cellmate, serving time for burning another prison, sliced his neck from ear to ear because of a rumor.
"Look at me: I'm a softy. An old white foreign guy: I wasn't like the other prisoners. They thought I was a molester," said Lewandowski. While Lewandowski is guilty of many things, that rumor was not true.
Lewandowski is not your ordinary prisoner by any stretch of the imagination. He achieved the 'American dream' and lost it all, nearly to the point of his death – twice. Born in Sopot, Poland near Gdańsk in 1948 he was educated in drama and music at Gdańsk Średnia Szkoła Muzyczną and soon joined Warsaw's Teatr Syrena. The group toured internationally, and Jan dreamed of a life in America. While traveling in Ontario in 1972 he slipped away from the tour bus, taking advantage of the used car he purchased in Chicago during the theater group's stop there. His next stop was Niagara Falls where a compassionate hotel manager allowed him to work while he created a new life for himself.
"I was always told that in America money is hanging on trees – just pick it up. But it wasn't there," explains Lewandowski. Instead he worked around the clock: a day job at the hotel and nights entertaining small groups at church halls or Polish cultural clubs with a one-man show, always keeping contact with those he met. Fluent in Polish, English, Russian and German, Lewandowski was not content to take a slow ride to regional popularity. "Coming here with singing Polish songs, you can sing in one church, two church, and the third church the game is over," recounts Lewandowski.
Traveling across the Canadian Pacific Chain Hotels, he was invited to a sleepy area of Pennsylvania to raise money for a cancer telethon. His enthusiasm and broken English endeared him to the Slavic-Americans of Pennsylvania's anthracite coal region. Lewandowski found a home in Hazleton, where he married his love, Rhonda , whom he met when performing with Jimmy Sturr's Orchestra. Lewandowski became fond of the polka music Sturr played. The American polka was not the music he remembered from Poland but it was marketable, and he liked that. Soon he was branching out and developing his own orchestra. His reputation as a showman grew and soon he was performing in Atlantic City at Trump's Taj Mahal as well in the major New York vacation markets in the Catskills and the Poconos.
But Lewandowski didn't stop there. Throughout the 1980's he organized trips to Poland for his fans. While in Poland Lewandowski would buy souvenirs at Soviet era prices, just as factories were liquidating due to the thaw and expected fall of Communism. Back in Hazleton he built a store where he sold the items at market value, turning incredible profits. He stockpiled the merchandise intenting to sell it over his lifetime. His capitalist credo, 'bigger is better,' eventually led to his downfall.
To raise money to buy more souvenirs he started offering unregistered promissory notes in the store at guaranteed 12% interest. Dreams and reality seemed to mesh: his popularity in the polka world got him a 1995 Grammy nomination; his successful travel agency offered trips to Rome, Egypt and the Mediterranean in addition to Poland; and of course his store with its surplus would last his lifetime. Of course, if you ever want to make God laugh – just tell her about your plans.
The first sign of trouble appeared shortly after his wife's failed Mrs. Pennsylvania bid. Rhonda won the 1998 pageant – until a review revealed voter tampering. People began to lose trust in their Polka King. Jan denies any involvement in foul play, "I didn't even want her in that pageant. I needed her in the business."
This charismatic friend to all now had enemies and the Commonwealth of Pennsylvania was snooping around his business. Investments dried up. Lewandowski, determined to make things right, started touring to make up the losses. Unfortunately more losses followed. On January 26, 2001 his tour bus wrecked en route to Florida for six shows. Two of his musicians were killed, he was injured and his son Daniel suffered critical injuries. He cradled his son on the floor of the bus, holding his bloodied head, overwcome with guilt about taking him out of school to tour. The Polka king's crown had never been so heavy.
Without a band to cover his promissory notes, he had to face the music. In order to please his original investors he issued more unregistered promissory notes, increasing their guaranteed return to 20%. The proud Lewandowski still claims, "I believe to this day that I could have made it," if not for the scandal and the accident.
But investors would not wait for Lewandowski. Rumors turned to panic about a crumbling empire. As America faced the horror of 9/11, Lewandowski filed first for Chapter 11 bankruptcy protection allowing him to reorganize and renegotiate debts but was soon forced into Chapter 7 bankruptcy, liquidating all his assets. "I surrounded myself with the wrong people," Lewandowski said of his inexperienced business partners and advisors. "And I didn't listen to people who gave good advice," he added, noting the Commonwealth's warnings to register his promissory notes and seek business assistance.
There were no more options for Lewandowski. His charm could no longer hold off the angry mob who wanted their money. He was sentenced to five years in federal prison for fleecing five million dollars out of investors in 22 states. Lewandowski repeatedly said, "I'm not hiding anything. I'm deeply sorry for what happened. I'm sorry for my family. I'm sorry for the people that lost the money and the people who believe in me."
Now that he has survived prison – quite literally – Lewandowski wants to make things right. "I have paid my time. Now I pay off the restitution," he said.
Since the very first day of his sentence Lewandowski started writing his autobiography. Titled "Two Suitcases Full of Dreams" there are even whispers about optioning it into a movie as it goes to press. It wouldn't be the first movie made about him. In 2007 the documentary "The Man Who Would Be Polka King" was made for CourtTV.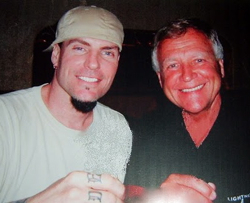 But Lewandowski has more plans, "I hope to give polka a shot in the arm." Just as he learned polka music when he immigrated to America, he learned rap music when he served time in prison. Both music styles have 4/4 time, "So they can be paired together easily," Lewandowski said, and offered a few lines of his first rap:
Come tried with tribulation
But I stay in meditation
Overcome my situation
You can say I did it all
They wanted to see me fall
I been locked behind the walls
But still I'm standing tall
I've done lived 'La Vida Loca'
But now I'm rapping polka
"In a song you have chorus that just repeats same words," explains Lewandowski, "but if you add rap to polka, you can replace the chorus and move the story along, developing it more." His idea of polka-rap fusion has piqued the interest of the music industry. This would be an impossible goal for anyone less than Lewandowski and his indomitable spirit. The humbled polka king may just find his way into rap royalty yet.
CR
Imagery
The ever optimistic Jan 'Lewan' Lewandowski in the parlor of his one-bedroom apartment. A Baltic shark hangs overhead as Lewan's many accomplishments are documented in photos from floor to ceiling. Photo: V. Chesney
Rob Van Winkle a.k.a. 'Vanilla Ice' meets with Jan 'Lewan' Lewandowski. Lewandowski is developing a polka-rap fusion that has the music industry fascinated. No stranger to rap fusion, Vanilla Ice has recently been involved with Jedward's blend of 'Under Pressure (Ice Ice Baby)'. Photo courtesy of Jan Lewan.