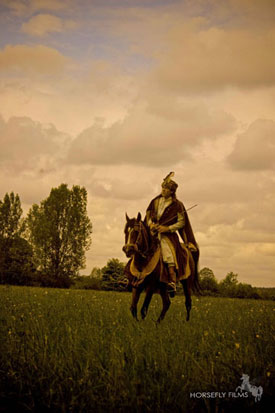 The history of the Polish-Arabian horse is complex and fascinating; others have covered it much more comprehensively. But here's a very brief snapshot:
16th century: Writings in Poland mention pure-bred Arabians. Used by the Turkish army, they're taken by Poles as spoils of war.
1699: Poland's truce with Turkey, so – no more spoils of war. Poles travel to the desert to purchase Arabians from tribesmen and use the horses to upgrade their own, local stock. The offspring are used for cavalry, farm work and carriage pulling.
World War I: Polish Arabian studs nearly decimated. "Of the 500 Arabian broodmares in Poland in 1914, only 25 still lived in 1918" ("History's Hooves," March/April 1998 print edition, Saudi Aramco World).
1921: Poland has regained its independence following the war. A new Arabian breeding program is established at Janów Podlaski Stud.
1920s: The Arabian Horse Breeding Society is formed in Poland; its first Stud book is published.
1930s: A few Americans import Polish Arabians (notably, Henry B. Babson of Chicago and J.M. Dickinson of Tennessee).
World War II: Poland loses 89 percent of its broodmares ("History's Hooves"). More than 80 percent of Janów Podlaski's horses perish in the 1939 war campaign; the Stud is severely damaged. But some horses are saved by Polish horsemen determined to keep the Polish Arabian in Poland.
Post-World War II: Hungary sends Arabian mares to Poland to help rebuild Poland's breeding program. The Polish Stud also uses Russian Arabians for that same purpose.
Late 1950s: British breeder Patricia Lindsay buys Polish Arabians for her own program and becomes a purchasing agent for Americans.
Today: Poland has three state Studs – Janów Podlaski, Michałów and Białka – as well as private Studs, and "proudly serves as the wellspring for the greatest Arabian horses in the world," according to Horsefly Film's trailer for their new documentary film, "Path to Glory: The Rise and Rise of the Polish Arabian horse." Read Justine Jablonska's interview with the filmmakers here.
CR
Imagery
Janów Podlaski Stud, Reenactment shot of Polish Count Rzewuski, who brought Arabian horses from Bedouin lands to Poland. The count disappeared after the battle of Daszów, on May 14, 1831 during the November Uprising against Russia. His white stallion returned alone – bloodstained, no saddle or bridle. The Russians confiscated all the count's horses. Some said that the count had not perished, but was back in the East – along with some of his horses, who he'd led to freedom there.
Photo courtesy of Horsefly Films