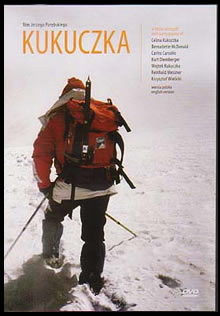 Direction & Screenplay: Jerzy Porebski
2011
45 minutes
Film Trailer
I'd never heard of Jerzy Kukuczka or Wanda Rutkiewicz until a few days ago. Now, I can't stop thinking about them.
Kukuczka: second man in the world to climb all fourteen 8,000-meter Himalayan peaks. It took him eight years; his predecessor did it in 16.
Rutkiewicz: first Pole (yes – she beat the Polish men to it) to climb Mount Everest. First woman to climb K2. Her list of firsts – like Kukuczka's – goes on and on.
Both climbed peaks that most of us will see only in photos or videos. They climbed them in the wintertime (because they'd already been scaled by others in good weather, and the Poles wanted new, fresh accomplishments). They climbed them without oxygen. They found and established new ascent routes. And they – and others, like Wojtek Kurtyka and Krzysztof Wielicki – did so while Poland was under heavy Soviet oppression.
How's that for symbolism?
When I learned that Bernadette McDonald would be giving a book discussion at Georgetown University, accompanied by a viewing of a new film, "Kukuczka," I got to work on her book, Freedom Climbers. (Read Patrice Dabrowski's excellent review of the book in this issue of CR).
Then I scoured the internet looking for more on these intrepid Poles, finding snippets of old videos like this one from 1987, where Wanda Rutkiewicz narrates Polish climber Artur Hajzer's outfit as he sets on a trek on Nepal's Annanpurna Peak.
At the Georgetown event, Director Jerzy Porebski introduced his film by saying that he wanted to learn about Kukuczka and his motivations, and also to explore a philosophy – not just of climbing, but of life.
What's golden in the 45-minute film are the interviews. Porebski interviews Jerzy Kukuczka's wife; they chat in cozy chairs in a wooden chalet about the climber's motivations. Reinhold Messner – the first man to climb all the world's 8,000 m. peaks – speaks passionately about Kukuczka's climbing abilities, every now and then running his hands through a thick mane of hair. Carlos Carsolio, nota bene the last climber to see Wanda Rutkiewicz alive, and Krzysztof Wieliczki – both extraordinary climbers, share insights. "He decided and he went," says Messner; Carsolio agrees. Freedom Climbers author Bernadette McDonald says that Kukuczka was the best person he could be in the mountains, but the mountains also made him the best he could be.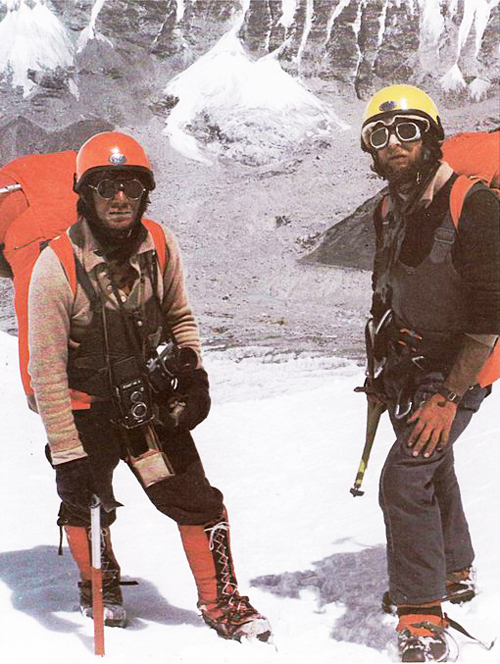 What made Kukuczka so legendary?
Kukuczka pioneered a style now used by climbers around the world, Messner explains. And although he and Kukuczka were portrayed by the media as fierce competitors for the Crown of the Himalayas (all fourteen 8,000 meter peaks), both Messner and Kukuczka's friends and family downplay this rivalry, saying it was media exaggeration. Kukuczka wanted to have the strongest possible experience he could on the mountains, says Messner, and that's what he wanted to bring home, not the goal itself. That is, of course, the assessment of the victor from the comfort of looking back across decades; I wonder if Kukuczka would agree today.
There are moments of touching humanity in the film: Archival video footage shows a tall Kukuczka stirring an enormous, boiling pot, tasting a morsel with a huge spoon, then sitting cross-legged over a heaping plate.
Austrian mountaineer Kurt Diemberger was the first in the world to climb two 8,000 meter peaks: Broad Peak in 1957 and Dhaulagiri in 1960. He's also a pioneering high-altitude filmmaker, creating the first film with synchronized sound on the peak of Mount Everest in 1978.
Clad in a colorful geometric sweater and seated against a backdrop of stacks of books and papers, Diemberger is a charming interviewee, clearly still under the mountains' enchantment. "It's indescribable," he says, eyes bright, reminiscing about standing on the top of a mountain peak, "a moment caught in time." He gestures with his hands while speaking; several of his fingers are missing their tips. He lost them and a few toes attempting to climb K2 in 1986.
The south face of Lhotse in Nepal had evaded Jerzy Kukuczka when he'd attempted its ascent in 1979. A decade later, with numerous climbing accomplishments, he went back.
His wife recollects how tired Kukuczka looked when she saw him off at the train station. We see footage of another Polish climber, Andrzej Zawada, asking Kukuczka why not end now. They're standing in a Nepalese airport, and Kukuczka looks into the camera, circles under his eyes. "Why should I end now, when it's going so well?" Kukuczka asks with a smile. Then his face gets very serious. "I never set a deadline for myself to finish my career. I can't imagine quitting the mountains."
Diemberger: "It's such a pity he fell on Lhotse. He wanted just to…" he breaks off, searches for words – "to correct destiny."
Earlier in the film, in an undated clip, Kukuczka speaks with the same stoicism, but seems lighter. "I very much like taking the undiscovered paths," he says. He repeats that sentiment in his last interview, saying that he believes those kinds of paths are still out there.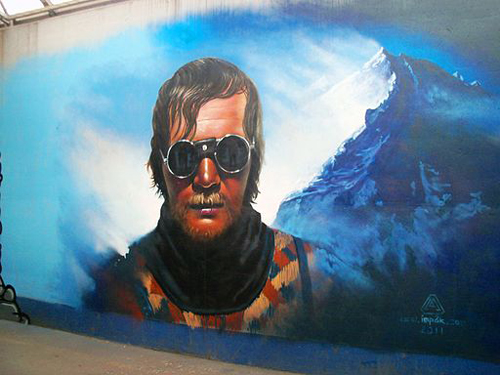 Kukuczka may not be a stand alone film for audiences unfamiliar with climbing or the characters it portrays. But as a series of interviews with those closest to Kukuczka, it's quite powerful – as are the many shots of the mountains and peaks that were the objects of desire for its characters.
One jarring note is the soundtrack, which seems ever present in the film, whether during shots of mountains or during interviews. Swelling music isn't necessary, because what the characters say is powerful enough.
In a bonus scene on the DVD, Kukuczka's wife describes the mountain chalet where her interview takes place: it's the "Izba Pamięci Jerzego Kukuczki" – a place in the Beskidy Mountains he often visited to recuperate between climbs. It's also where he finished up his two books in 1989 before leaving for his final trip.
She says that after his death, she couldn't have imagined that one day such a place would exist. But after his death, the hut received a steady stream of visitors. They'd take photos, ask her if there was anything else they could see. And so she was inspired by their memory and need to learn more about her husband to create a small museum in his honor. CR
Photos:
The Kukuczka film cover; here's info on purchasing the film.
Jerzy Kukuczka and Andrzej Czok during their spring 1980 Mount Everest expedition. On May 19, 1980, they conquered the mountain through a brand new route.
A street mural of Jerzy Kukuczka in Katowice, Poland, created in March 2011.

View a photo slideshow created by Kukuczka's son with his father's archival photographs from his climbing expeditions.