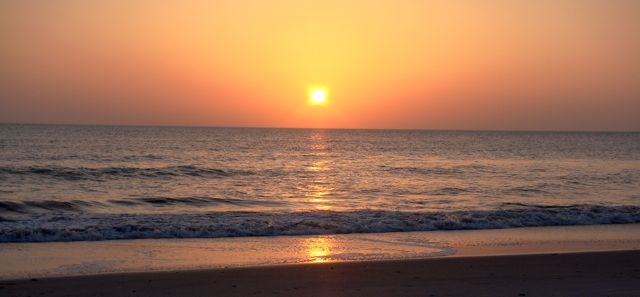 Right after sunset, Pelican Bay likens to a Monet painting.
The distant, orange glow of the sun lingers on the glistening water and on my skin. Dozens of white egrets, storks, pelicans and other feathered creatures crowd an old,  tree in the middle of the bay and open the evening's ornithological symphony with their cackles, screeches and a few melodies.
They gossip, they fight for their mates, they flap their wings, creating noise. But it's a soothing noise, one that carries me far from the hustle and bustle of everyday, urban life.
Pelican Bay, in Naples, is known as the 'jewel of the Gulf Coast' in Florida. Here, luxury and booming real-estate development meet and embrace nature, creating one of the most exclusive communities in the United States. In 2009, Naples was ranked as one of the 10 pricey cities worth its high cost.
(Photos by Leszek Adamczyk)
Sometimes, it seems too good to be true.
Word says Tom Cruise owned one of the beautiful villas on the nearby beach. Cindy Crawford finished a photo shoot in one of them. A few years ago, I met Joe Clark and his wife on the same beach.
I was taking one last dip in the ocean, sipping a pina colada. My father came up to me to say our former prime minister and his wife, who was wearing a tracksuit the exact same color of my fruity drink, just walked by us. I couldn't resist the temptation to go say hello. My first published article was about meeting Joe Clark and his wife, while wearing a dripping bikini.
Our hosts in Naples, a Macedonian couple, treat us with warmth and hospitality year after year. A woman with a great sense of humor, Fima, greats us every morning with a table overflowing with Mediterranean foods. She can turn tiny peppers into a sweet and tangy delight and could win any man's heart with her burek: a feta cheese and phyllo pastry that melts and crackles in your mouth.
Pelican Bay is almost too perfect. The dolphins always appear at the right time, when the sky is orange and I'm taking a romantic walk on the beach. The sun is constantly shining and nobody seems to get angry. On the contrary: walking to the beach, the passersby greet each other with a friendly 'hello folks!'
The Jaguars, Mercedes and BMWs glisten in the sun and slowly glide by palm trees and golf courses – which are more abundant per capita than anywhere in the States — never in a rush.
I've been wondering lately, "so where's the catch?" Soon enough, I discovered that many people who have been living in Southwest Florida their whole lives are negatively affected by the economic and real estate boom that has been taking place there over the last decade. Wages aren't keeping pace with the rising cost of housing, taxes and insurance. And if you aren't a millionaire, moving is sometimes the only option.
Naples News ran a series entitled Paradise: at what cost? about the lack of affordable housing crisis taking place in Southwest Florida. The recent recession certainly didn't help.
"Despite the chill that swept in to the real estate market … workers stream out of the area daily. When they don't, they move to the few areas left where one-bedroom apartment rents still start at $700 per month. But Southwest Florida needs [nurses, doctors] and the thousands of other workers who care for our sick, repair our flat tires and slice meat at our deli counters," Naples News reported. Indeed, Southwest Florida had one of the worst housing crises in the country, and just as it is painfully recovering from it, it will have to deal with the economic and ecological consequences of the April 2010 BP oil spill in the Gulf.
As I lean over the edge of a wooden passage looking onto Pelican Bay, the last 13 years of visits in Naples flash in front of my eyes. I realize how lucky I am to spend a few days in this paradise I cannot afford to live in (yet).
As a child, I splashed in the waves, ran after the birds, hunted for lizards, scouted for dolphins and built sandcastles on the shore. As a teen, I hung out with the beach boys, helping them set up the umbrellas and developed innocent crushes on them because they got me ice cream.
Now, as a young adult, I look for peace and quiet among the snaky branches of mangrove trees, the chatter of the otters and the stillness of alligators looking after their babies. I indulge in the luxury of staying at the Claridge in Pelican Bay, in the silence of lonely walks and in the beauty of nature, which offers a new surprise every day.
But I'm not that innocent anymore. I feel pangs of guilt as I realize that wealth doesn't come with "no strings attached." For many people to enjoy this artificial paradise, many will have to move and leave their homes behind as they won't be able to afford them anymore.
For some, the sun shines bright everyday. Others are just forced to live in their shadows.
MORE about Southwest Florida's housing crisis from Naples Daily News: