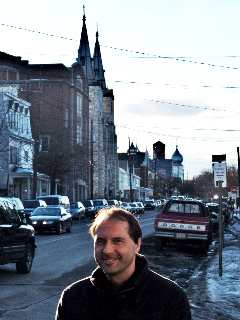 CR once again welcomes an article by Vince Chesney in which he writes about a new book and about Slavic hospitality. Pennsylvania coal country, a rural enclave dotted by small towns is distant enough from major centres – two hours from Philadelpia and Baltimore, three hours from DC, and four hours from Pittsburgh – to have retained its own identity. Says the author: "I am pleased to share this area's heritage with you… Many of my immigrant ancestors' records list country of origin as Austria-Hungary or even Russia (of course). Due to the fact that major immigration began and ended with the first wave of 'old peasant stock' from the 1880's immigration, the connection to modern-day Poland is lacking. Although we love to connect with our kin! You should see when an exchange student from Poland or another Eastern European nation comes here. They gain instant celebrity status as we all compare our traditions with theirs!
COAL REGION, Pennsylvania – The central Appalachian Mountains serve as a curved spine running through Northeastern Pennsylvania. But unlike its medical counterpart, this geological scoliosis has been a blessing to Lackawanna, Luzerne, Columbia, Carbon, Schuylkill and Northumberland counties. Due to the pressure from the mountains of Northeastern Pennsylvania, the earth is rich with hard coal. This hard coal, Anthracite by name, has the highest carbon count and fewest impurities compared to other types of coal, including Bituminous, which is found in western Pennsylvania.
It was this feature that drove industrialists to set up mines in the area at the turn of the last century. These coal barons needed cheap labor and after the Irish unionized, they turned to Eastern Europe for workers. The people of Silesia were especially known for their coal-mining prowess although anyone willing to work in the dark underground world of the mine was more than welcome. Agents of the coal barons traveled abroad with pictures of the area, which resembled Eastern Europe. Soon towns like Shamokin, Shenandoah, Scranton and Hazleton were overflowing with Poles, Carpatho-Rusyns, Czechs, Slovak and others. The area has no metropolitan centre, but thanks to these hard workers, the area soon acquired a name of its own: the Anthracite Coal Region. The area is not defined by proximity to a major city, but rather by an industry and a work ethic.
Everyone who comes from this region, and has Eastern European origins, can trace their roots back to a miner. Brian Ardan, professor at Lock Haven University and a Coal Region native, also recognizes another identity with this area. He has always maintained an interest in Slavic customs, passed down by his family. He began traveling to Poland and soon discovered we share more than just the customs. "I saw people I knew…well, different versions of the faces I have seen here in the Coal Region," said Ardan. "Last names were the same as they were here in the Coal Region," added Ardan.
Ardan continued, "And as I learned the language I discovered another similarity. Not only did I recognize words and phrases in Polish, but the sentence structure was familiar." Ardan explained that Coal Region-ese is English with Eastern European grammar and inflection. He joked that people from other parts of America may not understand our jumbled phrasing, but our ability to transcend noun-verb-object sentence structure is very Eastern European due to declension.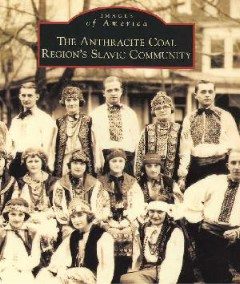 Ardan set out to document the region's unique heritage in his recently published book, The Anthracite Coal Region's Slavic Community (Arcadia Publishing, $21.99). He also produced a musical CD "Tam na Lemkovyni" (There in Lemkovyna) with Julia Doszna, a well-known Slavic folk singer from Poland.
We met at his Aunt Jean's home to discuss his book and the inspiration behind it. Even this simple gesture of welcoming me into his family's home and offering me refreshments before we started discussing the book illustrated the Slavic hospitality that lives on in the Anthracite Coal Region today. Before this meeting Ardan asked about my name: "Chesney? I went to school with some Chesneys." His drive to connect us to each other is characteristic of the Coal Region. The most often asked questions following introductions are focused on relatives and friendships. Again, this illustrates the Slavic sense of community found in the area. Once a connection is established, hospitality is inexhaustible.
Ardan experienced this hospitality when he traveled through Eastern Europe. While visiting Bosnia he felt isolated by the residents there. That is, until he attempted some Polish and explained that he was a Slav. Suddenly the veil of exclusion was lifted and he was accepted as kin. He recognized this Slavic social inclusion because he experienced it in the Coal Region.
Ardan interpreted this social acceptance using an interesting analogy, "When Slavs in Poland or other Eastern European countries recognize you as a Slav, there is a connection. They see you as a fingertip to the story of their hand or arm." Even families that emigrated over a century ago are seen as an extension to their own story, and therefore kinship is recognized. I thumbed through the book as Ardan pointed out some of the stories behind the photos on each page. Most of the book's photos came from churches or historical societies, but a few came from the author's family. "I didn't want to turn this into an Ardan family album," he said with a smile, "But this one is of my grandfather. He ran a couple bars in the area." Ardan pointed out a full page photo of a winking man pouring beer from a tapped keg. It is the personality of the subject that makes the photo memorable. To his credit, Ardan chose many photos that captured personality over people posed in rows. Another photo shows a miner getting scrubbed down by the inn keepers' wife while another miner is pouring a beverage from a tapped barrel, surrounded by co-workers each sootier than the next.
The book, dominated by photos, resembles something of a multigenerational yearbook. "Except I tried to make the captions under each photo speak to a wider audience," said Ardan. Instead of simply listing the names of the people in the photo, which would only be interesting for their family members, he used each photo as a teaching tool, describing an aspect of Slavic heritage or of the Coal Region. By doing this Ardan has made the photos and community more accessible to any reader.
Pointing out the cover photo, I told Ardan, "I'm certain this is my great-aunt sitting in the middle of the front row." The photo is of Transfiguration Church's choir dressed in traditional Ruthenian costumes. "I chose that photo because of the way the women were wearing the costumes," Ardan said. "These are ancient costumes but the photo is from the 1920's and the women are emulating flapper girls." Sure enough, they have their headdresses set low, seemingly going for a cloche hat look.
CR
Imagery
Brian Ardan in the Coal Region borough of Mount Carmel. Behind him is evidence of the strong Slavic connection. The spires of Divine Redeemer, an ethnically Polish Roman Catholic church set off the background as the golden 'onion domes' of Ss. Peter & Paul Ukrainian Catholic Church and the silver domes of St. Michael's Russian Orthodox church are all within a few paces of each other.
Brian Ardan's book "The Anthracite Coal Region's Slavic Community" features a photo of a Shamokin, PA choir in ethnic dress including Vincent Chesney's great aunt seated in the middle of the front row.