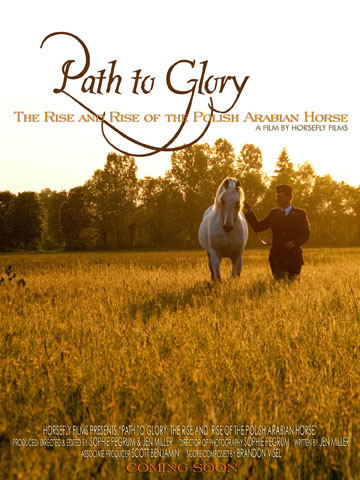 Before you begin, I'd like to recommend that you watch this.
It's the trailer to the movie. And if you don't – at the very least – get chills at the sight of that gorgeous galloping white horse, or the herd thundering down a leafy lane – then, maybe just watch it again.
Or, watch one of these: "Piaff" or "Pride of Poland." That's what I did before my interview with the filmmakers. Over and over again.
I've never owned a horse. I've ridden one a few times. And by "ridden," I mean white-knuckle-clutched the reins of a sleepy pony as it plods around a small ring. But these horses made me want to be a horse person, to live, breathe, ride, and be around these animals day and night. And once I learned about their history – I was hooked. Am hooked.
"This is the strange, unexpected story of far-flung lands, coming together in war and in peace, and influencing one another through the living history, written on the backs of centuries of horses."
– "Path to Glory" film trailer
Sophie Pegrum, Horsefly Films: The connection between the human and the horse is inherently interesting. Our culture and civilization has depended on them for centuries. That is the backbone of the [film's] story: how the horse has been used by man primarily through war; how our relationship has changed but remained inherently the same. Now we're not exchanging them in battle, we're exchanging them on the show ground. They're mythical. There's an element of them which is beyond reality because they come to us lowly humans and say, here I am, let me carry you forth. When you sit on the back of a horse, you're being imbued with the power of this animal that is carrying you forth as if you had wings.
As human beings, we have killed, destroyed, worked to the bone horses throughout history. They have given that to us. We should appreciate that.
The other part is this element of the horse coming from the desert, being in Poland, and now going back to the desert because the Middle East is coming to Poland to buy Arabian horses.
There's a lot about this film that's very detailed for a niche market. But we wanted to make sure that we were also telling the larger story, which would appeal to anybody – the history, the struggles that these humans have gone through with these horses, and their triumph.
It was [also] about the people that had the courage to protect these horses and to be crafty about it, hide the stud books from the Germans. That knowledge on paper for breeding is invaluable and precious. You can steal a horse, but if you don't know how it was bred, it's worth pretty much nothing.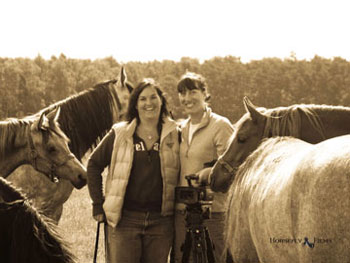 We built the film in a way that is a series of, [the Poles] overcome this and now this is what happens, and now they over come this, and this is what happens. Even the titles that we've used for each section of the film are based on that kind of battleground scenario.
Jen Miller, Horsefly Films: A lot of people don't know about the rich and hellacious history and the tenacity of the Polish people, and that they have literally had the leads of these horses in their hands the entire time. I want people to know that. There's a line in the film that I love: [Poles] have seen these horses through wars and devastation, but the horses have also seen them through that. They're a sort of salvation for these people. When everything else is crumbling and destroyed, and just the worst hell – they still have these amazing lofty creatures.
S: The phrase that Jen has used is that they are a living monument, a living museum because of the history that is attached to them as living and breathing creatures now.
In 1937, horse breeder J.M. Dickinson imported six Polish Arabians bred in Poland to his Tennessee farm. While researching for their documentary, Jen and Sophie visited the archives of the Kentucky Horse Park to search for a film, rumored to exist, depicting the horses' departure for America.
J: I had an old list from another museum that has since closed that said, I think this film may exist. The director of the Kentucky Horse Park said, it doesn't exist, we've never found it. So we sat on the floor and looked all day, and at the close I remember thinking, please let us find this, please, that would just be the cherry on top. It was time to go. And there was this little cardboard box near the ceiling. [On it was] handwritten, with fountain pen: 1937 Dickinson Poland. We got on the plane with this thing. And we didn't know what was on it. They unspooled it for us at a place in Hollywood. It was the most beautiful footage. The film was pristine because no one had ever seen it. Just to have that treasure, we both said, if we had nothing else – this is a film!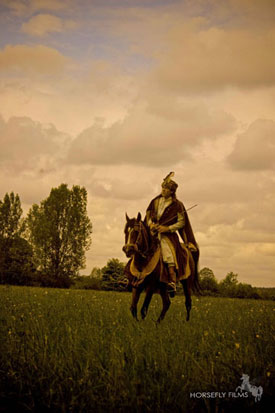 You look at those mares in that film, and they could go into a show ring today. That's how modern and how far ahead of the curve the Poles were, even in 1937. The Arabian industry in America has been on the shoulders of Poland for the last several decades. It's so important for me to say, look at this footage, people! This is where it all started. A lot of the back-end of the film is about the huge worldwide influence the Polish Arabian has had on nations everywhere, in particular the US. In the last decade, the US shows have been Polish horse after Polish horse. We wanted to show people where this comes from. You're seeing these horses and they are spectacular individuals. But when they go back to Poland, they are one of hundreds.
The concept for Horsefly Films came from Jen and Sophie's love of horses and their realization that there was a niche market for expertly filmed and produced equine videos. They began with several short films of such famous horses as Strike and QR Marc. Then in early 2009, they received an invitation from the prestigious Michałów State Stud, the largest Arabian facility in Poland. Located about 140 miles south of Warsaw, Michałów has been breeding Arabian horses for more than 50 years. Michałów hired Jen and Sophie to produce its first ever video catalog of horses for their annual auction.
S: We had been invited right into the inner circle of these studs. It was so awe-inspiring, the stories that people were telling us.
J: I think from the very first second we laid eyes on these horses, the seeds of this film were there. We would download at night and [the footage] was so beautiful that we thought, this story needs to be told in a big way. Then we thought, we'll keep on filming. We'll film everything. Someday it'll be a film. Even though I dreamed about going [to Poland], you don't know what it's like until you get there, how huge it is and how monumental. And I have to say that the moving image and the Polish Arabian – it's a match made in heaven.
S: When you say to people, Oh, the Poles are known for their Arabian horses, it seems like this completely odd disconnect – Arabians and Poland, how does that work? And of course, the history is so fascinating, and the results, the horses, are so incredible.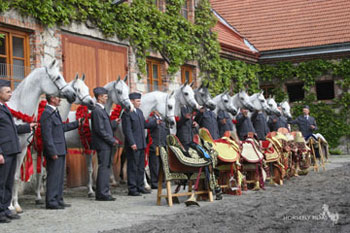 Jen & Sophie returned to Michałów in 2010 to film more footage for "Path to Glory."
J: We were walking through the barn. I remember saying, there are world champions and international champions here – we should do something with them all together.
S: We wanted to put every single one of them in their roses.
J: We wanted to pull out all the world champion saddles, from the trophy room, which is a mile away from where we wanted to shoot it.
S: And then you have to have these horses handled.
J: It's going to take the entire stud, every handler, every trainer, every groom. It's going to take the whole morning.
The director – he's very stoic – he says yes, I can probably get 4 handlers and 4 people in uniform, and I'll be in uniform as well. We get up the next morning, and we walk out to the barns. We look: Everyone is in their uniform. Everyone. We set up the shot, and here comes the truck with all the saddles. We're waiting. All of a sudden, we turn around and here they come out of the barn, these mares. These 12 white mares. With their roses on. Tears come to your eyes, and you can't even speak, it's so amazing, and we're watching them walk towards us.
S: I get chills thinking about it now. As filmmakers, we've done some pretty intrepid stuff. We've worked in Hollywood, we're so over all the bullshit. I think, wow, I'm out in a field with this incredible animal and a camera. What could be better than that?
J: When you're standing in front of a great horse, that's an emotional thing: The hairs stand up on your arms and, I always say, your heart splashes in your chest. It's that moment, we want to provide that for people. Michałów has this beautiful avenue of chestnut trees. In the morning they let all the horses [400-500] run together, and they run down this avenue to the field.
S: Of course we had to film the run, to stand in the avenue and shoot them coming right at us. It was so much fun. I would shoot that over and over again. The sound of the horses on the ground, rumbling as they're running towards you –
J: It rattles your chest. Nothing else does that. It's so powerful.
"Poland now proudly serves as the wellspring for the greatest Arabian horses in the world."
– "Path to Glory" trailer
S: There are a lot of fashions in the [American] horse world. Poles have a different approach, which is about a horse's usefulness, its agility.
J: It's nice to see these [Polish] world champion mares go out everyday into the pasture, and no one worries about them snapping a leg. They go out in the snow, they get thick coats.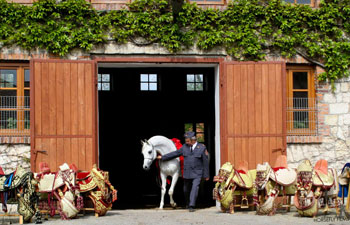 [In America] there was a beautiful horse who was a national champion. He's very fine-boned but he snapped a leg just lunging. That would speak to, they've been breeding a horse for so long for this face that's so beautiful, they're losing bone. If you lose bone here, your DNA doesn't know not to put it in your shins. When I was a kid, you showed your horse one day in halter and the next day you saddled him up and rode him in English pleasure, or Western pleasure, or you did reining. They could do both things and they could do them equally well. Since then, in the last 20 years there's been this intense specialization.
S: Polish horses I would say are more well-rounded.
J: They're still racing them. They've always raced them. That speaks volumes about their quality of bone. They can stand up to the rigors of racing and they're athletic and they can move and then go on to have a career after that.
S: Inevitably, Poles are under pressure to compete in the world market, at shows. It was interesting asking them about how they think about the future, how they have to fit their horses into that world. They're pretty stoic about it. They admire the fashion in some ways, but they also realize that their horses are going to do both.
J: In America, there's such hype. Every horse that you see is marketed as the greatest horse of all time. That's fine, but not every horse is the greatest horse of all time. The Poles have such great humility about their horses and program. If you ask, what's your proudest moment and how do you feel about? They say, this is on the backs of centuries of other people – it's me making decisions based on everything else that came before me.
In August of this last year, the first night of the show, everyone's having dinner. It got interrupted by a giant lightning thunderstorm. Tents and barns got overturned. There were all these Americans running around: The horses are out there! And I said, this is a thunderstorm. These horses have gone through so much worse in their history. This is nothing. One of the tents had blown over and there were 6 horses that they couldn't find anywhere. When they went to lift up the tent, those horses had just waited there for 2 hours: "Someone will come and find us."
I don't know if American horses would've done that. But Polish horses did.
"Path to Glory" will premiere April 16 at the Las Vegas World Cup. Jen and Sophie are also planning on showing the film in Poland.
J: It's always been very important to us that we do a Polish version. It will probably premier at Janów Podlaski in August. Of course we hope it's well-received everywhere. But what's most important is that the Poles love it. If the Poles love this film then I know we've done our job.
CR
Imagery
The film's poster features Janów Podlaski Stud's chief sire Piaff.
Jen Miller & Sophie Pegrum, Horsefly Films
Janów Podlaski Stud, Reenactment shot of Polish Count Rzewuski, who brought Arabian horses from Bedouin lands to Poland. The count disappeared after the battle of Daszow, on May 14, 1831 during the November Uprising against Russia. His white stallion returned alone – bloodstained, no saddle or bridle. The Russians confiscated all the count's horses. Some said that the count had not perished, but was back in the East – along with some of his horses, who he'd led to freedom there.
Michałów State Stud, May 2010: 11 World and/or International Champion Mares. From left to right: El Dorada, Georgia, Emmona, Egzonera, Palmira, Pistoria, Espadrilla, Emanda, Emandoria, Zagrobla & Galilea.
Michałów Stud Champion mare Zagrobla, 2000 European Reserve Champion mare; 2003 US National Champion.All photos courtesy of Horsefly Films