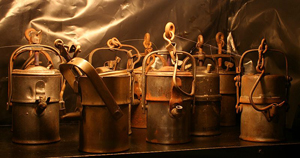 PHILADELPHIA – Sunday, October 5, 2008 marked the 75th annual Pulaski Day parade in Philadelphia and at the same time the 400th anniversary of the arrival of the first Polish Americans with John Smith's Jamestown settlement. As usual, the parade was a great display of Polish heritage broadcast on the local network affiliates.
While the City of Brotherly Love was celebrating Polish heritage with a parade, another more academic event was taking place some 130 miles northwest in a place many would consider less refined. Eckley Miner's Village was the site of a presentation on "Polish Coal Miners" who were crucial to the industrialization of Pennsylvania and America at the turn of the last century. Thomas Kopeteskie, president of the Greater Hazelton Area Polonaise Society, gave several lectures, beginning with the basic aspects of coal and coal mining, then proceeding to the history of Polish immigrants and coal miners in the hard coal region of Pennsylvania, stretching from Scranton to Reading. Polish hymn singing and ethnic foods completed the event.
The location of the program was interesting, as Eckley Miner's Village is a state-run preserved coal mining 'company town' where tourists can see how miners lived when coal was king. The site includes a museum in addition to the colliery, company store, churches, doctor and owner's mansions and the miner's shacks. In 1970 the feature film, The Molly Maguires starring Sean Connery, was filmed here.
One mile away, between Eckley and the city of Hazelton is another coal mining patch called Lattimer Mines. This was the site of a massacre on September 10, 1897 as unarmed striking coal miners were shot down by coal company police. In September, 2008, Daniel Bavolack, president of the national Carpatho-Rusyn Society, delivered two lectures entitled "An ancestral story from a modern viewpoint" at multiple locations within New York City, the first about Polish and Ukrainian immigrant struggles and the second about "Big Mary" Septak, a Slavic immigrant crusader for women's and children's rights.
Both lectures mentioned that the city of Shamokin was the first Polish settlement in Pennsylvania (1870) followed by the boroughs of Shenandoah (1873), Excelsior and Nanticoke (1875), and Mount Carmel (1877). This rings true to me as I know my ancestors helped establish the first Carpathian (then called Ruthenian, now called Ukrainian) church in Shenandoah and the second church in Shamokin. My hometown of Kulpmont sits between Shamokin, Excelsior and Mount Carmel placing me right in the heart of the Pennsylvania Carpathians, so to speak.
Other events are being planned as a result of information and interest generated from this program. Stay tuned to online communications for the most up-to-date news regarding events in Pennsylvania.
CR
Imagery
Museum in Rybnik, Poland: Carbide lamps, a brass and iron construction. Photo by Przykuta.