By John Minczeski
Introduced by John Guzlowski
A year ago, I published a list of ten essential Polish-American literary works. Only one author on this list is represented by two works. That's John Minczeski.
Concert at Chopin's House, his 1988 anthology of Polish-American writers, introduced us to a whole generation of poets, memoirists, and fiction writers and changed the way most of us think about Polish-American writing. His other entry on my list is his recent A Letter to Serafin, a book of his poems about his deep love for Poland and his Polish ancestors. This book, like his best writing, asks the questions that perplex all of us and answers them in language that is engaging, plain spoken, and human.
Here are two of his poems, the title poem from A Letter to Serafin, and a recent poem about cardinals, the bird kind, and the world they share with us. – John Guzlowski
Quodlibet with Cardinals
The clouds almost done with evening pink
A snowy egret flies over with the wind, fast.
Crossing a continent just another job. I'd just driven
From South Bend to my front door.
I too should be crowing, I suppose.
*
Evening, May. The crescent moon
Two days past new. A cardinal calls,
An answer from somewhere near by,
Then, everywhere.
*
Ricocheting, the cries spangle
Tsunamis of traffic on McKnight Road.
After hauling dirt and compost for the vegetable bed,
I sit down shoulders and back muscles.
I sit blue sky, the folded patio umbrella.
Light invades my closed eyes.
*
Somewhere cardinals, those
Rocket launchers in the gospel of evening,
Announce themselves.
I tucked cabbages and turnips into
The raised bed. I pulled weeds like
Meditation. My diet was time.
Behind my closed eyes,
Red slash.
A Letter to Serafin
Serafin, orphaned angel,
all that's left is a few pigs,
some rutabagas, and winter wheat.
Your great-grandchildren,
heirs to your legacy of dirt,
cultivate dialects like snow.
I am speaking from a suburb of St. Paul. It is October.
I am not raking
or composting. Nothing remains the same—
a galvanized roof shines on top of your house;
nobody has time for thatching anymore—
yet everything is the same.
The family, having gathered beets,
came from hunting mushrooms
to set out sausage and relishes.
What was I doing there, they asked,
how old was I? More tea?
Vodka? And everything made by hand—
you'd feel at home.
They laid out inventories from the war—
a hand blown off by a land mine in the field,
a father who walked home from Germany
more bone than flesh.
Bankruptcies keep filtering down—
stifled inheritances,
a grimace mistaken for a smile.
The animals remain—pigs, a cow staked out
in a field to graze—descended from those
you fed, who adored you,
whoever you were, Serafin.
CR
---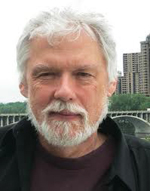 John Minczeski is the author of several collections of poems including Circle Routes, November and, most recently, A Letter to Serafin, published by The University of Akron Press. His poems have appeared in journals around the US and abroad, including Poetry East, Quarterly West, Agni, Meridian, Free Lunch, and Nowa Okolica Poetow. His many honors include a National Endowment for the Arts Fellowship, Bush Foundation Artist's Fellowship, a LIN Grant, The 2000 Akron Poetry Prize, and a Minnesota State Arts Board Fellowship. He lives in St. Paul, Minnesota. His website is  http://johnminczeski.com/default.aspx