Ian Wojtowicz staged his work, "The Betweeners" at Montreal's Skol in April 2010.


This large-format photo-portrait work, a roughly 4′ x 9′ inkjet print assembled from 9 large format film photos, is informed by the relatively new field of network theory. While the 20th century could be characterized by the use of the bell curve and the notion of the middle-class, the early 21st century seems to be characterized by power laws the tendency for connected systems to exhibit the rich get-richer phenomenon and the long tail, which gets longer and longer.
About the "Betweeners:"
By analysing Montreal's MySpace network, the artist intends to identify a group of people who constitute, in the artists words,a small group of highly-connected but obscure Montrealers [] the independent friends of popular people [] an elite who, taken cumulatively, have a close communication link with the entire city. Instead of highlighting the most visible people, the artist is seeking out catalytic individuals with the strong viral potential. Ian is currently on the lookout for additional exhibition spaces for The Betweeners.
* * *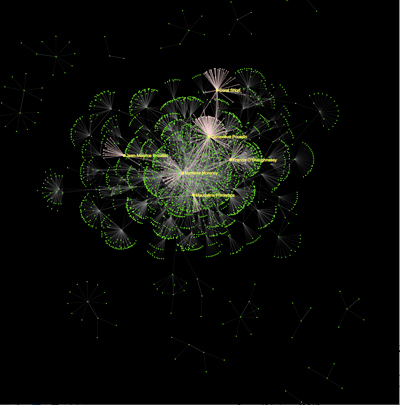 Ian Wojtowicz is a visual artist whose work has exhibited in Paris, Vancouver, New York, Hong Kong, Chicago, Cyprus and Istanbul. As a software engineer, Ian's work has twice been featured in Wired Magazine and has contributed to the garnering of Gemini, Emmy and Webby award nominations. He was the creator and editor of International Teletimes, one of the first online cultural magazines; he has taught new media at the Emily Carr University of Art & Design; and he once, in a fit of ambition, gave a speech at the Massachusetts State House announcing the founding of a new country. Ian currently holds a patent in mobile software, writes a blog (A Cyborg's World) and continues to shape his arts practice at MIT's Visual Arts Program. Visit Ian's website.