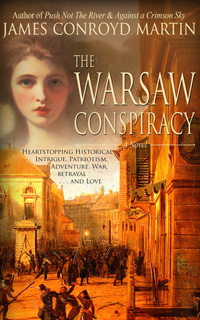 The Warsaw Conspiracy
James Conroyd Martin
Hussar Quill Press, December 2012
James Conroyd Martin's many fans will be pleased to know that the third book of his trilogy, The Warsaw Conspiracy, like its predecessors, has the dramatic intensity and romantic style of Push Not the River and Against a Crimson Sky. The rich history and culture of Poland are again the backdrop of this final chapter of the lives of Jan and Anna Stelnicki. At heart this is a family drama inspired by the diary of a Polish countess, Anna Maria Berezowska Stelnicka: "Before there are nations, there are families" repeats Anna's cousin, Zofia. And as in so many families there are sibling rivalries, family skeletons, betrayals, deceit, guilt, loss, estrangement and ultimately some measure of reconciliation and forgiveness.
Poles and lovers of Central European history will recognize in this trilogy about the Stelnicki family the familiar story of Poland's struggles against oppressive regimes, specifically the 1794 partition of Poland by Prussia, Austria and Russia (Push Not the River), the 1813 Napoleonic wars (with their implicit promise of freedom for Poland) (Beneath a Crimson Sky), and this volume, The Warsaw Conspiracy about the November Uprising of 1830 (the "cadets' revolution"). Readers in Northern California might be interested to know that quite a number of Polish veterans of the 1830 Uprising found their way to San Francisco, among them Aleksander Zakrzewski (who drew the first plan of San Francisco), Rudolf Korwin Piotrowski (the prototype for Sienkiewicz's Zagłoba), Feliks Paweł Wierzbicki (physician and publisher of the first book in English in California), Aleksander Bednawski (friend of Piotrowski), Jan Teofil Strencel (whose daughter married naturalist and preservationist, John Muir), engineer and surveyor Józef Truskolawski, and Kazimierz Bielawski (founder of the Polish Society of California).
The backdrop of The Warsaw Conspiracy is the 1830-1831 uprising, instigated by Polish cadets in Warsaw. Jan and Anna Stelnicki are in mid-life and the parents of four grown children – Jan Michał (step-son of Jan), Barbara, Tadeusz (deceased), and Józef (named after Józef Poniatowski, the last king of Poland). Like its predecessors, The Warsaw Conspiracy chronicles not only a period of war, but also the bonds forged between people, this time Zofia's daughter Izabel and Anna's son Jan Michał.
The drive for an independent Poland has fueled countless uprisings and consequent repressions from Poland's oppressors. In The Warsaw Conspiracy Poles are chaffing under the yoke of Russian rule; there are tensions among Poles, some of whom see accommodation and diplomacy, rather than armed conflict, as the better route to freedom. There are generational tensions; seasoned war veterans have diminished enthusiasm for battle, whereas the cadets are impatient and eager to test their mettle. Spies are a constant threat and secrecy imperative.
The third of Martin's series of historical novels, The Warsaw Conspiracy is written in four parts, plus a prologue and an epilogue, each section marked by a Polish proverb inscribed beneath a folk-art drawing. He orients his readers with a pronunciation key and a map of the Congress Kingdom of Poland, 1815-1831, and a concluding "historical note." For the most part, he uses Polish spellings and diacriticals, with some exceptions, e.g., Casimir (vs. Kazimierz).
The modern concepts of survivors' guilt and Catholic guilt seem out of place in the context of the 17th and 18th centuries, but in general Martin has aptly captured the period and faithfully portrayed Polish culture and history in an accessible manner, with one amusing exception: Poles exchange cheek kisses three times, not twice.
What is most fun about this book (and the others in the trilogy) are the encounters with, or references to, historical figures (Kościuszko, Czartoryski, Potocki, Poniatowski, Radziwiłł, Frederyk Chopin, Napoleon and others) and of course historical events. In The Warsaw Conspiracy Adam Czartoryski is a key player in the unfolding political intrigue; Józef Stelnicki is a protégé of Frederyk Chopin; Michał Stelnicki pines for Emelia Chopin.
The book has the character of a spy novel. The cadets who instigate the November Uprising must plan in secret. Basia's Russian-born husband plays a role in the ruling government and her brothers mistrust him. Family loyalties are tested and strained. The role of the szlachta (gentry) and the political machinations of the Sejm (parliament) are touched upon and perhaps might lead curious readers to further exploration.
Viktor, the peasant who rescued Zofia from drowning in Against a Crimson Sky reappears in this sequel. When Jan, Michał and Józef are dispatched to various parts of Poland to fight the Russians, Viktor accompanies 65-year-old Jan. Michał is separated from them and from Józef whom he has vowed to protect. At Zofia's townhouse in Warsaw, Anna and her daughter Basia worry about the fate of Jan, Michał and Józef. Will Jan survive a third war? Will Anna lose more sons, and Basia a father and brothers?
In the end, the cadets are rewarded with neither independence nor glory. The Stelnicki family, along with thousands of other Poles including Adam Czartoryski, emigrate to France following the collapse of the 1830 Uprising. But, Jeszcze Polska nie zginęła – Poland is not lost; Poles live, and with them, their longing for freedom.
The Warsaw Conspiracy is a satisfying novel, and a good read, especially in conjunction with Martin's Push Not the River and Beneath a Crimson Sky. Martin's genuine fondness for his characters is apparent and the reader comes to know and love them, too.
CR