A pilgrimage is a journey to a shrine, holy place or any place of historical interest. For many years, I've wanted to make a pilgrimage to Monte Cassino and it turned out to be all three.
When my Polish immigrant family first moved to Toronto's Rushton Road in the early 1960s we lived, like many immigrants, in a multi-layered household full of extended family members. One of these was my widowed paternal aunt, Anna Gruzewska, whose husband Stanislaw, my namesake, was a member of the free Polish forces and was killed in Iraq during the Second World War.
Perhaps because she was a widow and didn't have any children of her own, my aunt took a special interest in me. My aunt was in the Polish forces, too, (the 2nd Polish Corps) and had been part of the Allied assault on the German stronghold along the Gustav Line that Hitler had established to defend against approaches to occupied Rome. My uncle Jan Jemiolo, my mother's brother, was there, too.
The battles there in 1944, which included mainly British, Canadian, Indian, New Zealand, and Polish troops, were among the fiercest of the Italian campaign.
But Monte Cassino, about 120 kilometres south of Rome, is especially hallowed ground for Poles, who in savage fighting in the fourth Allied attack on the mountaintop monastery finally dislodged the Germans.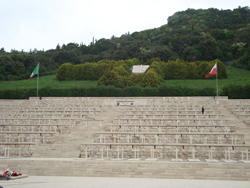 Their losses were heavy. About 1,000 Polish soldiers are buried in a haunting, mountainside cemetery along with their commander, Lieutenant-General Wladsylaw Anders.A white marble obelisk in the distance bears these words: "We, Polish soldiers have given our bodies to Italy, our heart to Poland and our soul to God for our own and other people's freedom."
Another prominent Pole buried in the cemetery is Archbishop Jozef Feliks Gawlina, who was responsible for the religious welfare of Poles outside of Poland. As it turns out, Archbishop Gawlina had confirmed my mother into the Roman Catholic faith a few years earlier. That was in what was then Northern Rhodesia (now Zambia) where she and her orphaned sisters were refugees after being released along with hundreds of thousands of other Poles from Stalin's labour camps in the former Soviet Union.
When I told my mother that I had visited Monte Cassino, she told me of a famous song written after the battle whose lyrics include these words: "Red poppies on Monte Cassino; Instead of dew, drank Polish blood."
So, Monte Cassino is both a shrine and place of historical interest. For Canadians, too. In the town of Cassino at the mountain's foot is the Commonwealth Cassino War Cemetery containing the graves of hundreds of Canadians who fell in the River Liri valley.
More than 500 metres above sea level, Monte Cassino is also a holy place. Its massive and ancient Benedictine abbey and basilica, first built about 500 AD, was destroyed by invaders, rebuilt, sacked again, rebuilt once more, then totally destroyed by an earthquake in 1349.
Once more it was restored, only to be completely obliterated by American bombing and Allied artillery barrages in 1944 basedon the fear that it was being used as a lookout post for the German defenders. The U.S. Army's official record now acknowledges that no German troops had occupied the abbey; after the bombing German paratroopers took up positions in the ruins.
To get to the abbey today one drives up a hair-raising serpentine road, and upon arriving one is left in awe not only by its monastic majesty and its breathtaking views but also by its stunning reconstruction — it's hard to imagine it had been turned into rubble — which took decades to complete and which was paid for exclusively by Italy.
Monte Cassino had special significance for John Paul II, the Polish pope who upon visiting it on the 50th anniversary of the victory of Monte Cassino, said: "The fact that the Abbey of Monte Cassino was destroyed has a symbolic value. Christ said: 'Unless a grain of wheat falls to the ground and dies, it remains just a grain of wheat; but if it dies, it produces much fruit.' Evidently, the ancient Abbey of Monte Cassino had to be destroyed so that a new life for all of Europe could rise from its ruins."
During my pilgrimage, the parking-lot attendant who as a young boy had witnessed the complete destruction of the town of Cassino and the mountaintop abbey, eagerly quoted in Italian the inscription about Polish valour and Polish blood spilled on Italian soil.
He said he often goes alone there because the tranquil setting allows him to meditate in peace. "There, no words clutter my mind," he said.
For him, too, a spiritual pilgrimage.
CR
Imagery
Photos by E. Oziewicz