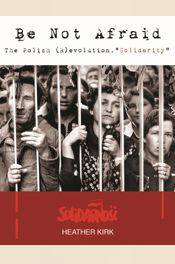 Be Not Afraid: The Polish (R)evolution, "Solidarity"
By Heather Kirk
Borealis Press, Ottawa, Canada (2011)
Powerful, peaceful and quintessentially Polish: Solidarity. Canadian author Heather Kirk spotlights the many facets of a world-changing revolution that killed "precisely no one."
When Canadian author and educator, Heather Kirk, is asked what motivated to her write a book about Poland's Solidarity movement she replies without hesitation: There are lots of books about war, but very few about non-violent resistance. How are young people to know about it? So she chose to write about the biggest and most successful one of them all: "Solidarity involved ten million people over a period of ten years. It freed Poland from Soviet domination. It contributed greatly to the collapse of communism in Eastern Europe and to the fall of the Soviet Union in 1991. It killed precisely no one." The dedication reads: "For the people of Poland."
Heather Kirk, who lives in Barrie, Onatrio, is by no means the first to write about Solidarity but it is ironic that a resistance movement that was, more than any other, a people's movement, has largely been of interest primarily to intellectuals who write dense history, often dwelling on the minutiae of strategy and complex analyses primarily aimed at – and understood by – academics. Without a repertoire of sound bites, one-liners and colourful personalities, what are western journalists to do?
Ms Kirk wanted to communicate this magnificent people's story to "the people." Solidarity toppled a tyranny in part because its communications were pure genius, despite the need for secrecy. But abroad, it failed to create a long-term impression, other than its famous logo and the dashing young electrician.
It is no accident that broadcasts commemorating the fall of communism invariably show the happy crowd dismantling the Berlin Wall. You couldn't script a better scene to play out in front of television cameras, especially for audiences weaned on Disney. Never mind that this scene tells you nothing about the long, hard, disciplined, and complicated struggle that took place – not in East Germany, but in Poland.
In Be Not Afraid, Heather Kirk creates a people's history for the people, well researched and fact-filled, but told in a quirky, original way, with a treasure trove of terrific quotations, personal stories, short biographical sketches, and historical gems; she explains national and religious symbols, and throws in the "Polish jokes" of that era – those clever and witty put downs of communists and their masters in Moscow.
Let's start with one of those:
On a visit to China, Jaruzelski asked a Chinese leader, "What's the numerical strength of your opposition?" "About 35 million," replied the Chinese leader.
"Ah!" responded Jaruzelski. "About the same as our number."
Yes, an entire nation opposed. And how did this nation oppose? Kirk gathers vivid examples. Solidarity's most common decoration, decorating factory gates and monuments… honoring leaders and heroes… were garlands and wreaths of flowers. Disdain for dictators is easy, disdain for violence, the dictators' favorite tool, is not so easy…but renouncing it pays…
Poetry. In Poland, Kirk explains, the "poetico-political dream world of literature" is of vital importance. It ensures survival, moral survival, no matter what the political reality. She tells of shipyard workers writing poetry during the strike: "Let the lie and falsehood disappear and let the goodness and truth permeate the nation…"
Music. The workers composed songs, sang them at meetings, in their factories, at demonstrations. One, "Żeby Polska była Polską" (So that Poland Can Be Poland) became the theme song for the Solidarity.
Theatre. What were the students protesting in the riots of 1968? The authorities banned a play. Interfered with their cultural life.
Kirk is well aware that poetry, music, theatre may strike non-Poles as odd weapons to use during a strike but she provides the context, the historical and cultural background and then, it all seems as normal as brandishing a weapon – but much more civilized and effective. These are weapons chosen because they give strength to the oppressed, not to attack others.
Faith. Do not be afraid. Those were the Pope's words. Don't be afraid. The nation is with you proclaimed one of the banners that greeted Lech Wałęsa at a festival of song and poetry at the Warsaw Opera House. Kirk points out that Henryk Gorecki, one of Poland's greatest modern composers emphasized that music, and the other arts – literature, painting, film – are a form of prayer. Let us not forget – Solidarity included atheists too.
Solidarity was not just a word, a slogan. It was a union of all the people: peaceful, hopeful, imbued with faith. Solidarity is, by definition, inclusive, accepting, understanding.
There is so much in Kirk's book. The personalities: Kuroń, Michnik, Bujak, Mazowiecki, Anna Walentynowicz, Alina Pieńkowska, and Wałęsa among so many others, all have their cameo biographies. Brief, warm, human biographies.
Personal stories, all true but written as fictional narrative, illuminate the times: Wałęsa's impoverished childhood, his father's premature death from the physical abuse he endured in German camps. Stories of women trying to care for families despite shortages of essentials, of wives and children afraid their father will be arrested or killed.
Be Not Afraid is a surprising, unusual book. Kirk lists a bibliography and recommends readings on certain topics throughout the text. She also acknowledges Professor Anna Cienciała – who is always generous with her time and her knowledge – to whom Kirk turned with questions along the way. I highly recommend this much needed book, and hope it finds its way into school, university and public libraries everywhere. Ms Kirk paints an impressive picture of a society that endured much, and overcame much, with great honour and dignity.
CR