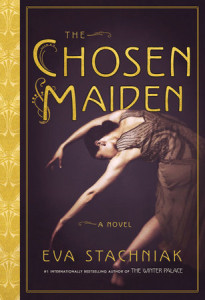 The Chosen Maiden
By Eva Stachniak
Doubleday Canada 2017
Bronislava Nijinska, sister to the famous and doomed dance genius, Vaslav Nijinsky, was a woman ahead of her time, a groundbreaking dancer and choreographer whose early years were spent in Imperialist Russia but who saw the horrors and deprivations of the First World War and the Russian Revolution. In "The Chosen Maiden", author Eva Stachniak gives us a fictional recounting of La Nijinska's life, based partly on Nijinska's own "Early Memoirs". Ms Stachniak weaves an absorbing, passionate and harrowing tale through some of the seminal moments in 20th century dance, music, and world history.
"Bronia" Nijinska was born into a dancing family in the Russian zone of partitioned Poland. Her parents toured the Russian provinces with the Lukovitch troupe. She and her two brothers began performing when quite young, and her older brother Vaslav would later be renowned for his giant leaps, emotional expressivity, and choreographic innovation. Vaslav and Bronia attended the Imperial Ballet School and graduated to become Artists of the Imperial Theatre in St. Petersburg.
Mental illness shadowed the family. Bronia's eldest brother Stanislav lived much of his life in a sanatorium. Vaslav, "The God of the Dance," had a brief but brilliant career until mental illness overtook him.
Bronia showed early promise, but struggled to make her own way and name. She decided early on to "devote my life to Art" but, as she wrote in her diary, "I have lived so long in the shadow of giants." During her student years at the Imperial School, she danced in the corps de ballet alongside such famous ballerinas as Anna Pavlova and Tamara Karsarvina, and saw Isadora Duncan dance. She eventually became her older brother's partner in choreographing his most famous works, notably L'Apres-Midi d'un Faune, and Le Sacre du Printemps, which, at its premiere in 1913, incited riots and garnered lavish praise. The title "Chosen Maiden" refers to a role in Sacre that Bronia would have danced had she not become pregnant, but it has larger implications as well. Both siblings danced with the Ballets Russes, impresario Sergei Diaghilev's innovative dance company. Bronia eventually choreographed for the company, seeking to break away from the restrictive conventions of dance and to create a more modern ballet and conception of movement. In her career, she worked with many great artists, such as composers Claude Debussy and Igor Stravinsky, choreographers Marius Petipa and Mikhail Fokine, and the designer Leo Bakst, and we get a glimpse of what those working relationships might have been like. The large and vibrant personality of Diaghilev looms large.
One of the delights of this book is the sense one gets of Bronislava Nijinska's personality. Her "voice," if you will, is engaging, serious about her art, sensitive and aware in her knowledge of her family members. Her intense and dynamic relationship with her brother Vaslav had a huge influence on her life and, by her own admission, caused her to rise above her own limitations. There are great details about what it was like to be a dance student in such a prestigious and pressure-cooker place that was the Imperial Ballet School. The Bolshoi, and the school attached to it, were possessions of the Tsar and, therefore, the competition was as fierce, and often as vicious, as it was in the Imperial court. To have an aristocratic patron was useful, to be an Imperial favorite bestowed great wealth and status.
The life of a professional ballerina is well described, and it is interesting to imagine a life spent travelling all over Europe, performing the best and most advanced dance of its day. The dancers spent much of their time rehearsing, or repairing costumes, or managing their battered bodies, so sightseeing was a rare thing. Their reward came from the praise of the crowds and in the knowledge that they were breaking new artistic ground.
Harder to read, but equally fascinating, are the descriptions of life during, and after, war. She felt her many losses deeply – the death of her oldest brother, the disintegration of her marriage, the closing of her beloved School of Movement by the Bolsheviks, to name but a few – but her pursuit of the highest and purest forms of art somehow got her through the horrors. She derived much inspiration from the friendships she formed with many artists, from all disciplines, particularly in the years she spent in Kiev during the First World War.
Chosen Maiden, a novel about Nijinska, also tells us a lot about her times, specifically in the waning days of Imperial Russia. The book ends in 1939, on a ship to America, as the Second World War begins. She is heading towards a new place, hoping to "find the strength for another struggle", after devastating personal losses. I am not sure why the author chose to end Bronia's story at this stage of her life, though it is clearly a turning point. I was moved to research her later life to see what happened to her in America, so I would have welcomed a postscript with additional details of her life after 1939.
The book hints at the myriad reasons that Nijinska was, and felt, overshadowed. As is often the case in life, personal circumstances – such as being the sister of a groundbreaking dance icon, and having one's career derailed by war – colluded with the social norms of the times, in which a female could not get her full due in the male dominated world of choreography. No amount of passion, personal commitment and talent could quite make up for those life dislocations.
Chosen Maiden, rescuing Nijinska from her brother's shadow, reveals an artist, one who knows that "to excel, I have to be strong, resilient, see more, understand what is hidden to others", and also, as her brother told her, that "Art is all that matters, Bronia. Everything else is distraction."