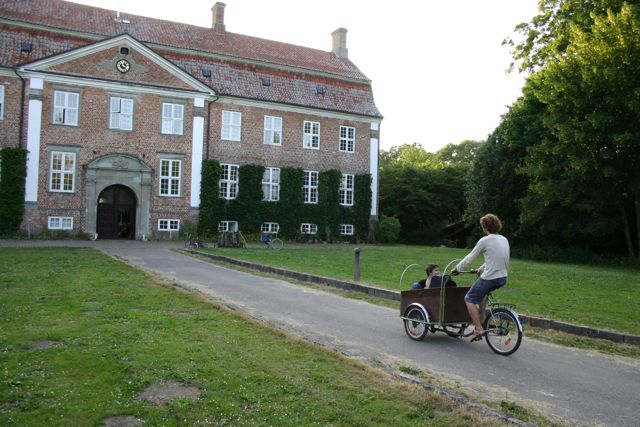 I didn't know what to expect before heading off to Denmark where I was to join Étienne Gernez, a 26-year-old French engineer and founder of the project One Step Beyond and the rest of the crew working on a documentary about eco-villages in Scandinavia. I had just recently graduated and spent a week at a conference on maritime security in Baku, Azerbaijan – a big leap from an oil centre to a "green" project.
OK, I'll be honest. I did expect eco-villages to be a bit like hippy communities. I had visited one just outside of Aarhus, Denmark's second biggest city, in 2008. In Friland, you were not allowed to take a mortgage and you had to build your house yourself from natural materials. One member of the community was driving a car fuelled by used frying oil from fast-food restaurants. The village seemed slightly disorganized and messy. Ben Miller, the crew's soundman, confessed he had similar ideas about ecovillages:
"Before seeing the communities, I thought they would be very different. Of course people living there have a different lifestyle, but everyone has a different lifestyle. You expect something extreme or detached from the rest of the world, but in fact, it's not entirely like that. At the same time, [the inhabitants] are in some sort of bubble, but it's not like they ignore everything else. It's a bit like having a life inside a household, which is different from the outside society. It's sort of that, but extended to a larger community."
On July 6th, 2009, I arrived at a bus stop in Svanholm ecovillage where Étienne picked me up on a "Christiana bicycle" (one equipped with a large wooden box for transportation – see picture). Sitting in the wooden box leaning on my suitcase as we rode past the gently swaying cornfields and horses grazing in green pastures I watched the sunset and breathed the wonderful fresh air.
The first thing that struck me when arriving in Svanholm was its large manor house converted into apartments for about 30 inhabitants. A few additional houses were dispersed in the surrounding areas. Behind the manor, a lush green area adorned by a pond gave me the feeling of entering a summer resort. To the left were horse stables transformed into beautiful modern apartments and the community store selling organic foods and products. A bit further, on the right, the large common kitchen and dining hall, complete with piano and pool table, constituted what seemed like the heart of the community.
Located 55 km west of Copenhagen, the Svanholm manor and its 400 hectares of land were transformed into a farming community in 1978, after about a year of planning. Two couples, John and Lyne Madison and Anders and Minna Kornum, placed an ad in a newspaper inviting between 50 and 100 people, plus their children, to form a community whose main goals would be ecology, self-sufficiency and a shared economy (its inhabitants pool 80% of their individual income to meet the community's needs). As Hildur Jackson describes in her book Ecovillages: Restoring the Earth and her People, "today, its inhabitants have gone a long way towards realizing their dream. Svanholm supplies the Copenhagen area with ecological potatoes, carrots, onions and frozen peas. The project has a packaging plant for fruits and vegetables. Other activities include milk production, a packaging production plant supplying wooden crates, and pallets from Svanholm's own trees."
The community also has two windmills allowing it to meet all of its energy needs, its own biological wastewater treatment facility, a car park with a repair workshop and a kindergarten. A section of its manor is reserved for about a dozen volunteers. Our crew stayed in these quarters for a week. We helped in the fields, weeding carrots, lettuce and tomatoes, and also helped in the kitchen. One evening, the volunteers gathered in the smaller common kitchen to pit cherries and to make marmalade. Although we shared lunch and dinner, in the morning, we were free to take organic butter, oatmeal, fresh bread and cheese from the big common kitchen individually.
I was surprised to find out that the community produced only 20% of its food supplies, the rest purchased from the outside in bulk, which helped reduce food costs. We calculated that it costs about 200 euros per month to feed one person at Svanholm, not a big sum compared to the astronomic prices of food in Denmark supermarkets. (Half a kilo of yellow cheese costs around 10 euros in Denmark.)
Since we visited Svanholm during summertime, the atmosphere was very calm. A lot of the inhabitants had left on vacation so, unfortunately, we didn't have the opportunity to attend any of the assemblies during which the community discusses project proposals and makes decisions regarding its functioning.
At Svanholm I discovered people with a holistic approach towards themselves and their community. Eschewing consumption and individualism, which modern, urban life seems to encourage, Svanholm's inhabitants promote community, integration, interdependence and sustainability. After work, they preferred to spend time with family and neighbors over a meal while their kids run around without worries, instead of rushing to the grocery store, picking up their kids at daycare, preparing a meal every day, and rushing to pay bills or get the car repaired.
Eating fresh, organic food is good for our health, and for the health of the ecosystem we are part of. A common kitchen saves energy and encourages recycling and composting practices. What if, in one way or another, every citizen could spend some time participating in his and her own food production? According to economist Jean Gadrey, producing goods and services in an ecological way requires more work than producing the "same" goods and services in a way destructive to the environment and the climate. Investing in sustainable and natural food could generate employment, while at the same time, limiting the negative impacts on our ecosystems. Svanholm's inhabitants are trying to work in this direction.
What's more, relying on the community's talents and capacities to repair, build and run the community, they diminish the need for outside professionals, thus cutting back on transportation and energy consumption. Fundamentally, by living a life focused on ecology, one realizes how matters of waste, transportation, social life, food and energy are interconnected with human existence. We are part of the ecosystem, not outside of it. A life in the city can sometimes make us forget that.
After visiting Svanholm, my colleagues and I headed to Munksoegaard in Roskilde by train and bus, about 30 km from Copenhagen, on the 12th of July. There, we met Jytte Abilstrøm, actress, creative director at Riddersalen Theatre in Copenhagen and activist, who guided our discovery of nature-friendly life in the village. The planning for Munksoegaard began in 1995. Now, it consists of five clusters of 20 dwellings each sharing a common house, which includes a shared washing machine and kitchen. Munksoegaard houses about 225 inhabitants, including children. Its development has been designed to provide diversity in housing sizes, ownership types and in support of different age groups. In 2000, Munksoegaard won a national competition for the best sustainable design for the 21st century. There's a waiting list of 500 people who would like live in the village, which speaks for itself in terms of the success of the initiative.
Jytte gave us a tour of the ecovillage, showing us an old farm located in the heart of the settlement and supporting common activities including a café, a vegetable shop, office space, storage space and animal shelter for rent, shelter for bicycles and a bicycle repair workshop.
We set up our working space in one of the common houses, which also happened to be a strawbale house built entirely from natural materials. This means that if it had to be torn down, it would transform into soil and not leave any pollution behind. Before the sun set, we pitched a tent that became our home for a week. Like in Svanholm, many of Munksoegaard's inhabitants had gone on vacation. But we did have quite a bit of contact with the residents from the senior cluster. Over the days, they became accustomed to our presence. We started preparing meals in the common kitchen and even cooked dinner attended by most of the seniors.
During the day, while the filming crew interviewed some of the inhabitants about sustainable technologies, Radu, Micah and I helped in the fields. We cleared Jytte's garden patch of weeds and picked strawberries, and black and red currents every day. We rediscovered what natural, pesticide-free and local fruit tasted like.
It's not only the fruit harvested in Munksoegaard that is chemical-free. All of the village's houses are built from wood and painted with environmentally-friendly paints. The dividing walls between the individual row houses are made of non-burned compressed soil bricks, which require very little energy to produce. A heating plant operated on wood pellets and a local district heating system supply CO2-free space heating and domestic hot water. During the summer, solar collectors placed on all common houses supply the inhabitants with almost all of their hot water needs.  Urine from the households is collected in separation toilets and stored in underground tanks. It is later used as an organic fertilizer in nearby farms.
Munksoegaard also has a waste recycling station where previously separated garbage is handled. Inhabitants compost food scraps and garden wastes. Wastewater from the settlements is treated locally in a biological sand filter; rainwater is collected for laundry use in the common houses, whereas separation in the toilets contributes to saving a lot of water.
During our visit, Jytte took us on a visit of the ecological inspiration house she founded with innovative architect Flemming Abrahamson. We were delighted by the zen atmosphere we encountered there: once inside, we felt as if we were part of a breathing, living organism. Although it was hot outside, the house was cool because of natural insulation. Electric power, off-grid, is provided by photovoltaic batteries instead. A CO2-neutral masonry stove is used for heating. Rainwater is recycled, graywater is cleansed and composting toilets allow for the retention of precious nutritional salts. And that's just the beginning of a list of ingenious techniques that Flemming has helped implant in the ecological inspiration house. (More information can be found at byoko.dk.)
Flemming's message to economists, stockbrokers, politicians and other "bigwigs" is that it would be wise to adopt ecological measures immediately. "People's motives may be different: some will focus on the profit margin, others can see a way to winning votes, and so on. But there is an intelligent, technological, ecologically economic and spiritual solution that can link rich and poor countries together, perhaps out of necessity, in the same global democracy that will have a fair chance of survival."