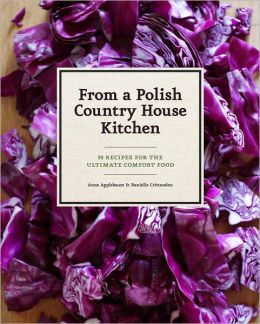 From a Polish Country House Kitchen
By Anne Applebaum and Danielle Crittenden
Chronicle Books; Nov. 7, 2012
When Pulitzer Prize winner Anne Applebaum and Huffington Post Canada managing editor and author Danielle Crittenden set out to write a Polish cookbook, they had much more than a culinary interest to motivate them. From a Polish Country House Kitchen is as much a political celebration of Poland's re-emergence and renewal after decades of Soviet rule as it is an effort to introduce North American kitchens to the fine art of Polish cooking.
The cookbook starts, however, with what seems an apology for Polish cooking. In her preface, Crittenden describes the reaction of people to the prospect of a Polish cookbook with a sardonic "how many recipes can you get out of boiled potatoes?" Not unlike people's reaction to British cooking, it must be a line invented by the French to exalt their own cuisine over others. Needless to say, the book's aim is to dispel this myth.
Growing up half Polish in Canada in the 1970s, I can't say I can relate to this presumed stereotype. For me, my grandmother's cooking was delicious, the servings of barszcz, cabbage rolls, mushrooms domestic and wild, and pierogi. She didn't make the pierogi from scratch – too busy – but there was a great Polish restaurant in Old Montreal that sold pierogi as they are supposed to be (editor's note: Stash's, for those of you who live in, or visit Montreal). Along with the cuisine came fascinating stories of her homeland, the war years and the Soviets and her miraculous journey from a Siberian concentration camp to Persia, Africa, Britain and then to Canada with three daughters in tow.
In contrast, Canadian food really was meat and potatoes, occasionally enhanced in the summer on a barbeque that combined with suburban conversations of visits to the mall. Besides expensive French cuisine only the wealthy could afford, Canadian restaurant fare was thick crust, greasy pizza, egg rolls and Cantonese sweet and sour chicken and grilled cheese sandwiches. Globalization of food, the arrival of fusion bistro and molecular gastronomy would not arrive for a couple of decades or more. The Poles should hardly be embarrassed or have anything to apologize for.
Which takes us to what the cookbook really is about – the Polish bistro. It's a reintroduction to Polish cuisine for a post-modern foodie. Alongside a more conventional recipe for herring with sour cream is another of herring with lime and raspberries. There's a recipe for traditional barszcz, a "jazzier barszcz" and then, to top it off, chlodnik or summer beet soup. For mains, the book offers two choices of cabbage rolls, but also sturgeon steak with hot mustard, a fish that once graced the tables of czars and Polish kings. There's a recipe for pierogi, of course, and many fillings, some traditional – including fruit fillings – others less so. The desserts include poppy seed torte (another fond childhood memory), but also mini-meringues with fresh berries and crème fraiche.
As I needed no convincing, however, my first attempt was bigos, a traditional hunter's stew. The book appeals to the foodie by calling for venison or wild boar, but beef and pork do just fine and I threw in some lamb because I felt like it. Preparations were straightforward and pretty simple, the cooking time long but easy (it's a stew, after all), the result delicious. Better yet, the recipe leaves you with enough for a large gathering, or wonderful frozen leftovers after a day's work.
On the weekend I made naleśniki or Polish crepes. Like their French counterpart, but with yogurt, they are tastier and more nutritious. Stuffed with plum jam, the result was scrumptious. On the "to do" list are many variations on Polish vodka, with several recipes to transform the Polish elixir into varieties of fruit liqueurs – as good a summer project as any, once the fresh fruit comes to market.
From a Polish Country House Kitchen is a delight. The introduction is graced with beautiful photos of the new, old Poland, lovely rural scenes of Applebaum's recently restored Polish manor home and garden. With 90 recipes to choose from, it's a cookbook that accomplishes its dual mission of introducing Polish food – and celebrating Poland's survival and reappearance on the global stage.
CR
By Pierre Gratton, son of a Polish mother, almost a "foodie," with a blackbelt in karate.