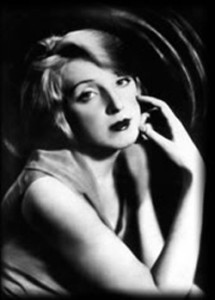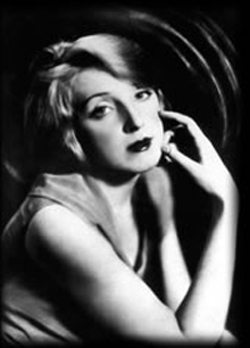 Singer, dancer, actress. One of the most popular cabaret stars of the interwar period, Hanka Ordonówna was described by theatre historian Beth Holmgren as "lithe, blonde, with willowy limbs and the face of a melancholy Greek goddess," a trendsetter and free spirit. She toured Europe – appearing in Berlin, Vienna and Rome – and also in the Middle East, in Damascus, Beirut and Cairo. Very successful financially, she chose to continue her career and keep her independence even after her marriage to a count, Michał Tyszkiewicz, a high official in the Foreign Ministry, who not only approved of her career but wrote the lyrics for some of her most popular songs.
She was in Warsaw when the war broke out and was arrested in the earliest stage of the German occupation. Her husband rescued her from Pawiak prison, possibly by bribing a guard to get her out. They fled to the Tyszkiewicz estate near Wilno (today Vilnius) but, with the Soviets already occupying the eastern part of Poland, they didn't find peace. Having escaped from the Gestapo they fell into the hands of the NKVD: Tyszkiewicz was arrested and sent to the infamous Lubianka Prison in Moscow, Ordonówna was arrested after going to Moscow in search of her husband. She was then deported to Uzbekistan for hard labour building roads.
Released following the "amnesty" in 1941, Ordonówna joined the thousands of Poles heading south towards the headquarters of the new Polish army, at the same time searching for and rescuing orphaned children. Despite being ill with tuberculosis, she organized a theatre for her fellow deportees but primarily dedicated herself to an orphanage housed in a run down hotel in Ashkabad. When permission came to take the first group of children out, she accompanied her charges on the first convoy over the mountains to India.
On arrival in India, she joined those children also ill with tuberculosis for treatment at a sanatorium at Panchgani. While there, she wrote a book about the children's experiences in the USSR using a pen name, Weronika Hort, to protect friends and family in Soviet controlled Poland.
Her book, Tulacze dzieci, reveals a woman of immense sensitivity, tenderness and strength.
The children were like frightened, starving wild animals, she wrote, that had been subjected to extreme cruelty. Many were suspicious, used foul language picked up in the camps, and were always ready to fight or run, while others were expressionless, almost catatonic.
The orphanage gradually made them relax a little. Their eyes looked less frightened and they learned to smile and even laugh. But they continued to steal and hide things, unable to believe that they would be fed, clothed, cared for.  Most had watched their mothers die. They were withdrawn.
Their new guardians, perhaps because they had experienced themselves what the children had lived through, understood them. They never forced the children to do anything, never reprimanded them, understanding that they needed kindness, gentleness, reassurance and love.
– These rooms are Poland, a teacher said.
– Sure, Poland in a couple of rooms, a boy replied – Some country, the size of a couple of rooms.
– Poland is where there are Polish people. Poland is where we carry on our traditions. The things our parents and grandparents taught us. Our language, our songs, our music, our poetry, our literature, our religion.
– Our Christmas tree, said a girl.
Others joined in – It's a szopka with candles, it's baptisms and weddings and funerals, the third of May, storks in their nests…
Some children just turned up on their own, some so young they didn't know their family name or where they were from.  A family of four, aged 2, 4, 6 and 8, arrived together, the eldest carrying the youngest on his back.  Mothers and grandmothers, unable to feed the children, left them at the door, with a note identifying them.
Their first stop after crossing the border to Persia was Meshed where arrangements had been made for them to stay in a Persian orphanage for a couple of days. There they were greeted warmly by the staff and the children, and also by officials – Polish, British and American – who had come up for the occasion.
– The Persian children pay for their upkeep by weaving carpets – the British official said to the Poles – Your children could learn to do the same.
– Weaving carpets is harmful to children's physical, mental and psychological development – was the reply – Children have to go to school, and to play. *
And so it would be.
Ordonówna would stay with the children for another three years, part of the time in the sanatorium, where she comforted them as they came to terms with what had happened to them, helped them come to terms with the permanent loss of their parents, and to face the future with faith and courage. She had an instinct for the right words, for the right touch. Tulacze dzieci is one of the most beautiful books about children I have ever read, at once a perceptive psychological study of traumatized children and an exciting story of rescue. It richly deserves an English translation.
Weakened by her Siberian ordeal, Hanka Ordonówna was not to live much longer. She was moved to Beirut where she was reunited with her husband. She continued to counsel and comfort Polish youngsters, and sing for her compatriots, until her last days. She died in 1950, at the age of 48. In 1991 her ashes were moved to Powązki Cemetery in Warsaw where a school was named in her honour.
CR
**Passages selected, edited and translated by Irene Tomaszewski from Tulacze dzieci by Weronika Hort, Instytut Literacki (Bejrut: 1948)