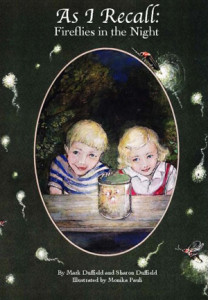 As I Recall: Fireflies in the Night
Written by Mark and Sharon Duffield
Illustrated by Monika Zofia Pauli
Jamaica Plain, MA: Red Brick Books, 2013
As I Recall: Fireflies in the Night is a charming and thought-provoking children's story written by siblings Mark and Sharon Duffield and illustrated by Monika Zofia Pauli.
The story stages a nostalgic return to the childhood joys of catching fireflies, and also offers lessons in kindness, hospitability, and compassion that will appeal to both children (five-year-olds and up) and their parents. A sister and a brother, mesmerized by the light that emanates from the insects, collect them in jars; but thanks to their father, they also learn the importance of setting the fireflies free again, back into nature. As the foreword to the book points out, it is more urgent nowadays than ever to release fireflies, since their numbers are dwindling.*
The narrator of the story recalls the important lesson in ethics and compassion that his father taught him when he was small: "If you practice thinking of others, your practice will become your habit, and, over time, your habit will become your character. It will become who you are…heart and soul, making you [a better person] and the world around you a better place."
Monika Zofia Pauli, an architect by profession and an artist by passion, illustrated As I Recall meticulously, helping enhance the story and its message; her illustrations, well-executed watercolour and gouache paintings, are not facile. Pauli respects the young reader and pays attention to every detail; her fireflies are not only enchanting but also anatomically accurate. The outside world even enters the house along with the fireflies, as we see from her representation of light, shadows, and reflections of the sky. As the children are seen running through the hallway, one of them clutching a jar full of the tiny insects, the evening light pours in serenely through the windows. The illustrator's brushstrokes capture not only the phenomena of nature but also the nostalgia that the adult narrator feels for childhood and the pleasures of catching fireflies.
Mark and Sharon Duffield's book is an invitation to appreciate nature in these times when children are quite often removed from the natural world—to be thoughtful of the outside environment, which is more and more foreign to many children as they forsake it for the world of high-tech games and indoor entertainment. The story of As I Recall: Fireflies in the Night teaches children fundamental truths about ethical behaviour and environmental stewardship.
*The Museum of Science in Boston developed the Firefly Watch Project to track these insects. If you want to find out more, you can visit this website.
CR