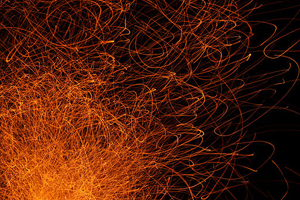 "Polish students in their freshman year are not interested in Polonia because they are dealing with too many important changes in their lives. By the time they're relaxed enough to think about the Polish Club, they're in their senior year so it's fun to get together, exchange conversation in Polish, have some parties – and that's it. But then they graduate and face new challenges at work, and their brief Polish phase is over."
"It doesn't have to be like that," says Paul Sulzycki, a recent graduate and veteran of just about every Polish student group going in North America. "But when there's nothing to be gained, then why bother?"
Paul doesn't hesitate to say that he got something out of every one of the organizations he belonged to and is grateful for that, especially the great network of friends. But now that he is no longer a student, what next? You're not going to keep going to annual conferences organized for students; the organizations acquire new executives, they refine the mission statements, seek out important speakers, have a new round of great parties – and then it's over.
I had a long conversation with Paul. He is starting something new but points out that this is not another organization with an executive, with titles, with a need for funding. He hastens to add that this implies no criticism of existing organizations. Far from it. After all, he enjoyed being part of every one and values the friendships and insights he developed through them.
He has nothing but praise for Poland in the Rockies, the national and now international student group, Quo Vadis, first organized by Kamil Mroz and Magda Sulżycka; and the rather spontaneous formation of PISK (Polska Inicjatywa Studentów w Kanadzie).
But now it's time for something more at a grass roots level: local initiatives, action on the ground. Reaching out. No mission statements, no protocols, no bureaucratic procedures, no applications for funding.
Not even an official name. But how can that be?
"Well, the idea came to us like a spark, Iskra," he said. "But more about 'us' in a minute."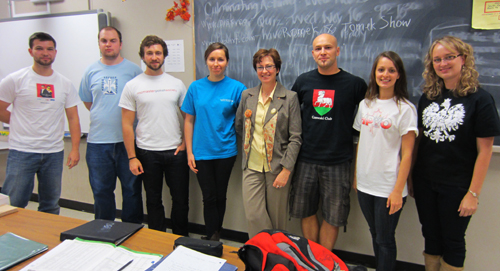 Lovely Polish word, iskra, so I'll use it for now to identify Paul's group and at this point that's all it is, nothing more formal than that. It began with casual conversations among friends – Paul and his sister Magda, Monika Wyrzykowska in Toronto, Waterloo University alumnus, Michal Skiba, now in California – tossing around ideas. Then, at the annual PISK camping weekend last summer, Paul met Western University (London) student, Marcin Weryk, and suddenly the conversation moved to: "Let's do it." Next day they met Torontonian Monika Janus, who is just finishing her doctorate in neurology. She capped the decision by saying it was just the thing for her younger siblings. And there it was, the spark.
Let's do what?
The idea is simple enough. High school students are still involved in things Polish – at home, at Saturday schools, harcerstwo (scouting). In their final year they are getting ready for university, choosing their schools, their area of study, maybe leaving home for the first time.
The Iskra people have been through all that. Why not do something to make all that less stressful. Using their own contacts, they made presentations at Polish Saturday schools, talked to the kids, to their teachers, and communicated with their parents. How about a tour of the university? Local universities first but, if there's a group applying at, for example, Carleton University in Ottawa, "we can arrange that too. We have friends there."
Planning to be an engineer? Want to meet some? Iskra can arrange that too. Mentors are important but how do you find one if you're isolated?
"There are lots of tough issues to deal with at first. Getting to know your way around; making new friends; selecting courses, " says Paul. "Largely on their own."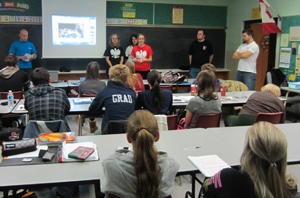 What's in it for the students? Contacts. A social network. Instant friends at university rather than isolation. A strong community fosters a strong individual. Builds self-confidence.
What does Iskra want in return? "Actually, nothing. Join us later, when you graduate, if you feel like it. Or start something wherever your are."
How is it funded? "We don't need anything. We visit the schools, organize the tours. It's all hands on, nothing bureaucratic."
What about tours to universities in other cities? "We can handle that. We do send letters to the parents and if they want to contribute for that particular trip, fine. If not, we just do it. We go where we have friends. We can put the kids up overnight."
Summing up, Paul, Magda and their friends hope that this initiative will ignite many sparks to foster a community feeling among young people after they have finished high school and leave home. Iskra is not intimidating: no titles, no VIPs. Just an idea: start with high school students so that they go to college with a Polish connection. They started in Hamilton, because that's where they live but in a short time they had people on board in Waterloo and Toronto. Iskra is already active in these cities. Guelph is not far as well and they hope they'll soon have a group there too.
And if anyone wants to join a university tour but Iskra has not made a presentation at their high school, no worries. Just email iskra.proj@gmail.com and they'll let you know about tours in your area and you're welcome to join in.
Paul stresses that he is not creating yet another, competing organization. Iskra is simply making use of the social network developed through the other groups, and filling a need they've identified. They work with PISK because it links Polish university clubs all across the country but they are open to new partners.
"Simply put, it's action on the ground, in between conferences, that's going to build a community."
Impressed? Want to join in? Get in touch: iskra.proj@gmail.com
Imagery
Campfire by kallerna
Mike Konstanty, Mat Bartoszek, Philip Chrapka, Magda Sulżycka, Pani Monika Karpińska (the Polish school teacher), Paul Sulżycki, Kasia Kucemba, and Ania Rak
The students at work