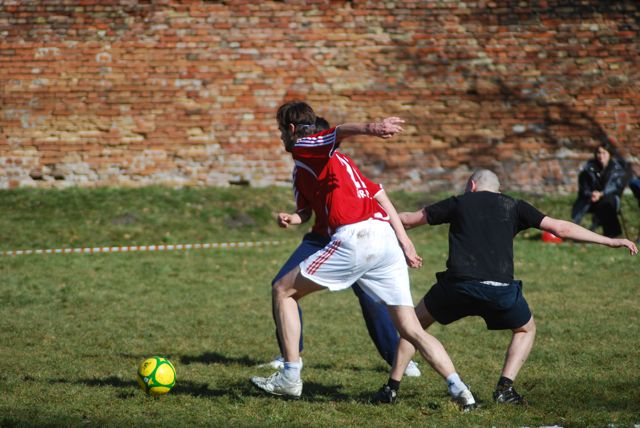 Polish football may not be well-known outside Poland. Older fans may remember the national team that twice won the World Cup Bronze 1974 and 1982. Poland will stage the European Championship in 2012, so Polish football should become less of a terra incognita. Here is an "Alphabet of Polish Football."
Association: Polish football is one big mess, and The Polish Football Association (PZPN) is responsible for that. PZPN is one of the most corrupted organisations in this country, one of bastions of the ancien régime, where ex-communist secret service crooks can find a job with decent salary. PZPN is regularly insulted during both league and international matches. See also: Corruption.
Bytom: A city in Silesia, home of Polonia Bytom, which is the continuation of the non-existent club Pogoń Lwów. Lwów (Lviv in Ukrainian, Lemberg in German, Leopolis in Latin, Lemberik in Yiddish, Ilov in Armenian), currently main city of Western Ukraine, had been a multiethnic city in Eastern Poland, before being annexed by the Soviet Union in 1939. In the post-war forced population transfers, some Lwów residents moved to Bytom, formerly the German city of Beuthen, and reactivated their football club. The communists banned the old team name, but the shirts and crest resemble those of Pogoń. Polonia Bytom won the national championship in 1954 and 1962.
Corruption: The cancer of Polish football, for decades tolerated both by PZPN and state authorities, apparently still tolerated by the former. In 2003 a new law anti-corruption law was passed, kicking off an investigation in 2004, ultimately resulting in charges against some 200 referees, coaches, players, and PZPN officials. One punishment is "relegation" to a lower level league. If you think that's simple, see "Relegation."
Drzymała: A businessman from Grodzisk Wielkopolski. He bought his hometown club called Dyskobolia, renamed it Groclin, like his company. Groclin soon became one of the top clubs in Poland, at which point Drzymała sold the club, and the team's license to play in the top division to another club.
European Championship 2012: Poland will host it together with Ukraine. In Poland there are virtually no good stadiums. Roads and tourist infrastructure are lagging behind. Everything is under construction. This will be the Polish national team's second Euro appearance. At the first, in Austria 2008, it performed pathetically.
Football: Despite all the corruption, third-rate infrastructure, and low level of skills, millions of Poles still love it.
Goals: 2008/09 season average of 2,18 goals per match in top division is not impressive, compared to 3,27 in Austrian Bundesliga, 2,92 in German Bundesliga, 2,9 in Spanish Premiera Division, 2,8 in American MLS (2008 season), 2,6 in Italian Serie A with its (in)famous catenaccio, or 2,48 in English Premiership. This is really a poor record.
Hooligans: The relationship between clubs and hooligans could be called 'dangerous liaisons'. If a team performs poorly, players can expect a 'motivation session' – sometimes violent.
International competition: The last Polish club to play in UEFA Champions League was Widzew Łódź in 1996/97 season. Since then, Polish clubs are regularity eliminated in Champions League qualifying rounds. As for the national team, a pathetic performance in the 2006 World Cup, worse still in 2008 Euro, Poland will probably not qualify for 2010 World Cup in South Africa. But as host, will play in the 2012 Euro Championship.
Jagiellonia: A club in Białystok, convicted of match fixing and relegated to a lower division. However, after appeal, the punishment was changed to minus 10 points at the top of the season. Corruption?
Krakow: the capital of Polish football. Although first Polish clubs were created in Lwów (see: Bytom), the heart of Polish soccer lies in the old capital of Poland: the Royal City of Kraków. Cracovia, founded on June 13th 1906, its arch rival, Wisła Kraków, just a few months younger. Kraków's derby is known as the Holy War. In the inter-war period, Cracovia was the most powerful club in Poland, but its upper class, bourgeois and anti-communist profile did not win friends or support from the Communist regime. While Cracovia plummeted, its enemy, Wisła enjoyed the patronage of the militia/secret police establishment. In the 90s, Wisła was bought by Bogusław Cupiał, one of the richest men in Poland, who started his business by exchanging currency in socialist Poland – a popular illegal activity of the time largely tolerated and controlled by the secret service. With this support, Wisła's golden era has begun anew, winning the league 7 times during last 10 years and back in the top division since 2004.
Lechia: club from Gdańsk, in German known as Danzig. Lechia's fans were always fierce anticommunists, many of them worked in the Gdańsk shipyard of Solidarity fame. Among Lechia's supporters are Lech Wałęsa and Donald Tusk, currently the prime minister. Since the 90s, some Lechia fans moved even further to the right and are openly racist – a symptom of hooliganism wherever it's found. But in general, most Polish football fans are decidedly right-of-centre.
Mining, Military and Militia: Of the powers behind sport clubs during the socialist era, the most powerful was the army, which controlled the Legia Warszawa. They could get any player they wanted simply by drafting him, which won them no friends. In 1954, when Polonia Bytom won the championship, the army drafted the core of the team. The only clubs that could resist the army were those in the militia/secret police section, the best example being Wisła Kraków. Another powerful sponsor was the mining industry, which supported Silesian clubs. Between 1949 and 1989, the military and mining teams won all but seven championships.
Network of Alliances: It is not uncommon for European Clubs to create alliances, such as Liverpool and Glasgow Celtics or Chelsea and Glasgow Rangers. However, in Poland almost every club has it allies (and foes, naturally), even in 5th division. Here is an example of the complexity of this network: Cracovia is a member of the strongest coalition, so-called Triada, together with Lech Poznań and Arka Gdynia. Cracovia has also other allies, among them GKS Tychy, which is also allied with Łódzki KS, but ŁKS is no-longer a friend of Cracovia as the club from Łódź is connected with Resovia – a foe of Cracovia. Cracovia till recently was befriended by Korona Kielce, while Arka and Lech formed an alliance with KSZO Ostrowiec, Korona's local rival and archenemy. The oldest such alliance is between Cracovia and Polonia Warszawa, but Polonia, as the team from the capital, is hated by Lech Poznań, Cracovia's friends. Complicated, huh? And it is just a tiny bit of the whole image.
Ogniwo: During the Stalinist period (1948/49-1956), some sports clubs were deprived of their traditional names and given new, approved, socialist ones. New names indicated the patron of a given club; therefore Cracovia, a club of co-operatives, became Ogniwo; Wisła, a militia club, turned into Gwardia; while Lech Poznań, a railway-club, was relabeled as Kolejarz ("Railway man").
Patronage: In the socialist system, every club had to have its own state patron, the most powerful are discussed above (see: Mining, Military and Militia). Other clubs were associated with weaker branches of the state.
Relegation: Seems a pretty straightforward issue, but it is not. The two last teams (Górnik Zabrze and Cracovia) should be relegated while the third from the bottom (Arka Gdynia) shall play in a play-off against the third team of the second division. But Łódzki KS, 7th team in the league, did not get a license to play in the top division, mainly for financial reasons. Thus it is relegated while Arka is safe and Cracovia goes into the play-off. Who is the rival then? It should be the third team of the second league – Korona Kielce, relegated a year ago for corruption and now on its way back to the first league. But just recently the Supreme Court ruled against Widzew Łódź, the runner-up in the second division. In the 2007/08 season, Widzew not only was the last team of the league, but it was also convicted of corruption and therefore relegated administratively. This would mean plummeting to the third division, but Widzew managed to stay in the second league. But now the Supreme Court ruled that it was unlawful and that Widzew should not be promoted. What a mess! Play-offs were postponed, and for the moment six clubs do not know where they will play next season!
Stadiums: Till recently, generally pretty awful.Cities hosting Euro 2012 and a few others are building stadiums that meet European standards, but for most in the lower divisions, this is still a huge problem.
Trophies: The only European Trophy won by any Polish club was the Rappan Cup (later known as Intertoto), won by Polonia Bytom in 1964/65 (see: Bytom). This is a minor European competition. Górnik Zabrze (see: Zabrze) made it to the Cup Winners' Cup final in 1970, while Legia Warszawa reached the same level in 1991. Only two clubs made it to the group phase of the UEFA Champions League: Legia in 1995/96 and Widzew Łódź in the following season. This gives an idea how poorly Polish clubs perform in continental competitions.
Ustawka: A fight or even a battle between football hooligans. Two sides agree on the venue, usually in a forest, and on how numerous sides should be and whether any weapons are allowed (usually not). Usually it is around 20vs20, but this can go up to 50 or even 100 a side! The fight normally lasts some 30-40 seconds. It is an organized clash, away from the stadiums, and unlike spontaneous fights on a game day, rarely related to a match.
Violence: The 90s were the golden era of Polish hooliganism, much like that of English hooliganism in the 80s, with many veterans still nostalgic about it. The situation has improved, but football violence remains a problem. Every so-called 'high-risk' game between rival clubs brings out the anti-riot police from all over the region.
Warszawa: The capital. There are two clubs, Legia and Polonia, each with its own stadium, both being expanded. In addition, a national stadium, the largest in Poland, is being built for the Euro 2012.. The average attendance in 2008/09 was 5900 for Legia and 3200 for Polonia, respectively 2nd and 4th club of the league.
Zabrze: A mining city in Silesia. Though De Gaulle labelled it 'the most Polish of the Polish cities', it was once Hindenburg and in Poland only since 1945. It is the hometown of the legendary Górnik Zabrze, 14-times league winner, and the only Polish club that has ever made it to the final of any European competition, namely Winners' Cup in 1970, where it lost to Manchester City. Before the war, the patron of the Hindenburg Stadium was Adolf Hitler. Now it is known as The Roosevelt Avenue Stadium.
CR
Imagery
By Jean-Sébastien Lefèbvre