Documentary News
Filming has begun on Basia and Leonard Myszynski's new documentary about the great American engineer, Ralph Modjeski, whose bridges, spanning some of America's longest and most difficult waterways, still set engineering and aesthetic standards. Modjeski's bridges, a vital part of the infrastructure that spurred America's industrial boom, include the great Bay Bridge in San Francisco, the Huey Long Bridge in New Orleans, the Benjamin Franklin Bridge linking Philadelphia and Camden, NJ and the Blue Water Bridge linking Port Huron, Michigan to Canada, to name a few. The New York Times hailed him as "the world's leading bridge builder," whose achievements include the longest swing span, the longest suspension bridge and the longest cantilever bridge.
Talent is always interesting, a superbly talented mother and son all the more so. Little wonder that the Myszynskis have focused their heads, hearts and cameras on the extraordinary Helena Modjeska and Ralph Modjeski. Modjeska, Woman Triumphant celebrated the great Polish actress who transformed American theatre, and we now await the film about her son, who transformed the American landscape. Here's a link to the trailer for "Bridging Urban America – The Story of Master Engineer Ralph Modjeski."
* * *
On One Of Our Favorite Historians
In 2008, Kinia Adamczyk interviewed Timothy Snyder in Warsaw for CR. What did the groundbreaking historian say then? Quite simply that "Poland would win a great victory if Polish history could be integrated in European history." In fact, Snyder applies this to western history as a whole and he questions historians who never bothered to learn the languages, or look into the archives, of the countries where WWII was most deadly and where the majority of the victims, both Jewish and non-Jewish, lived… and died. "The lack of interest of historians of the Holocaust in the history of the lands where Jews lived and died is symptomatic of commemorative causality," he says. In the West, commemoration is big, memorials abound, but research is scant. Read Snyder, here, and everywhere you find him. Definitely the most interesting historian of his generation.
* * *
Poles in Santa Rosa, Mexico, now a film
In 2012, CR published an article by Piotr Piwowarczyk about a group of Polish WWII refugees who miraculously ended up in Mexico.
That story is now a film, in Spanish, Polish and English, directed by Sławomir Grunberg with a screenplay by Grunberg and Piwowarczyk. Featuring interviews with some of the refugees now living in the US as well as a few who remained in Mexico, the film celebrates Mexican generosity and the lifelong affection the Polish refugees still have for their Mexican hosts. Premiered in Szczecin, Poland, June 20, 2013, Santa Rosa will have its American premiere in Chicago on July 20, 2013, at the Copernicus Center. Check out the website for further details.
* * *
Magda Romanska
Magda Romanska, whose delightful memoir of growing up in communist Poland was the most popular CR article ever, who introduced Bogusław Schaeffer to CR readers, and from here to a wider audience with her book – published by England's Oberon Press and reviewed in this issue, has a new play, Opheliamachine, that "conveys the complexity of women's experiences in a series of kaleidoscopic episodes." It recently opened in LA at City Garage to pretty much rave reviews. The LA Weekly wrote "Romanska uses this framework for a vigorous deconstruction of the feminine psyche, image and gender roles, and her script — heavy laden with dense imagery and symbolism – explores love, sex, violence…" The LA Times calls it "fiercely confrontational… and not for the intellectually incurious.," while the Santa Monica Press suggests that even if you don't "get it," there'll be plenty to talk and argue about over drinks after the play. The Hollywood Reporter, for its part, defines Opheliamachine as "funny yet brutal." Keep an eye on Romanska.
* * *
Book News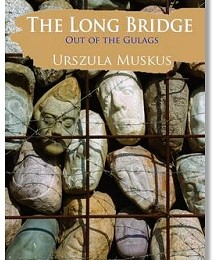 Great news from Peter Muskus who tried a lot of publishers before succeeding to get his grandmother's brilliant memoir, The Long Bridge, into print. Reviewed in CR, the book hit the best seller lists of Amazon UK. Well deserved.
And this may be a good time to note the first and best account of the USSR's Gulag, Gustaw Herling-Grudzińki's A World Apart. Suppressed when it first came out, a later edition came out endorsed by Bertrand Russell, but it was still too soon for a book by a Polish writer to be accepted, let alone promoted. Pity, because nothing has matched it since.