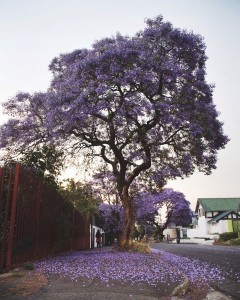 Welcome to springtime in Africa. Yes, there are seasons there, not so pronounced perhaps, but the blossoms on the jacaranda trees are as welcome as are our crocuses in northern climates.
Before we head off to Africa, we want to introduce a new media project created by our friends and partners, Małgorzata Bonikowska and Tomek Kniat, who have launched POLcast, a lively, informative and entertaining weekly podcast about interesting people, places and things—the first such project ever produced. While they all have a Polish connection, they are also connected to the world around them. Of course! They are cosmoPoles after all. Their next episode will feature CR. Tune in.
Africa awaits. Two young Polish Canadians, grandchildren of Poles who spent their wartime childhood in Africa—the Afrykanczycy—could no longer resist the pull of that magical continent. With awe, they gazed at the land, the animals and the sunsets, taking another step towards understanding the most unusual refugee story in history. Jonathan Durand took the photograph, and Amanda Chalupa wrote about their trip, The African Connection, for this issue of CR. They began their research a few years ago, Jonathan for his documentary film, Memory is Our Homeland, and Amanda for her doctoral studies at McGill University. Amanda wrote her MA thesis on this Polish group of child refugees and is continuing her studies with a special interest in the refugee children of today, and what can be done to help them overcome wartime trauma. Along the way they have met others who are curious about their Polish-African grandparents' experience, and in their story, they invite "3rd generationers" to connect. Theirs is a worldwide community; time for them to meet.
With a Fulbright scholar award to study Lilthuania's once culturally diverse, now vanished, communities, Lynn Lubamersky found herself sharing Vilnius with a BBC crew filming a glamorous Downton Abbey-style TV series about an empire that effectively erased those communities from view. While in Vilnius, she considers "War and Peace", Putin's ambition and aggression, and the fear it strikes in a small country sharing a border with the threatening giant. She later watched the series and declared it "lovely,' but noted that the BBC's picture of a beautiful old Vilnius whited out the people who had actually lived there. It may be Tolstoy, but it's imperial history nonetheless, perhaps even more effectively presented than Putin's use of the old master at the Sochi Olympics.
CR reviews three films in this issue. Karski and the Lords of Humanity is Sławomir Grünberg's splendid film that stars the famed courier himself: complex, brave, disciplined, elegant, patriotic, moral and highly intelligent. No wonder Hollywood hasn't yet discovered him. Luckily, Grünberg has.
A documentary about an engineer? Take a look at Ralph Modjeski's magnificent bridges. They are breathtakingly beautiful, and built to last. Modjeski himself was a fascinating personality. Bridging Urban America: a splendid film about an important America's industrial era, by Basia and Leonard Myszynski.
Myra Dziama's documentary Childhood Denied, is more about how childhood was restored, with the help of love and the magic of Africa. There's a surprising "custody battle" when Moscow's Poland demands their repatriation, overlooking the fact that they have neither parents nor homes to return to, having lost them at the hands of the Soviets. They chose a journey to Canada instead, under the care of a young priest, Jan Królikowski.
Books are what any Review is created for. We review four.
Lilac Girls is a novel about Ravensbrück… and that startled us. Based on a true story, Martha Hall Kelly writes about New York socialite Caroline Ferriday who brought Polish survivors of medical experiments to America for treatment, weaving actual historical figures with fictional ones. Fascinating photographs of Ferriday, of the American doctors, and the Polish women add a lot to the story. And the criminal Dr. Oberheuser was discovered living free and practicing medicine… until the American government took action.
Three books from Canada. Hurrah Revolutionaries, by historian Patryk Polec, reveals that yes, there was a Polish communist movement in Canada.  Startling? Not really. It's impossible for all Poles to think alike. And unrealistic to think that. Gabriela Pawlus Kasprzak writes an engaging review.
Michał Kasprzak, reviewing Black Ribbon Day, about a peaceful movement in the Baltic states in support of freedom, poses the question: why are the genocidal crimes of Stalin – Hitler's partner after all – so reluctantly and infrequently acknowledged?
As noted earlier, the third generation seems to be more curious about their roots than the second one ever was. Sensing that, Marian Wiacek wrote Window to Freedom, about a childhood at once exciting and considerably more challenging than exams. Children get tired of hearing that, grandchildren love it.
The Ulma Family Museum was recently opened in Poland. Tom Frydel recognizes the importance of commemorations, but at the same time calls on historians to examine the General Government, as Nazi Germany chose to call Poland, as a laboratory of human behavior in extremis – extreme violence, extreme cruelty, extreme fear, all without respite on a scale impossible for the modern reader to comprehend. Given the growth of academic interest in trauma, it is remarkable that scholars have largely neglected this aspect of the occupation and its relationship with local attitudes toward the Holocaust that goes beyond heroism and martyrdom. Beyond the Ulmas: a serious, thought provoking read.
In San Francisco, Bay area Poles and American veterans joined together to honor Jan Karski in the beautiful War Memorial Veterans' Building. A departure from most events honoring Karski, this one shed light not only on Karski's important mission, but also on his role as a member of the resistance working for the government-in-exile, and on Poles and Americans as allies.
CR