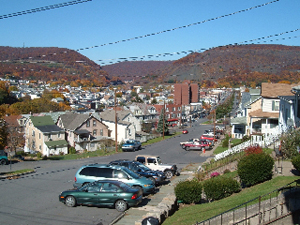 "This place is like a time capsule. You guys still talk about Lemkos and Galicia. We don't even talk about that stuff," said exchange student Lyudmyla Sonchak during an ethnic festival near Minersville, Pennsylvania. She was from the Ukrainian city of Ivano-Frankivsk, once the Polish city of Stanisławów, an important center of Polish, Jewish and Armenian culture, established in the 1600s by the nobleman Andrzej Potocki who commissioned the Italian architect Francisco Corasini to design it. During the partitions of Poland, the city was part of Austrian Galicia, in 1919 it was restored to independent Poland, and after World War II the region became part of the Ukrainian Socialist Republic, now independent Ukraine. In 1962, as part of the city's 300thanniversary, it was renamed for the Ukrainian poet and writer, Ivan Franko.
Sonchak's observation points to the Anthracite Coal Region's unique historical demographic. Unlike larger American cities of the industrial heartland such as Chicago, New York, Cleveland and Detroit, the small coal patches of northeastern Pennsylvania did not have the market diversity to transition beyond the industrial revolution. The first great wave of Eastern European immigration in the late 19th century was also the last wave of immigration for the Anthracite Coal Region.
It was the timing of this great wave of immigration that further complicated the region's heritage. As officials at Castle Garden and then Ellis Island were overwhelmed by the sheer number of Eastern Europeans crossing the Atlantic, they resorted to some bureaucratic management. Foreigners had to be catalogued quickly – and these peasants often were not sure how to identity where they came from, since their lands had been ruled by different powers at different times. Religion was a definite identity and one that could be stereotyped: Lutherans were considered to be German, Orthodox were Russians – though they almost never were, and Eastern European Catholics were Polish.
While continued waves of immigrants to larger cities clarified ethnic identities, the Anthracite Coal Region became a snapshot of Poland's partitioned history: even today, its residents naïvely recite their ancestors' stories without revision through the lens of politics or subsequent history.
This is true to the point that each larger city in the region has two ethnically Polish Roman Catholic churches. For instance, in 1872 Polish immigrants built Saint Casimir Church in Shenandoah, and in that same year in Shamokin, (pronounced shuh-MO-kin), Saint Stanislaw Kostka church was built. These are two of the first Polish churches built in America. Three years later Saint Joseph Church was built in the neighboring town of Mount Carmel. All these churches were built by Prussian partitioned Poles who would later self-identify as 'Mazury' for the general area of Poland where they were from.
Twenty years later the growing Polish population of Shamokin would build Saint Stephen Church and in Mount Carmel the faithful would build Our Mother of Consolation Church. However, it was not just sheer population size that created these additional churches. According to Rev. Raymond Orloski, who wrote a history for the central Pennsylvania diocese, the Poles who built this second set of churches came from the Russian and Galician partition zones of Poland. The already-established 'Mazury' of the Coal Region, having had access to education to some degree in the Prussian area, looked down on this new group of Polish immigrants who were much less educated. Orloski suggests that this education gap is due to the abolition of serfdom in Prussia much earlier than in Russia and Austrian Galicia.
Just as the 'Mazury' created a self-identity group title, this group of Russian and Galician Poles also had a moving identity: 'Puści,'perhaps referring to their leaving their homeland, or to the puszcza of the Kresy region. This term was turned into a slur by the 'Mazury' as they called the other Poles 'Pusty' (meaning hollow) alluding to their less educated status. Orloski points out that this sibling rivalry grew to such an embarrassing degree that the Russian/Galician partitioned Poles of Our Mother of Consolation even refused to place a statue of Saint Joseph in their church, because the Mazury group had a church with that name.
This in-group squabbling was also seen in other coal towns. Back in Shenandoah the first pastor of Saint Casimir church was Rev. Andrew Strupinskas. A native of Lithuania, he was fluent in both Polish and Lithuanian, as his parish served both communities. However in 1877 the new pastor, Rev. Alexis Lenarkiewicz, could only speak Polish. This upset the Lithuanians of the parish to such a degree that they barricaded the doors of the church so he could not enter.
Eventually the disenfranchised parishioners raised funds to build their own ethnically Lithuanian church, Saint George. This church would become the first truly Lithuanian church in America.
These towns full of hard working immigrants reached their peak populations in the 1920's. Today, at 7,300 residents, Shamokin (pictured at the top) has one-third of its peak population. With the loss of residents comes the loss of churches and unfortunately culture. Within the last decade a majority of the churches in the Anthracite Coal Region were sold to private businesses and individuals.
Among those, Saint George church has been slated for demolition by the diocese of Allentown. On October 6, 2009, a court refused to hear a case brought by the residents of Shenandoah citing the separation of church and state. However, the court did agree to consider an injunction to save the church building for historic reasons. More information about this important part of American history and Polish-Lithuanian ethnicity is available here.
CR
Imagery
By Vince Chesney