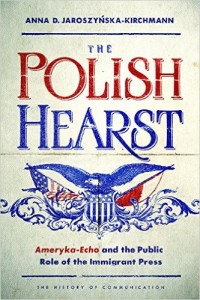 Ameryka-Echo and the Public Role of the Immigrant Press
By Anna D. Jaroszyńska-Kirchmann
Illinois University Press
Did your family immigrate to the United States from Poland any time from the late 19th through the mid-20th century? Then chances are at some point or another one of them picked up a copy of Ameryka-Echo, the Toledo, Ohio-based Polish-language newspaper that reached just about every immigrant community in the country. Maybe they also spent their hard-earned pennies on the latest Sienkiewicz blockbuster or on a satirical novel about immigrant priests in Chicago. Maybe they consulted a dreambook or almanac, or read a translation of 1,001 Nights. Perhaps you still treasure the illustrated hardcover Bible they scrimped and saved to buy. These purchases and thousands more like them were what helped make the Paryski publishing company one of the most successful Polish American businesses in our history. Though few remember him today, and though all traces of his massive factory and offices have disappeared from the Toledo landscape, Antoni Paryski was also more than a businessman—he was an influential force in shaping an emerging Polonia, reaching into homes, meeting halls, and saloons, and into the hearts and minds of countless immigrants finding their voice in a new country.
That's why I was so excited to learn of Anna Kirchmann's new biography, Antoni Paryski, The Polish Hearst: Ameryka-Echo and the Public Role of the Immigrant Press. Paryski deserves the important place in our collective story that Kirchmann has given him in this and her previous book, Letters from Readers in the Polish American Press, 1902-1969: A Corner for Everybody, published in 2013. She is also uniquely qualified to examine Paryski's legacy, having also processed the Ameryka-Echo archival collection at the University of Minnesota's Immigration History Research Center.
Using these archival sources, interviews with former Ameryka-Echo employees, as well as Paryski's published work, and tracking down genealogical resources in an attempt to answer some of the lingering questions about Paryski's personal background and influences, Kirchmann helps round out the fascinating story of Antoni Paryski's life and career. In the process she illuminates the philosophy
of immigrant self help, rooted in Polish Positivism, that drove him throughout his life and with which he attempted to empower his readers. Kirchmann's book is also the story of those readers who took to heart Paryski's enduring lesson that, no matter what their educational level, gender, occupation, political persuasion, or religious beliefs, their thoughts mattered and their voices deserved to be part of a collective conversation.
The first half of Kirchmann's book focuses on Paryski himself, who was born Antoni Panek, starting with his peasant family background, his education, and his rise into the professional class. The contemporary ideal of "oświata" ("enlightenment" or "education") guided his aspirations in partitioned Poland and those he sought to instill in his readers in America. Some details of his personal history remain for future researchers to flesh out: why he decided to adopt the name "Paryski" in America, his often-referenced work and break from the Knights of Labor and its leader Terrence Powderly, his early work for English-language newspapers and his studies at the University of Michigan, among others. Kirchmann pays special attention to contradictions in Paryski's character that allowed him to champion populist causes and the interests of the working class, while ruthlessly combatting efforts of his own employees to unionize, or his willingness to sell Bibles and at the same time to publish the sometimes virulent anti-clericalist sentiments that led some priests to refuse absolution to Ameryka-Echo readers.
In the second half of the book, Kirchmann situates Paryski and his work within the larger universe of popular journalism and publishing, within Polonia and other ethnic American communities as well as in a wider American and European context. She looks not just at the text of Ameryka-Echo articles, editorials, and reader-submitted letters, but also at the carefully articulated symbolism of its masthead and other illustrations. Paryski's consistent message to the reader was that progress, success, and self-fulfillment could be obtained by questioning institutional authorities, by voraciously consuming the written word, and by seizing every opportunity to listen, learn, and make up one's own mind. Although he also printed the classics (sometimes in pirated translations), many of his publications fell within the tradition of "literatura straganowa," so-called country fair literature already familiar to peasant readers with little education or disposable income. Although Paryski was often criticized for providing low-brow reading material to the immigrant community for his own financial benefit, he argued for the philosophy that simple works would be the stepping stones to more complex reading material, and could form the foundation for a lifetime of intellectual development. Many of his readers agreed, writing to express their gratitude to Paryski, his newspaper, and his publications for opening their eyes to new ways of seeing the world and their place in it. Kirchmann points out that Paryski's civic and educational mission was not incompatible with the American dream of business success that he also embodied.
The book's last chapters turn to Kirchmann's other main theme: the importance of reader-submitted letters to the press as a form of participatory journalism that empowered a sense of personal agency and created a democratic community of reader/writers. She points out that letter writing and reading were already familiar to immigrants, even illiterate ones, and were public and social, rather than private: a means of solidifying relationships, of seeking recognition, of creating communities of thought, and of nation building. Ameryka-Echo's Kącik dla Wszystkich ("Corner for Everybody") which ran in various forms from 1922 to 1969, created just such a community, and evolved with Polonia itself, changing as new waves and generations of both reader/writers and editorial staff competed for control of the conversation. Especially moving are the excerpts Kirchmann quotes from letter-writers who apologize for their lack of education and writing ability, but that clearly express their aspirations to create, to share their experiences, and to contribute to the community of Ameryka-Echo writers and readers.
The backstory of Toledo's Polonia is told in the book's Epilogue. It is a familiar story of America's ethnic urban neighborhoods—suburbanization, intermarriage, physical decay. Yet Kirchmann rightly notes the continuing need, even among later generations lacking Polish language skills, for some connection to something we call Polishness. She notes the dramatic changes in the Polish ethnic press. (I would be remiss, though, if I failed to note that metro Detroit's two remaining bi-weekly Polish newspapers – Polski Czas and Tygodnik Polski, both of which contain English-language sections – go unmentioned in the list of present-day papers.) It may be a factor of the rapidly-changing nature of online communication that, while mention is made of various Polish-American list serves that have been around for at least a decade, it is the growing catalogue of Polish-American Facebook groups that now may come closest to fulfilling the function of the old Kacik dla Wszystkich, offering Polish immigrants and Polish Americans ready-made – and now instantaneous – communities of discussion and shared experience.
Kirchmann has reopened a rich page in Polonia's history. She reminds us of the significance of the ethnic press, and particularly of independent publishers like Paryski, unencumbered by institutional constraints. She lets us listen in on the conversations of our ancestors and their neighbors, preserved in print and in the Ameryka-Echo archives, and ripe for further scholarly investigation. Rigorously researched, carefully analyzed and contextualized, and sensitively portrayed, Kirchmann's book is more than a much-needed biography of a forgotten giant of Polonia. It is a reminder of the complex inner lives — emotional, intellectual, social, and cultural — of our ancestors, and a testament to their insistence that their individual experience, perception, and reasoning was worthy of print, of consideration, and discussion. That's a powerful place to claim. And it may be Paryski's most important legacy to Polonia, outliving the Ameryka-Echo publishing empire and its long-gone buildings. Reminding us that with this book, Anna Kirchmann has done Polonia and scholars of immigration and ethnicity a great service.
The Polish American Historical Association (PAHA) awarded this year's Oskar Halecki Prize to Anna Jaroszyńska-Kirchmann and Theodore Zawistowski for Letters from Readers in the Polish American Press, 1902-1969: A Corner for Everybody (Lexington Books, 2014).