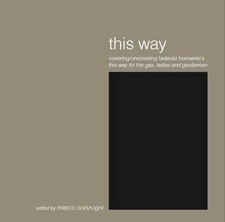 This Way: Covering/uncovering Tadeusz Borowski's This Way for the Gas, Ladies and Gentlemen
Edited by Marco Sonzogni
Dunmore Publishing; 2011
Tadeusz Borowski was born in Soviet Ukraine in 1922, in a Polish community that would, under Stalin's rule, become the first national minority targeted during the Great Terror, ultimately resulting in the death of 600-700 thousand Poles. When Borowski was four years old, his father was arrested and sent to the Gulag; four years later, his mother was arrested and sent to Siberia. Borowski and his brother were placed in an orphanage until 1932 when the Polish Red Cross succeeded in getting them resettled in Poland. His parents were eventually released and repatriated to Poland where, in poor health and in poverty, they strived to establish a family life again.
History did not give them much time. Tadeusz was only 17 when Germany invaded Poland. He continued his studies in underground schools and began writing poetry published in the underground press. At 21, he was arrested by the Gestapo, stepping into a trap when looking for his fiancée, Maria, who had just been arrested as well, along with a friend, another student.
After the war, he returned to Poland and began writing again, but this time in prose because his experiences made poetry impossible. His stories about Auschwitz were published under the title, Pożegnanie z Marią (A Farewell to Maria), later published in English under the title, This Way for the Gas, Ladies and Gentlemen.
Borowski joined the Communist party in 1948, thinking that this could be the only hope for humanity. A year later, his friend, the same one who had been arrested with him by the Gestapo, was imprisoned and tortured by the Communists. Borowski tried, but failed, to help him. In 1951, he committed suicide.
Borowski's book is agonizing to read. He spares the reader nothing, nor, for that matter, does he spare himself or anyone else at Auschwitz. It is a record of searing, terrifying brutality, made all the more so by the helplessness of the prisoners enclosed in a sealed environment.
For many people, This Way to the Gas, Ladies and Gentlemen… is considered an essential record of the horrors of Auschwitz; but for others, it is too unsettling. It is not "lyrical" enough, not sympathetic enough. He offers us no theories, and not a single redeeming possibility. Unembellished, because, as he wrote, "there can be no beauty if it is paid for by human injustice, nor truth that passes over injustice, nor moral virtue that condones it." Surely there was no need to ask for sympathy?
Perhaps that is why this book is less well known than others that followed. We do not like what we read; it is very disturbing. Borowski wrote this book when the memories were fresh; he was still a young man and still desperately trying to find something to believe in. But he lived with his nightmares, and he wrote them down. Nothing ever relieved his pain.
Borowski gave up poetry. What about other art forms? Can there be music? A German professor of music, an admirer of the difficult modern music composed by Poles after the war explained to me that this harsh music was historically imperative: Poles could not, in those years, compose a pretty melody. After a few notes, the music would collapse with an angry, agonizing crash.
Can there be art? This Way…, the book under discussion, was inspired by a design competition for the cover of a new edition of Borowski's book. The winning cover was designed by Anna Zyśko of Poland. In all, 241 entries from 44 countries were received and evaluated by a jury comprising John Guzlowski, J. Marek Haltof, Alicia Nitecki, Jae Jennifer Rossman and Marco Sonzogni. The images included in the book were selected from the competition entries as well as from designers specifically commissioned for this book. Some of the cover art is quite conventional, fairly straightforward representations of the book title. Some, however, show an extraordinary depth, blending horror, pain, despair, death and some, even a glimpse of beauty beyond the camp.
The book also includes a number of essays by noted scholars on various aspects of Holocaust study and representation. Contributors include Berel Lang, Wesleyan University professor and author of Holocaust Representation: Art within the Limits of History and Ethics; Alicia Nitecki, Bentley University Professor Emerita and expert on Holocaust literature; Simone Gigliotti, Monica Tempian and Giachomo Lichtner, all of Victoria University, Wellington, New Zealand; and Dov Bing, Eaikato University in Wellington.
Editor, Marco Sonzogni, teaches in the Department of Languages and Cultures at Victoria University, and is currently studying "the book cover as a form of inter-semiotic translation;" John Bertram, contributor and coordinator of the "This Way Project," is the editor of a website, www.venusfebriculosa.com, dedicated to fostering interest in the relations between literature and the visual arts.
CR