In Russia, when buying a cell phone, checking into a hostel, paying for a metro card, or entering the university library, you are required to present up to four documents to verify your identity. For me, this process usually encourages a friendly conversation with an otherwise unsmiling bureaucrat or clerk, occurring somewhat like this:
Clerk: (Grabbing my American passport with an air of belabored indifference) Jankowicz… (suddenly interested, studying my face) That's a Polish last name, right?
Me: (Smiling, proudly) Yes, I'm Polish.
Clerk: (Considering I've only spoken one sentence to her, I am unsure how this assessment is made, but:) Your Russian is very good. Do you speak Polish?
Me: Only a little, and not very well. I'd like to learn in graduate school.
These conversations have the ability to make my day; it's rare that anyone you have not officially been introduced to actually smiles or takes an interest in you here. This lack of affability is normal in Russian culture, and I generally welcome it (especially when it allows me to more astutely avoid creepy people on the metro). But in these situations, I'm glad to win a smile. I feel more confident and comfortable when I know that just because I have a Slavic name and a Slavic face, I can automatically operate more smoothly in my daily life, and maybe prove to a handful of Russians that not all Americans are totally clueless.
As I write this, I've been in Saint Petersburg (or "Piter," the diminutive the locals lovingly use) exactly five weeks, and as of yet have not experienced an extremely strong culture shock. In my opinion, I was just well prepared for life in Russia by my department at Bryn Mawr, but my friends here often suggest that my ease in adjusting is due to the (very short) time (a whole two weeks!) I spent in Poland this summer. There are some similarities between the two countries, of course, in food (a typical Slavic diet of pickled things, potatoes, and meat), in a love (that borders on obsession) for all things American, and in folk melodies based in melodic minor keys. Otherwise, the two countries are very dissimilar for one reason: Poland broke free from the yoke of Communism and is a rapidly westernizing and highly capitalist nation, while heavy handed hints of Russia's past are everywhere, though not in an unpleasant fashion.
For instance, the metro systems of Saint Petersburg and Moscow are products o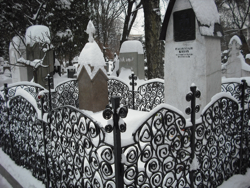 f the Soviet era that fascinate me on a daily basis. The Petersburg Metro is the deepest in the world; its escalators are so long I feel like I'm journeying into an undiscovered realm of hell on earth. The metro is far from being hell, though. The trains come every two minutes or less, and are the cheapest, fastest, most comfortable way to get around the city. Even the most simple, unadorned metro stop is extremely clean. There is no garbage. There are no rats (though in Moscow sometimes homeless dogs do ride the metro…they are busy city dwellers, too!). It does not smell like a urinal or worse; the unluckiest you could possibly get in the olfactory department would be to stand next to an old man who radiates kapusta. The less simple stops are architectural marvels, to be frank. The walls and floor are often marble, there are murals and mosaics and enormous chandeliers, as well as statues of Pushkin and other famous Russians.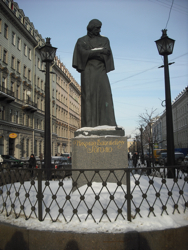 Speaking of which, the Russians really know how to memorialize people. On a recent trip to Moscow, I visited Novodevichy Cemetery, where many famous Russians of the past 150 years are buried. Each grave is not only a resting place, but a tribute to that person's contributions to society and their personality. A ballerina's headstone is a life-sized stone carving of a dancer. Boris Yeltsin's grave is a huge sculpture of an undulating Russian flag. Anton Chekov's grave is surrounded by an intricate fairy tale fence, and nearby, Nikolai Gogol's resting place is dominated by a large gilded Russian Orthodox cross. Back in Saint Petersburg, a statue to Gogol on Malaya Konyushenaya Ulitsa shows Gogol lost in thought, turning his head away from the bustling, commercial Nevsky Prospekt, with which he had an arduous relationship.
While reminders of Russia's past are often blatant, the nation is slowly becoming more westernized. My trip to Moscow was a shock for me; from what many friends and professors had told me, Moscow is the "more Russian" city, while Saint Petersburg is more similar to Europe. However, I felt closer to Western culture in Moscow than I had since leaving the United States. Upon entering Red Square, surrounded by the Kremlin, iconic St. Basil's Cathedral and Lenin's Masoleum, all symbols of Russia to the Western World, I was shocked to find a large, outdoor ice skating rink sponsored by the GUM shopping mall blasting Lady Gaga's "Bad Romance" and some crooner's version of "Let It Snow." Later, when walking down the Arbat, a street I imagined like any old town market square in Poland, I saw two Starbucks, a Sbarro Pizza, and a number of other American chains. The only uniquely Russian establishm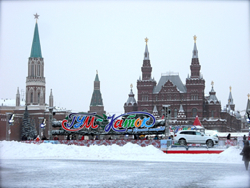 ents on the street were the souvenir shops, which are more famous for kitsch than unique, interesting, symbols of Russia. While Saint Petersburg's Nevsky Prospekt is no less commercial than all of Moscow (while there are no Starbucks here, there is a Subway and a Sbarro Pizza), wandering to Palace Square, strolling down the Moika River, looking at the city from the top of Saint Issac's Cathedral, or going to any of the high-quality uniquely Russian ballets or theatrical productions, the flavor of Saint Petersburg is still exotic, exciting, and exceptional.
Last semester, in a class on the Social Dynamics of Russian, we read an article that stated that Russia is a nation of extremes, an assertion I can confirm by my observations so far: unsmiling bureaucrats versus hospitable hosts, a communist restaurant serving only pishki, pel'meni, and coffee, versus the very democratic Subway in the center of town, and a nation fighting to keep its imperial past alive, its Soviet past remembered for both the good and the bad, versus a nation conforming to western norms little by little, skating to Lady Gaga in Red Square. While Russia is certainly no Poland to me, it is still an extremely interesting, intellectually invigorating nation and travel experience. CR
Imagery
Church by Fedor Stroganov
Anton Checkhov's grave by Nina Jankowicz
Nikolai Gogol's grave by Nina Jankowicz
Moscow by Nina Jankowicz