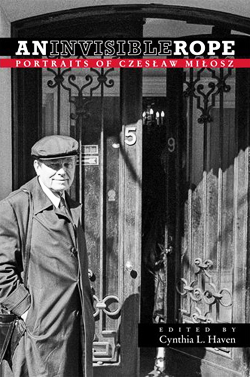 An Invisible Rope: Portraits of Czesław Miłosz
ed. Cynthia L. Haven
Swallow Press / Ohio University Press Athens; Ohio; 2011
O Most High, you willed to create me a poet and now it is time for me to present a report. My heart is full of gratitude though I got acquainted with the miseries of that profession.
– from "Report" by Czesław Miłosz (translated by the author and Robert Hass)
This year marks the centenary of the birth of the Nobel prize-winning poet, novelist, and academic, Czesław Miłosz; the Polish Parliament declared 2011 "Czesław Miłosz Year," which is currently being celebrated with readings, concerts, and conferences in his homelands, Poland and Lithuania, as well as other countries throughout the world. Edited by journalist and author Cynthia L. Haven, the timely new collection "An Invisible Rope: Portraits of Czesław Miłosz" brings together 33 entries by friends and scholars of the poet from the U.S. and Poland who worked closely with him during his life – as students, colleagues, and translators – spanning his entire career. Biographical in nature, each essay reveals delightful anecdotes illustrating the subject's personality, including his raucous laughter, insatiable appetite for food and whiskey, and deftness at producing cutting insults. Through the collected vignettes, the reader gets to know him as a faithful letter-writer, devoted teacher, and thoughtful translator. Taken together, the volume offers a portrait of Miłosz's life philosophy as he applied it to the circumstances dealt him by Fate.
The book is organized in a roughly chronological progression: from the subject landing himself in trouble for subversive leftist activities during his student years at Stefan Batory University in Vilnius, to his work as the cultural attaché in the Polish consulate in New York directly following the Second World War, to his swift realization of the new government's totalitarian approach and Miłosz's resultant defection to France. We then follow him to his professorship at the University of California, Berkeley, and that Northern California city by the bay would become his home for the next four decades until his eventual, permanent return to Kraków in 2000. Offered up as little stories about the now world-famous poet by people who knew him, "An Invisible Rope" is a fun, quick read perfect for a few summer afternoons. The reader comes away feeling as if she knows this person as a man – no longer merely the picture of a legend. It compels the reader to revisit even his most well-known works, from The Captive Mind to Road-Side Dog, to be read anew, refreshed by the contextualization of a life lived.
Miłosz, a devotee of the Polish language, lived for more than half his life in the West. Most of his time abroad – from the early 1960s through the end of the '90s – was spent in Berkeley, and was ever-characterized by homesickness. The Department of Slavic Languages and Literatures, where he taught, was staffed by similarly displaced poets and academics, the "flotsam and jetsam of history," as contributor Richard Lourie so facetiously put it. An understandably lonely endeavor, Miłosz found himself cultivating and advocating for a then still little-known language in this utterly foreign to him area of Northern California. Language was not the only chasm he faced; Marek Skwarnicki writes that the local beatniks and hippies of the '60s unnerved him, "I escaped from commies, but Lenin managed to catch up with me here," Miłosz jokingly complained. Understandably, as a leftist who had denounced and escaped the Stalinist regime of post-War Poland, the youthful pot-smoking idealists might have irked him. Ultimately, his view of his new home (he became a U.S. citizen in 1970) was redemptive for both its beauty, a recurring subject of his poetry, and principles of free speech.
Miłosz's love/hate relationship with the U.S. extended to Polonia. As Elizabeth Kridl Valkenier recounts, he was initially alienated from the Polish émigré community for having held a diplomatic position in the Communist government. His leftist leanings, which challenged traditional, conservative national values, kept him somewhat ostracized by Polonia even following his defection. His was a patriotism of a purely cultural and linguistic strain, and coexisted with his liberalism. "I am [not] in the least attracted to some internationalism or cosmopolitanism," he wrote in a letter. "I am steeped in Polish literature and want to remain faithful to it." Indeed he worked hard throughout his life, teaching and toiling over translations, successfully contributing to the propagation of a worldwide appreciation for Polish literature. The complexity of his politics and devotion to Polish literature affirm the legitimacy of a patriotic, and simultaneously leftist, worldview. This theme stands out as especially extant; in the face of the overwhelming conservative populism washing over contemporary Poland, and the ever-strong conservatism of Polish-American immigrant communities, one might look to Miłosz as a compelling model of patriotism and linguistic pride. Only let us not be so lonely.
CR