You could listen to him all night.
To the deep voice, full of humour and knowledge, of Paul Kunigis: the musician, poet, writer, loving father.
And cook.
Paul Kunigis is all that, and more. One can say, without a doubt, that he's a true citizen of the world. Since 1985, he's been living in Montreal.
Before that, it was Toronto, and before…
Born in Poland in 1953, product of a Jewish father and a Catholic mother who moved to Israel when he was three, Paul Kunigis grew up dabbling with spices and joking with the merchants of Middle Eastern markets.
''I drank mint tea in [the merchants'] company… I confided that my mother had died, my father was in the military, my sister lived in Poland, and to top it off, my brother left home… They all wanted to adopt me,'' wrote Kunigis of his childhood in Israel, where he lived until 1975, on his website.
''They taught me to open up, to appreciate food, its sacred dimension, the art of smart, friendly, human and… humanistic cuisine,'' he added.
Music (he has six albums and several awards, including a Juno), and food (he started cooking as a child and worked in the food industry) allow him to blend all of his identities and languages. Israel and Poland are the countries that influenced his identity. As he got older, he realized more and more ''how Polish'' he is.
I wanted to know how he finds harmony in the contradictions of his ethnicities, what his ''Polishness'' means to him, and where he finds home in the midst of all of it. To find out, I attended one of his culinary workshops, and shared a few meals, coffees, hot chocolates, and walks with him.
''It's not always harmonious. It's tiring sometimes,'' he admits, albeit with a smile. There is a touch of Slavic nostalgia to him, but joy and laughter dominate everything he does.
He looks for those spaces where he can create harmony in dissonance, where there are no barriers, where he can blend the seeming contradictions of his multiple identities through music and cooking
''I love pork. But I'll make it in a Jewish way,'' he says, a sparkle in his eye. Some people eat pork in Israel. They call it ''white steak'', I'm surprised to learn during his workshop.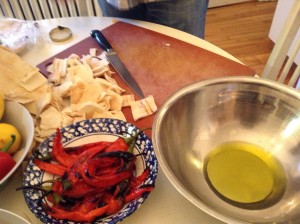 Between composing music and writing a book about Quebec's immigrants that's coming out soon, Kunigis opens up his Montreal home to foodies who are looking for a different culinary experience.
Guests join him on a sunny September afternoon at 2, and stay on well after 10 p.m., enjoying the dozen or more Middle Eastern dishes they learned to cook during the workshop. They stay on not only because of the food, but for the conversation, the laughter, and the lively spirit of his home in a happening, bourgeois-bohemian Montreal district named Plateau Mont-Royal.
His approach to food is as eclectic as his award-winning music: his gypsy, klezmery, folky, bluesy albums include songs in Polish, German, Hebrew, Arabic, French and English. He offers different workshops on weekends, teaching gastronomy from all over the world.
Kunigis is very generous with ingredients, knowledge, quantity and quality of food. My favorite discoveries include the perfectly made hummus and Fatouche salad, with a lemony, minty and salty flavor that surprises my taste buds. It's so simple, but so tasty and refreshing. So is the fresh white cheese (labneh) he makes using yogurt, a pinch of salt and a cloth.
That's just the prelude to the chicken, lamb, beef, vegetable and falafel dishes that are in the making.
To put it in the words of guest Jean-François Lemelin, who drove an hour from the neighboring city of Sherbrooke to discover Middle Eastern cuisine à la Paul, ''it's a culinary safari''!
Lemelin watched over the sizzling lamb and beef kebabs on the barbecue as Gougou, Kunigis's Boston Terrier mixed with a bit of French bulldog, stood guard next to him, hoping to catch a bite of anything that would fall on the ground.
Kunigis has a true passion for food, and there's almost a tremolo in his voice when he explains the different types of falafel – deep fried chickpea balls – we make that evening. Israeli falafel has no herbs, such as mint or parsley. Thus, the colour inside is more yellow and tastes more like chick peas, as opposed to Yemenite falafel, which is greener and has a more herbal taste to it. Lebanese falafel is bigger, more oval and contains more herbs. It's also darker than the others.
And if he were one of the dishes he makes?
''Probably a choucroute. No. Or bigos*. A real bigos [a Polish, cabbage-based hunter's stew]. Between bigos and cimes [Jewish bigos]. The Jewish one has more beef (shpondra), a lot of fruits – dried fruits, prunes, raisins. [He switches to French]. Apples. It kind of softens the sauerkraut. It's cooked a long time with very little broth. It's the sausages that make the flavor. So it's the mixture of both. That's who I am. You throw in a lot of things, it's slow-cooked, it only gets better with time. Every day that passes, it tastes better. There are not many meals like that, that get better after a few days."
When we meet a few weeks later, I ask him whether identity is important to him.
'It was never important until somebody asked me where my accent is from, where I'm from. When I was younger it annoyed me. I wanted to be part of a whole.
"Later on, I accepted that I have different identities. An individual needs to identify to his surroundings. It's like being adopted, you search for your DNA."
"It was complicated – being Christian in a Jewish country – you're different. You're already different as an immigrant. With religion you are even more different. As a Catholic, you don't have to go to the Israeli army. But I went. I didn't have to, but I did, to maintain that part of my Israeli identity."
"I was very much at home in Israel. I had three homes there. My Catholic boarding school was my base. Then there was the weekend home, at my grandma's, when we used to go for Friday night and Saturday meals. Then there was the kibbutz."
"Yet I cannot say Israel was my home. I never felt part of Israel. That's probably why I left. But if something happened to that country, though, I'd be the first to enroll in the army and protect it."
If Poland and Israel played soccer against each other, I wondered whom he'd cheer for. He'd go nuts, he replied. "Sometimes I feel like I'm married to two different women. I love them both."
''What is Polishness to you?'' I ask him while he cooks dinner for his two teenagers. Beyond the clichés, the stereotypes?
''I think it's …''
He pauses for while, breaking the fast cadence of his English speech for the first time during the conversation.
He talks much faster in English than in Polish and French. I munch on the fresh pita chips and the terribly delicious homemade hummus he just put in front of me, as if to silently ask me not to ask too difficult questions. (That's after finishing the fresh warm broth (rosół) sprinkled with dill – typically Polish – to warm up after a long walk in the crisp fall air.)
"When I left Poland, I was very young. When I came back, as an adult, I remember two incidents that happened through which I can tell you about Polishness.
"When I came to Warszawa, when I took Lot airlines for the first time (and I worked in the airline industry for a long time) and the meals came – I felt I was part of something.
"There was something that invaded me, certain feelings that invaded me. I got to the airport, the Polish words, the signs, the languages, the names, the noise… Nothing was weird to the ear, even though I don't speak Polish that well. To the eye, everything was normal. Whatever the brain was taking in, it was normal.
"Then I took the train. I found myself thinking much more like a Pole. I blended in, which never happened to me anywhere else. When I opened my mouth, in my ears, my accent changed, as if my ears absorbed everything that happened.
"Polishness? It's memories. It's going to Bydgoszcz, where I was born, and seeing the sign with the name of the city, and having tears in my eyes.
"I've never felt like this before.
"Walking to a store, a bakery, the smells that attract you. My sister crying her eyes out. Your mom took you there every morning when you were little, she said. I could have gone to any other bakery, there are so many of them in Bydgoszcz. But I went to that specific one."
And so today, where is home to Paul Kunigis? Is it a concept, a myth?
It's a place where he can find peace of mind, he says. Canada is now his home base, and starting a family has reinforced that.
"'When you have kids, you grow roots. I remember my kids, when they made their first drawings of trees, and their trunk was a real trunk. It was solid. I said yeah [in that deep voice that is so unique to him and his music], they have roots."
At that moment, his ten-year-old daughter pops her head into the kitchen, letting in a bit of cold air from the outside. Dinner is almost ready. Gougou jumps on my knees to say hello.
"Everything happens through food," Kunigis says. "I'm sure the first meeting between humans was around a meal. Adam and Even shared an apple, not a movie, not a story. Food is important to me because I've met hunger in my life. That kind of puts food right up there. I think this was my way of expressing myself.
"It's my yoga."
It's a taste of harmony. That's how Paul Kunigis blends into the world.
CR
LISTEN to Paul Kunigis performing Czarna Kawa (Black Coffee) in February 2013; he wrote the lyrics and the music:
*Want to try making bigos, a traditional and delicious Polish stew? Here are the ingredients:
1 cabbage
2 cans of sauerkraut (rinse well)
1 spanish onion pricked with cloves
3 smoked veal wieners (the thick ones)
500 gr. kielbasa
3 Debrezni (Hungarian sausages)
500gr. of a spicy sausage (the paprika ones are good)
Smoked bacon
2 smoked pork shins
2 apples peeled, cored and quartered
12 peeled dried prunes
2 cups broth (chicken is good)
Paprika
Allspice
Thyme Peppercorns
Bay leaves
salt
sugar (optional)
And cooking instructions can be found here. Smacznego!