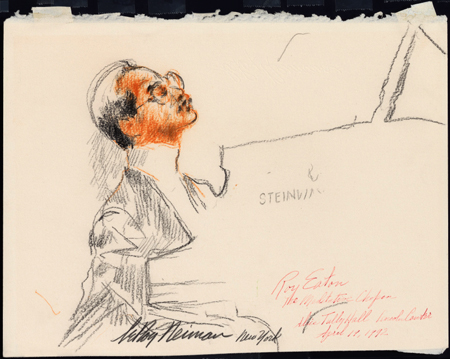 "Chopin is the Polish spirit; but you must also listen to the silence that follows the music."
I am speaking to Roy Eaton, the first winner of the Kościuszko Foundation Chopin competition, back in 1950, whom I met last August at the Quo Vadis Conference in Montreal. We exchanged only a few words, just enough to make me wish we'd had more time.
"Why must we listen to the silence?"
"Because the spirit in Chopin is non-verbal," he explains.
We continue the discussion about Chopin and Poles, and return to the Polish spirit. It arose out of Poland's history of adversity. That, in Mr. Eaton's view, is the key to the miraculous possibility of the Polish presence in the world.  Chopin composed his music in adversity. He was an exile; his country had been taken away from him, so adversity ultimately proved to be a gift that inspired his music.
The Polish spirit has been exemplified in the Polish diaspora, in exiles such as Kościuszko who did not just fight for his own freedom but for that of others as well. He opposed slavery, not just in words, but with his actions. When he left America to return to Poland, Kościuszko left his estate in the care of his friend, Thomas Jefferson, with instructions that it be used to provide education for liberated slaves. Unfortunately, Jefferson betrayed that trust. It is particularly meaningful to Roy Eaton that he had won an award named for this Polish hero.
As an African-American, Roy learned that adversity was a part of life before he learned to play Chopin. His mother, a Jamaican immigrant, taught him at an early age that, "in order to get credit for 100 percent, you have to do 200 percent." Her insistence on excellence was matched by hard work and long hours in order to provide her son with an education. A piano was part of that.
He grew up on Edgecombe Avenue in Sugar Hill, a neighborhood in Harlem that was home to great African-American musicians, actors, artists and community leaders, among them Thurgood Marshall, W.E.B. DuBois, Count Basie, Duke Ellington and Lena Horne. It was a community that allowed children to grow up at a remove from the surrounding racism, and encouraged them to succeed.
By the time Roy was six, he won his first award in music, presented to him by the great coloratura soprano, Lily Pons, at Carnegie Hall, an event that also marked his debut on the concert stage. After graduating from New York's High School of Music and Art, Roy pulled off another 200 percent, graduation from both CCNY and The Manhattan School of Music. In 1950, he won the Kościuszko Foundation's Chopin Competition, an award that came with an engagement to play with the Chicago Symphony.
This was 1950, and the classical music establishment was not all that welcoming to a black classical pianist. A decade earlier, Marian Anderson had been denied permission to perform at Constitution Hall in Washington, a disgraceful act by an organization dedicated to the ideals of the Declaration of Independence, the Daughters of the American Revolution. It took Eleanor Roosevelt to engineer an open-air concert on the steps of the Lincoln Memorial, which attracted an audience of 75,000 people. But it was not until 1955 that Anderson was invited to sing with the Metropolitan Opera.
Meanwhile, the gift of adversity continued giving. Drafted in 1955, Roy's two-year stint in the army gave him an opportunity to work for an army radio station, and that gave him the skills needed later when he went looking for a job.
Since the door to a career in classical music was closed, Roy offered his services to advertising, and landed a job with the biggest ad agency of the time, Young and Rubicam.
"Was the advertising world more welcoming?' I asked.
Not really, not at first. But talent, skill, and determination launched a successful career in advertising and he became one of the Mad Men at Young & Rubicam. He composed 80 percent of the music for Y&R, and made some great friends. He eventually moved on to Benton & Bowles as music director and finally opened his own music company where he continued composing some of the best music in advertising, including the music for Michael Jackson in the anti-drunk driving campaign for which Jackson was presented with an award by President Reagan. In 2010, Roy Eaton was inducted into The Advertising Hall of Fame.
But the passion for classical music never left him. In 1986 his solo concert at Lincoln Center's Alice Tully Hall, "The Meditative Chopin," got rave reviews. A New York Times review by Tim Page wrote that Roy brought the audience "…closer to the heart of Chopin – and by extension to music itself."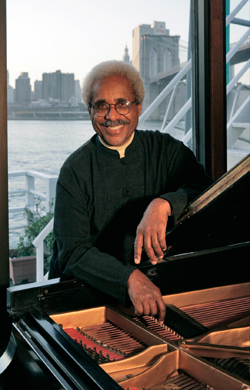 Roy continues to perform, in New York and around the world, and still finds time for many pro bono recitals; and is on the faculty of the Manhattan School of Music. And he was a juror at the 2013 Kościuszko Foundation Chopin Competition (won by Yilan Zhao).
His many recordings include "The Meditative Chopin" followed closely by "The Joyful Joplin," two composers close to his heart, and "Keyboard Classics for Children," – he is the proud father of 11-year old twins.  Anyone who has had the opportunity to meet Roy Eaton, however briefly, will note that meditative and joyful bring you close to the essence of this strong, talented, resilient and gentle man.
It is little wonder that so many of the young participants at the Quo Vadis conference told me that, "Roy Eaton is awesome! Definitely the best speaker." Indeed.
Listen to Roy performing Chopin's Fantasie Impromptu:
CR