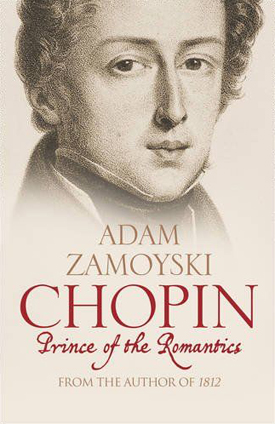 CHOPIN: Prince of the Romantics
By Adam Zamoyski
HarperCollins Publishers
February 2012
In one of the first letters to his father, young Frederick Chopin complained that his feelings could only be fully expressed through music. And, only a skillful biographer can persuasively transcribe Chopin's turbulent life and his indescribable music into words. Adam Zamoyski does just that in Chopin: Prince of the Romantics. In this new edition of his book, Zamoyski, a historian and an expert on the Napoleonic era, has thoroughly revised and updated Chopin's biography with new research and findings that have come to light since its first publication in 1979. The book's scholarly quality, however, is graced by a gripping narrative making this goldmine of information a pleasure to read.
Zamoyski recounts Chopin's life with sharp observation, psychological insight and gentle humor, creating a picture of a multifaceted artist, but most of all, of a credible human being. Going beyond the well-known or milestone events, such as Chopin's travels, the self-inflicted exile in Paris, or his relationship with George Sand, the author describes the composer's daily life, such as frequenting Parisian museums and local music stores or cafes. While noting Chopin's love for fine clothes and other luxuries, he gives more attention to his generosity and compassion, his assistance to his compatriots and fellow artists, devoting his talent (and money) to charitable causes. Zamoyski's Polish background, his expertise in Polish history and culture, as well as his extensive research, enable him to describe the setting, while his study of Chopin's letters in Polish provides compelling arguments about the composer's complex personality well beyond what is common knowledge.
He shows how Chopin's lack of proficiency in French (revealed through his analysis of Chopin's French letters) caused Chopin's isolation and his craving for Polish companionship. Still, Zamoyski never imposes his opinion on the reader. In his observations about Chopin's health, for instance, Zamoyski questions whether Chopin indeed died from tuberculosis, drawing from recent findings about other ailments, but leaves the final judgment to the reader. Zamoyski's narrative is warm and full of charm, especially in the description of Chopin's personal relationships, with his family, women and friends. His depiction of the falling-in-love between Chopin and George Sand is mesmerizing, though still rooted in common sense. Zamoyski's account of Chopin's music is equally riveting, without being too technical. He provides appealing descriptions of Chopin's creative process and inspirations. His convincing analysis of the influence of folk music on Chopin's compositions is poetic, but by no means sentimental. He recounts the composer's regular visits to the Parisian opera house and thus identifies one of the fundamental keys to understanding Chopin's music. He admired and respected Bach, Mozart and Handel but he denounced Beethoven as "vulgar," "obscure" and "lacking coherence." In this light, the subtitle of the book, "Prince of the Romantics" seems confusing.
Given his colorful lifestyle, sickly disposition, and premature death, Chopin does fall into the category (or stereotype, if you will) of a Romantic, but he definitely dissociated himself from the Romantic movement of the 19th century. The subtitle is misleading, or perhaps intentionally provocative?
It would be instructive to put Zamoyski's book in context of other valued Chopin's biographies, and what better company than Chopin in Paris by Ted Szulc and Chopin: the Man and his Music by James Huneker. All three authors share passion for factual accuracy, taking care to distinguish between well-founded and anecdotal details, as well as between the real, human Chopin and the glorified idol. All three realize the importance of painting the historical and cultural milieu. While Huneker, with his exhaustive study of Chopin's work, can definitely appeal to musicians and musicologists, Zamoyski's book has a more universal appeal and is superior to both on many levels. Zamoyski's multilingualism (English, Polish, French, Russian and Italian) allows for a wider-ranging bibliography, which, together with his profound understanding of Polish culture, help Zamoyski create a picture of Chopin's mind, character and circumstances that goes further and deeper than Huneker's or Szulc's (even though Szulc was born in Warsaw). We will not find misspelled proper names in Zamoyski's book, while Huneker's spelling (especially of Polish last names) is often inconsistent or plainly careless, and his picture of Poles, stereotyped. Zamoyski gives more attention to certain aspects of Chopin's life, such as his relationship with the famous painter Eugene Delacroix and their mutual influence. Also, his psychological analysis seems more convincing than Szulc's, which seems overly psychiatric. Zamoyski's writing style is elegant, seamless and engaging (Huneker's is often chaotic and Szulc's, digressive). Overall, Chopin: Prince of the Romantics is comprehensive and captivating, and quite possibly the finest biography of Chopin ever penned.
CR