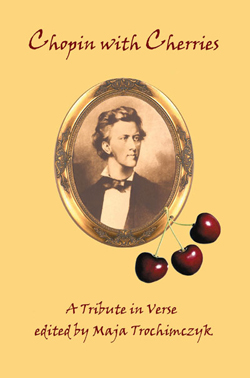 Selected poems from
Chopin with Cherries: A Tribute in Verse
Moonrise Press, 2010, ed. Maja Trochimczyk
Illustrated in color with 48 vintage postcards
Chopin
By William Pillin
Gautier wrote: "His soul weeps and hovers."
I prefer Nietzsche's "in him joy is ascendant."
It is easy to spit clichés at him:
effeminate, tearful, sylph-like . . .
"Sick-room poet" hissed envious Field,
ignoring the tough musical sinews,
the brooding rebellious rages
and the political passions.
True, his wit was exquisite and birdlike
but he knew how to summon the Furies
and spoke for his ravaged nation
in accents as daring as any.
He was elegant and consumptive.
He was successful in the world
and rejoiced over his triumphs.
He loved pretty women – and was loved by them.
*
White and wasting he dotted
with splashes of blood his lunar pages,
carrying death like a singing bird
in his chest, his tissue held together
by dreams and bacilli.  "I used to find him,"
wrote George Sand, "late at night at his piano,
pale, with haggard eyes, his hair almost standing,
and it was some minutes before he knew me."
In Majorca, the doctors
shuddered at his blood-flecked mouth,
burned his belongings, compelled him
to take refuge in a former monastery.
"My stone cell is shaped like a coffin.
You can roar – but always in silence."
When it stormed he wrote the 'raindrop' prelude
and from the thunder he fashioned an étude.
*
"I work a lot," he wrote to his sister,
"I cross out all the time, I cough without measure."
With death's hand on his slender shoulder
he created ballades, études, nocturnes.
Who wrested
so much from torment?  Fading swiftly
he continued to color his silences,
a condemned man refusing a blindfold.
If he sometimes wept – it was from love, not weakness.
He felt all his life the wing of death's angel
brushing in their sleep the embracing lovers.
Can one truly sing without this terrible knowledge?
*
Of the many men who were haunted
by the night, its gardens and fountains,
who fathomed it as truly as this Ariel of preludes?
The piano shakes like a leaf in the darkness.
The night breathes and triumphs.
Stars and sea-winds
drift through the open window.  The ineffable nocturnes
float away like farewell whispers.
Polonaise
By Elisabeth Murawski
In the museum, along
with first editions,
the death mask, the chair
whose arms he gripped
in coughing fits,
a lock of yellow hair.
Was it Sand who clipped it
for a keepsake? She
who whispered
Let me be your lightning rod
as Chopin played
for her ears only,
courting the angels,
stealing the shine
from the Seine. Think
of his wish (a drastic
death certificate)
to have his body opened
that I not be buried alive,
of his heart taken home
to a Warsaw church,
of the grave in Père Lachaise
brilliant with roses
and candles, baskets
laden with fruit, of notes
plucked from his roots
that go on singing.
Ruby and Sapphire
By Kerri Buckley
Evening belongs to Chopin,
crimson silks and sparkling wines, trails of smoke
From balconies, stiff, rustling fabrics of
tailored suits, perfume, chocolate truffles rolled in
Waxed paper cones, shiny as diamonds, as pearls,
and the music – notes one breathes in, holds fully
So it might never
be forgotten, sound of richness, of ruby, of sapphire,
Elegant nod to all refined things,
to the ivory on a piano key, thrown from a window
Into a golden glitter of leaves by Russian soldiers
A Study with Cherries
By Maja Trochimczyk
After Etude in C Major, Op. 10, No. 1 and the cherry orchard
of my grandparents, Stanisław and Marianna Wajszczuk
I want a cherry,
a rich, sweet cherry
to sprinkle its dark notes
on my skin, like rainy preludes
drizzling through the air.
Followed by the echoes
of the piano, I climb
a cherry tree to find rest
between fragile branches
and relish the red perfection –
morning cherry music.
Satiated, sleepy,
I hide in the dusty attic.
I crack open the shell
of a walnut to peel
the bitter skin off,
revealing white flesh –
a study in C Major.
Tasted in reverie,
the harmonies seep
through light-filled cracks
between weathered beams
in Grandma's daily ritual
of Chopin at noon.
Concerto No. 1, in E minor
on Highway 111, Palm Springs
By Ruth Nolan
Lifted, by the sudden desert wind
just east of Palm Springs
rounding Windy Point, 2 a.m.
could sprinkle those stars the way
your hands caress the keyboard
of your mother's piano until the lid slams
shut and father's voice commands you
to stop the noise, stop the noise
Caressed, by the windy desert mid-night,
tickling your hair as you lean
your head against the open window
tantalizes your imagination, you are 12 again
and your hands, together, devour the major
and minor keys until you are one
with the dark void, foot pressing down,
long chords that will linger into dawn
Hugged with warmth, this rushing air
blowing ghosted windmill blades
a 13,000 foot mountain in your eyes
voicing the crisp leaps up and down dorm
stairs with your first boyfriend, who taught
you that this was the musical master, after
all, and it all rushes back to you, this
Styled by elegance of motion, staccato, fortissimo
cresting on the car stereo as you leapfrog
between the lines on the highway
between the spaces of darkness and sound,
blown across the sand dunes into magnificence
Artsy Evening
By Ryan Mclellan
E Major magician,
Chopin, are you listening?
Downloaded your music
for free
because I heard
on Public Radio
that you were "bi-polar"
the clips from
your compositions were
convincing
enough
to spike an interest –
As we prepared
our veggie stir-fry,
she said,
"You seem really –
I don't know – down"
and I heard
a piano
amidst the crackling
of dinner, silverware,
an old LP
and the summer
heat –
Chopin in an Old Church
By Rick Lupert
The pianist performs humble as a river
We are in one of Paris' oldest churches
built when the memory of Jesus was young
like America
You can hear every noise,
the scuffling of a foot
the scratching of my pen
the dueling concertos
from the piano
and someone's cell phone
The acoustics of a stone cathedral
make you feel like you're there
The pianist's fingers
are as confident as rain
Sewing with Chopin
By Katrin Talbot
As needle and thread
quieted the hem,
Mazurkas
too sad to dance to
serenaded my stitching
and the aching sadness
urged me to keep sewing
all through the day,
mending moments of
heartbreak, hope deferred,
misty loss
while I sat across from Chopin
and listened attentively
as he spoke so eloquently
of the advantages of
a delicate
life