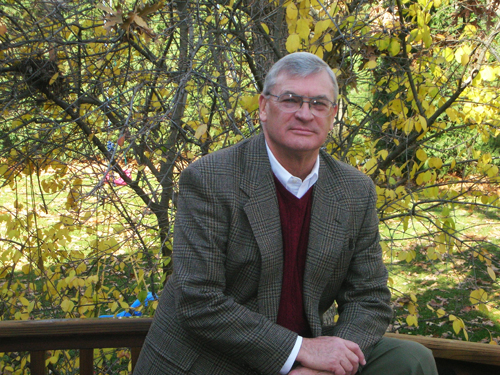 Doug Jacobson is a fourth-generation American with Polish roots through his mother's side and Norwegian-Irish on his father's. It took a trip to Belgium to spark an interest in Polish history.
"My daughter married a Belgian and lives in Antwerp. It was during a visit there that I heard stories about the Belgian occupation from her in-laws, who still remembered those times. I had always been interested in history, especially World War II history, but my interest was centered pretty much on the American role in it. After these conversation, I got very interested in the European story," Jacobson told
C

R
.
"As I started reading a lot more about what happened in Europe, I realized how much had happened in Poland, and yet how little we know about it. The more I read about Poland, the more interesting it got. And the more I realized how misrepresented it often is."
It was the lack of knowledge that struck him the most, the easy and oft repeated dismissal of Poland's great contribution to the allied cause. "What really got me was the way people often say that Poland was 'easily overrun," without really knowing how much resistance the Poles put up, and against what odds."
It bothered Jacobson that it is rarely mentioned that Poland held out about as long as France did, but the Poles fought alone against both Nazi Germany and Soviet Russia, while France had help from the British – not to mention the Poles who managed to escape and regroup in France – and France only had Germany to deal with.
Jacobson, an engineer by education, spent his working life in business and if anyone had told him, years ago, that he would some day write a novel, he would have thought they were crazy.
Now, with his second novel launched and doing well, he is pretty surprised himself. Surprised and pleased. "Fiction is a very good way to educate people. I do a lot of book events and what arouses the most questions is Poland. People just say they didn't know all that."
Jacobson is kept quite busy with invitations to book clubs, Rotary and Kiwanis groups, church groups, all kinds of groups you'd find an any community. They're not Polish groups, just the usual Americans with the usual mix of ethnicities somewhere in the background.
Reading about Poland aroused an interest in his Polish heritage, something he had never given much thought to until then. He doesn't speak Polish though he has a vague memory of his mother and grandmother occasionally speaking the language. Growing up in Milwaukee's north side, he never had any contact with the Polish community.
A great many Polish-Americans eventually lost touch with their community, forgot the language, and even lost the connection. History, In Jacobson's opinion, is a great way to reconnect. Not just because it's personally satisfying, but because this history is too important to forget.
C

R
By Douglas W. Jacobs
May 2011