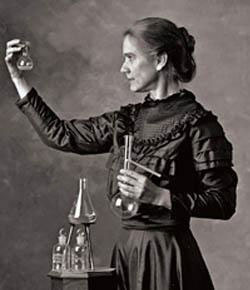 Scientist, actor, and spellbinding storyteller, Susan Marie Frontczak creates unique dramas in which she assumes her roles so convincingly that at the end, her enthusiastic audiences find themselves engaging in dialogue with the character she is portraying, directing their questions and comments not to Frontczak but to Marie Skłodowska Curie, or to Eleanor Roosevelt or Mary Shelley.
Performing in San Francisco recently, she was Skłodowska-Curie – renowned scientist, a passionate wife and companion, a dedicated teacher, a much loved mother, and a vehemently private person with a marvelous sense of humor.
Frontczak, who abandoned her career as an engineer at Hewlett-Packard to establish Storysmith, her one woman theatre company, writes her own scripts which she researches extensively, often for two or three years. For Skłodowska-Curie, she went to Paris to study the scientist's lab books and letters in order to get beyond the well-known facts and to immerse herself in Skłodowska-Curie's style and vocabulary. "I wanted the piece to be scientifically accurate but also understandable to nonscientists, " says Frontczak. "I wanted people to realize, 'Oh, this was a real human being.'"
To date, Manya, The Living History of Marie Skłodowska Curie has been performed over 275 times, and Frontczak already has bookings into October of 2012. Her invitations to Europe have taken her to general audiences in Poland, France, Italy, Austria and the Slovak Republic, but also to scientific institutes, among them the Niels Bohr Institute in Copenhagen, Denmark; The Technorama Science Center in Zurich, Switzerland; and the Marie Curie Hospice in Glasgow, Scotland. In the US, she has been hosted by The Chemical Heritage Foundation in Philadelphia, The American Chemical Society in San Diego, the American Museum of Science and Energy in Oakridge, TN; The Jefferson National Accelerator in Newport News VA, and the Fermi National Accelerator Laboratory in Batavia IL, and schools, universities community groups all over the country.
Manya, The Living History of Marie Skłodowska Curie is set in Paris, in a salon where Curie, already a two-time Nobel winner, is addressing a group of potential supporters for Curie's mobile X-ray units that she wants to take to French field hospitals during the first world war. The tone is conversational, informal; she is, after all, speaking to a fairly small group of people gathered in a private home. She is so convincing and engaging that the audience soon feels a part of this Parisian salon.
Different themes run through the show. Having established a rapport with her audience, Manya broaches many subjects, seamlessly blending the personal and the political. France is at war with Germany and at risk of being defeated. Manya recalls Poland's fate during the partitions. Can anyone imagine having one's language banned? She recalls with pride the secret, "flying" universities where she could study in Polish. Raising her daughters in France, she ensured they learned to speak Polish.
As a scientist she waged a constant struggle for funds, for lab space – but never for public attention. Her life, she said, "was altogether ruined by honors and fame." Still, the plaques and awards served some purpose: she gave them to her children to play with.
Science is the omnipresent, great passion. Can anything be more beautiful than radium, than polonium? Is there any greater adventure than science? The audience is caught in this excitement, the scientists and future scientists eventually engaging "Manya" in discussions, asking questions, which Frontczak handles with ease.
In one amusing exchange, she quotes from Curie's writing: "We used the adjoining yard for chemical operations that produce clouds of hydrogen sulfide and other irritating gases. But when it rained, we brought these inside." Those in the audience who are familiar with chemistry react with horror, knowing just how dangerous that was. Another time, she notes that the lab was less of a challenge than the kitchen, and she never mastered the art of cooking.
Frontczak's performance is magnificent, bringing the scientist to life with intelligence, warmth and wit – and with a charming Polish accent that even Meryl Streep would sit up and notice. The minimal props are minimal but effective, especially the glowing radium.
The Polish Arts and Culture Foundation in San Francisco, with the financial support of the Mickiewicz family, is to be commended for bringing Manya to the San Francisco Public Library. I encourage Polish American groups everywhere to give their own communities a treat – and an education – and sponsor a performance, joining together with their local schools, universities and public libraries.
For more information, visit Frontczak's website.
CR