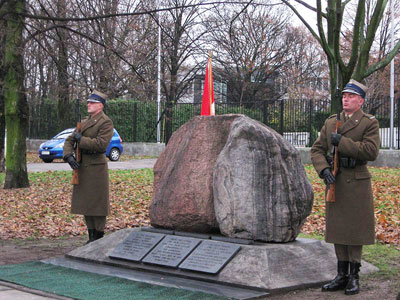 There's no more potent symbol of my heritage as a Polish-Canadian writer, than Toronto's Katyń memorial which sits overlooking Lake Ontario at the foot of Roncesvalles Avenue. A block of stone, hewn in two as if by lightning, it symbolizes not only the tearing asunder of one nation, but the destruction of an entire world's illusion of wholeness. It's a terrible reminder of the events that have shaped us, and a challenge to build again.
But how? Polish schools, folk dance groups and harcerstwo-—the staples of most exile communities—-are well and good, but they're all about looking backwards to a Poland superficially defined by folklore and youth activities, and to a nation frozen in time from the moment our parents or grandparents left it. They offer me a wealth of surface colour and anecdote, but they don't help me answer the key question: "What do I as a Polish-Canadian, bring to the table in the North American cultural context?"
To be sure, there are the stories. As I said in my last piece for CR, it took me half a lifetime to start capturing them in my story collection Copernicus Avenue. But the act of writing compels me to probe beneath the surface of the tales of persecution, atrocity and exile that I grew up with, and to look for the images, ideas and experiences from "over there" that resonate with my sense of who I am "over here."
I look for resonances in the politics and the history of the two countries. At least in principle, there's a symmetry between the Polish-Lithuanian Commonwealth of the 17th century—a federation of two nations founded on ideals of tolerance for the minorities within its borders—and the federal, French-English, multicultural country I've grown up in. The extent to which Poland realized that vision is certainly debatable, but here in Canada, when I share a stage with Russo-Latvian-Jewish-Canadian writer David Bezmogis, or compare notes with Lithuanian-Canadian novelist Antanas Sileika, I feel a spark of recognition, and I like to think that, maybe this time, we're getting it right.
Canada may have fared better than Poland in having the U.S. as a neighbour and Britain as her one-time colonial overseer, but I see a parallel in our national experiences as secondary powers. We both know something of what it is to live in the shadows, and to have our voices drowned out in the clamour of more imperialistic nations. Perhaps that's why we've both felt the need, especially in time of war, to compensate for a lack of political clout by showing the world "what we're made of" in displays of personal mettle and moral courage. It seems fitting that Polish and Canadian troops often fought side by side during World War II—in the Battle of Britain, in Normandy, and in Italy, often volunteering for brutal assignments such as Monte Cassino or Dieppe.
But underneath the historical similarities there's a deeper synergy between Canadian and Polish stories: an experience of "nowhereness."
At the beginning of Copernicus Avenue, family patriarch Tadeusz Mienkiewicz surveys the tawdry pastiche of borrowed architectural styles in his Toronto neighbourhood and expresses his frustration at what he describes as his adopted country's "refusal to be." In the era of McLuhan's Global Village, the idea that we can forge a European-style ethnocentric national consciousness in Canada seems a little absurd. "Where is here?" we Canadians ask ourselves as we look out the Airbus window and take in miles upon hundreds of miles of lakes, mountains, seas, tundra, prairies, badlands, and forests, most of it uninhabited. The vastness and variety of the landscape defies definition. It is a "nowhere place" that dwarfs us and resists our attempts name it.
I liken this Canadian experience of vastness to the Polish experience of flux. In the curtain speech to his 1896 proto-absurdist play Ubu Roi French playwright Alfred Jarry said that the play "takes place in Poland—that is to say, nowhere." At the time, Poland was under partition and didn't appear on any map. This is a country whose borders had extended from the Baltic to the Black Sea at certain points in history only to disappear completely at others. Where, exactly, is Poland as a historical and cultural concept? The world my father knew in the Pripet marshes has disappeared, along with the Polish life of Lwow and Wilno, now Lviv and Vilnius behind the frontiers of former Soviet republics. In Wroclaw, the veneer of Polish culture over the city's Germanic foundations sometimes feels as tenuous the moss that clings to the Canadian shield. No wonder the Poles have such a healthy sense of the absurd.
In my early twenties, I discovered the writing of Gombrowicz and Witkacy. I dabbled in the anti-literary theatrical theory of Jerzy Grotowski, and devoured Polish avant-garde theatre on my visits to Warsaw and Krakow. This was the heyday of cultural nationalism at home, but these Polish artists spoke more directly to my experience as a Canadian than the historical docudramas and kitchen sink realism that were the staples of Canlit and Canada's alternative theatre of the day.
I don't try to write like Gombrowicz or Witkacy, but I feel that this sense of "nowhereness"— of the tenuousness and the contingency of ideas—is what I bring to the table. As the rogue conceptual artist Lech says in Copernicus Avenue, "here . . . is nowhere. And that is a good, good place to be." To me, the fissure in the Katyn monument is a reminder of the limits to rationalism, nationalism, communism, capitalism, to all the "isms" humanity relied on to orient itself leading up to the cataclysms of the last century. That reminder is a good place to start rebuilding a sense of who—and where—I am.
CR
Photo:
The Two Rocks monument at the Canadian embassy in Warsaw, Poland, commemorating the Canadian and Polish soldiers who fought side-by-side during the Second World War. One rock was taken from Wilno, Ontario, the other from the Kashubian region of Poland. Taken at the Embassy of Canada in Poland.
* Jarry's play was adapted as Ubu Król, a film satire of Poland's post-communist political scene, by Piotr Szulkin in 2003.