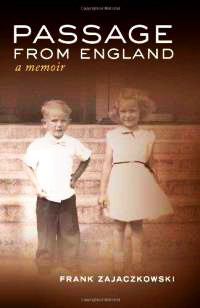 Passage From England: A Memoir
Frank Zajaczkowski
February 17, 2010
ISBN-10: 145054990X ISBN-13: 978-1450549905
PTSD. Post-Traumatic Stress Disorder. To whom did WWII veterans, who certainly suffered from this syndrome, turn for assistance? The term was not in vogue in the 40s. "Men were men" and former soldiers endured. Silently. Whole families were impacted, but most were ashamed to admit to, or speak of, depression and wary to be labeled "weak." And what of the wives and children who lived with these men? How were they impacted?
How much worse were the psychological repercussions for Polish WWII veterans and their families? Young and vibrant men, who had lived intensely and risked all to defend their homeland, who had fought in the underground, against Nazis and Soviet invaders, who had flown with the RAF, who had joined forces with the Allies to defend their country… How was their service acknowledged, honored, validated? It wasn't. For Polish soldiers, the betrayal by the Allies at Yalta was wrenching – salt in gaping wounds. Some took their own lives.
Post WWII, the American, British and Soviet governments (the "big three") ceded Poland to Soviet control in February 1945 at the infamous Yalta Conference. The United States was represented by Franklin D. Roosevelt, Great Britain by Winston Churchill, and the Soviet Union by Josef Stalin.
Poles were denied recognition for their valor, excluded from the Victory Parade in England. Polish soldiers found themselves exiled in English-speaking countries, where the language and customs were foreign. Family ties were severed. At home in Poland, parents and grandparents who survived the war were never seen again. A visit to Poland meant probable imprisonment, or worse yet, exile to Siberia. England "invited" Polish veterans to emigrate to Australia, New Zealand, Canada and the United States. Some did. Some stayed in England and Scotland. Some married Polish women who were also veterans – female survivors of the 60-day 1944 Warsaw Uprising and others who fought with Polish forces in Europe. Others married local women. Western host countries, eager to appease Stalin, and those sympathetic to Soviet objectives, silenced Polish voices.
It is popular today to join support groups. Alcoholics and addicts, victims of sexual abuse, those afflicted with disease… today there are innumerable groups of like-sufferers to validate and support the wounded. There are ancillary groups for suffering family members. The children of Holocaust survivors have banded together for support. But only recently have the children of Polish survivors of the War and Soviet labor camps in Siberia (not just those of Jewish descent) begun to speak. Books by veterans themselves, some self-published and poorly edited, attest to the longing to be heard, the longing, by a group long neglected or forgotten, to tell their story.
Which brings us to Frank Zajączkowski's new book, Passage From England.
As the title suggests, Zajączkowski's book is a tale of travel, rites of passage, and an exploration of the meaning of "home." At its core, it is a story of forgiveness and love, told with a hint of amusement and wonder ("Did I really survive all this?" Did others, too?"). Frank is a survivor – the product of a depressed father, and two war-displaced parents. In this well-crafted, well-edited book, Zajączkowski tells us, with humor and pathos, how he survived his childhood.
Born in England, to an exiled Polish Catholic father (WWII veteran) and a Protestant English mother (who converts to Catholicism for his father's sake), Frank's "rites of passage" begin with departure from his beloved "Nanny" (his maternal grandmother), his father (who stays behind in England for a time) and his home in Lincoln, England to embark, with his mother, older brother John and sister Mary, for America. Frank's dreams of America clash with reality – the harsh circumstances of a working-class immigrant family living in a world with few friends, no extended family, and desperate for a foothold in 1950s southern California. Disillusion, disappointment, longing, and a sense of "otherness" gradually recede as Frank resigns himself to life in America. A highly intelligent, resourceful, sensitive young boy, he adapts. But not completely. There are scars.
For those of a certain generation, the references to music, television, and the social mores of 1960s America (Frank's adolescence) will resonate, particularly for those who grew up in southern California. That California is no longer, in the same way that the England of Frank's early childhood is no longer, and the Europe of Frank's parents is gone.
Fast forward through the growing years. Frank survives childhood, impacted strongly by an alcoholic and sometimes violent father (Zdzisław, aka Jack, Zajączkowski) (who never completely masters the English language), the dissolution of his parents' marriage, a Mexican (Protestant) step-father, and the desertion of his mother (Frances Beckett), who takes with her, to Texas, Frank's California-born youngest brother, Michael. Zajączkowski describes his adolescent crushes and sexual initiation, and the joy of finding his soul mate.
Zajączkowski's life partner is of Jewish heritage, and their union (another passage) distances him further from his Polish Catholic roots. Neither set of parents is terribly pleased with the inter-faith marriage – differing religious ideologies and the clashing narratives of Polish/Jewish history coloring their judgment.
Grown-up Frank seeks to reconcile childhood memories of his deceased parents with stories and photos of his parents' early lives that hint of something different, of people unknown. Middle-aged, married, and with two successful children of his own (who plan to change their surname), Frank embarks on a mid-life passage – life in the Virgin Islands (a trial home) and later, a visit to England. In England, Frank attempts to reconstruct the lives of his parents. What were their lives like? Were they happy? What did they dream? What were they forced to abandon? What did they suffer?
Zajączkowski turns the spotlight on his Polish/English roots, learning the proper Polish pronunciation of his surname (or an approximation thereof) and revisiting his old haunts, and those of his parents, in England. His search does not include a visit to Poland, but Zajączkowski interviews a Polish comrade or two of his father while in England.
Returning to the Virgin Islands from England, homesickness sets in. Homesickness for Los Angeles. With a foot in England and by extension, Poland, a foot in Los Angeles and ties to the Virgin Islands, Frank Zajączkowski, like his father before him, feels torn. Ultimately, he and his wife opt for two homes – one in southern California, where his sons, relatives and close friends live, and a second home in the Virgin Islands. The ties of friendship and love were forged in both places. For Frank's generation, this is an option. For his parents and their peers, owning two homes in widely disparate locations was an option denied. Once uprooted, few Poles displaced by war saw their homes again. The only time Frank saw his father cry, and perhaps the only time his father did cry, as an adult, was when he received the news of his mother's death in Poland. Nor was "Nanny," his English grandmother, ever seen again. The pain of loss was wrenching, the barrier of distance insurmountable.
Given the tone of this narrative, the life experiences of the author, and growing awareness of the effects of trauma, loss, displacement and isolation on mental health, the reader senses that Zajączkowski has empathy for his parents, gratitude for their fortitude and bravery, and forgiveness for their parental shortcomings and consequent family dysfunction. Zajączkowski has a gift for describing detail, character and emotion, and he tells his tale with kindness and humor. This book is an important addition to the body of literature about the immigrant experience in America and the impact of wounded lives on the next generation.
CR