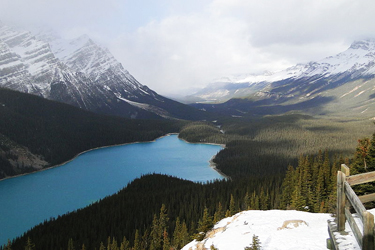 MONTREAL – True friends are known in misfortune, author Adam Mickiewicz wrote. What about true Poles? They are often found far from their homeland, busy looking for their roots as exiles. And there is no better place to be an uprooted Pole (or polonophile) than at Poland in the Rockies, a biennial conference taking place in Canmore, Western Canada.
"Poland in the Rockies is the best Polish summer school that I have encountered," said returning speaker and historian Norman Davies.
Sleep seemed like a waste of time when 44 students had 10 days and 11 nights to explore "things Polish" through lectures by world-renowned speakers followed by passionate exchanges with other participants over a campfire or during a hike. The setting? Canmore, a quaint little town in the province of Alberta, surrounded by breath-taking mountains and deep blue lakes.
Why would I go to bed when I could spend the evening showering Norman Davies with questions about the Partitions, the Polish-Soviet war or his new book, No Simple Victory, and then spend the night discussing a South African student's love affair with Poland, which began with an anthology of postwar Polish poetry that arrived unexpectedly on her doorstep? Or pondering whether the generally despised General Jaruzelski, responsible for enforcing Martial Law in 1981, was actually more beneficial to Poland than most of us think, thanks to one Greek student's paper enriching perspective of our history?
And that's when I wasn't attending Bill Johnston's translating workshop (Johnston is the director of the Center for Polish Studies in Bloomington, Indiana), Wanda Urbanska's talk on integrating her Polish self into her American show, Simple Living, or BBC producer Wanda Koscia's documentary about the Warsaw Rising. Participants also delighted in the company of Andrzej Rabczenko, Minister Counselor for Education at the Polish Embassy in Washington, DC, and historian Piotr Wrobel from the University of Toronto, who treated us to historical backgrounders ranging from the Piasts to Solidarity, while John Micgiel, director of the Center for the Study of Europe briefed us on Poland's current geopolitical situation.
"The program is invaluable for the way it develops, without any set agenda or bias, networks of young, informed leaders who are uniquely positioned to improve Polish foreign relations on the ground, whether in Poland itself or abroad," said 25-year-old Judith Browne from South Africa.
The program also had a cultural side, with Edward Mozejko from the University of Alberta, who had the tough task of briefing students about the rich array of Polish literature. Lynn Lubamersky from Boise State University let us in on why Polish women are different, while 21-year-old Detroit actress Marissa Thorndyke brought to life one young underground resister's courage by interpreting Inside a Gestapo Prison: The Letters of Krystyna Wituska, translated from Polish by Irene Tomaszewski. Emerging Halifax filmmaker Eric Bednarski presented two documentaries: MDM about Warsaw's Soviet-era architecture, and Postcard from Auschwitz about his uncle's ordeal in the German concentration camp.
"The program provides a wide and complex view of Poland, exploring various pieces of history, culture, and heritage," said Justine Jablonska, a participant from Chicago. "I loved being able to delve into details of wartime and the Communist era, and being able to dissect highly sensitive issues such as Polish-Jewish (or Jewish-Polish) relations."
Eli Rubinstein's story-telling evening allowed Poland in the Rockies participants and members of the Jewish community to build bridges between two groups who share a long but sometimes difficult history. Rubenstein, who is the National Director of the March of the Living in Canada, told several stories – some traditional Chassidic tales, others related to the Holocaust. With the help of a guitar and group singing, he spoke of the importance of learning about and from one another in order to promote understanding.
Not only were the speakers top-notch, the caliber of the students, coming from Canada, the United States, Great Britain and even South Africa, was impressive. From future doctors and young actors to sociologists and literary critics, a wealth of backgrounds and experiences were represented.
Jakub Sawicki, a 22-year-old medicine student from Queen's University, admitted Poland in the Rockies has been the best experience of his university career: "I haven't been involved in something like this with so many amazing individuals all in one place. Having to focus basically solely on academics for a long time now, I'm ashamed to say I've neglected a lot of my "Polishness" and what being Polish means to me. Connecting with the people and feeling the passion of the speakers talk about our country, our mutual history and understanding truly helped put things into perspective. Above all, it gave me a renewed sense of meaning in life, which is so easily lost in the rush of the North American world."
The conference would have been incomplete without the central question of identity, about which John Bukowczyk from Wayne State University gave us some background. What does it mean to have a hyphenated identity, to be Polish-Canadian or Polish-American? Is it a question of language, culture, blood? Or is it simply enough to feel Polish? For me, more important than my Polish heritage was the possibility to share and discuss my curiosity about Poland's history, culture, politics and traditions with students sharing this interest.
Katarzyna Gajewska, a 22-year-old University of Calgary student and participant at the program concluded that it is vital people keep in touch with their roots and nurture a curiosity about the world. "There is a lot to learn from our history, music, arts and identity. Being able to communicate to others about our identity and traditions will provide an overall better understanding and tolerance for each other. Knowing ourselves first allows us to know others more deeply," she said.
Poland in the Rockies, which ran its third edition from July 17-28, is the brainchild of Calgary-based lawyer Tony Muszynski and Montreal-based author Irene Tomaszewski. "There are very few universities [in North America] that offer anything in Polish studies. So we thought that something with great speakers, set in the Rocky Mountains, and bringing together students from all over the continent, would be just perfect," Tomaszewski said.
"After Poland in the Rockies, most alumni are quite resolved to be more open about their Polishness. They are more capable to enter discussions about their Polish background and the history of their homeland. They are self-confident, rooted in a long established tradition and not just immigrants without a past," she added.
22-year-old Marta Rzechowka from the Canadian Armed forces said she hopes to bring some of the issues raised in the conference into her contemporary life to share the information with fellow students and associates.
After participating in Poland in the Rockies 2006, I developed this confidence Tomaszewski described. I embraced my dual Polish-Canadian identity and became involved with the Canadian Foundation for Polish Studies alongside other alumni, organizing lectures, movie screenings, radio interviews and writing articles about Polish-Canadian issues. I returned to Poland in the Rockies this year and witnessed the growing success of and enthusiasm for the program. It is true you must know where you come from to know where you're going, and sometimes you have to look far from home to find the knowledge sought for such a journey. The Canadian Rockies seem like a good start for hyphenated identities…
CR
This article originally appeared in The White Eagle newspaper.
Imagery
View from Peyto Lake Lookout – Rocky Mountains – Alberta – Canada by Adam Jones, Ph.D.