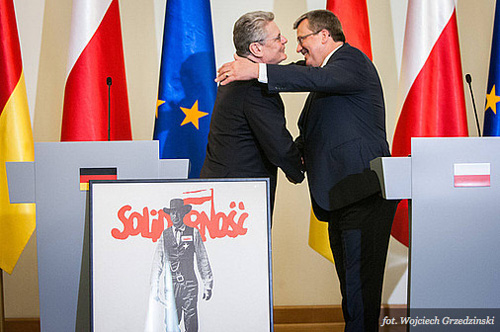 In March of this year, Germany's new president, Joachim Gauck, made his first foreign visit to Poland, a gesture not only of significant symbolic importance but also a mark of genuine friendship between the two countries, a decision, he said, that "came from the heart."
In a joint news conference with President Bronisław Komorowski, President Glauck said, "For me, Poland is the European country of freedom," and Solidarity was a great inspiration to him when he lived in East Germany. "Our peaceful revolution in the former East Germany was only possible because our Polish neighbours showed that it was possible to fight for freedom." He added, "I am an older German, born during the war, and deeply remember the changing history and the brutality of Germans before my time toward Poland."
For his part, President Komorowski, who presented Glauck with the famous Solidarity poster featuring Gary Cooper, stressed that Polish-German relations are based on true reconciliation and friendship and go much deeper than superficial diplomatic ties.
Photo: Wojciech Grzedzinski / www.president.pl
---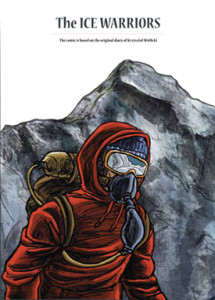 The recently published Ice Warriors tells the story of Polish mountaineer Krzysztof Wielicki, who made the world's first ever winter ascent of Mount Everest in 1980 – successfully ascending, along with Leszek Cichy, more than 8,000 meters in frigid cold and wind and snow.
The comic book, published by Poland's Adam Mickiewicz Institute, is based on Krzysztof Wielicki's original diary. It's the first book published in this format by the Institute, and is available in both Polish and English.
Related Articles in CR:
---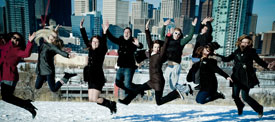 59 6f 75 20 61 72 65 20 69 6e 76 69 74 65 64 20 74 6f 20 51 56 34
Translated from ASCII, this means "You are invited to QV4," and is sent to you by Antoni Kowalczewski on behalf of the Quo Vadis 4 conference, Calgary and Canmore, Alberta, scheduled for August 17–19, 2012.
Antoni Kowalczewski, who serves as Panel Director for the QV4, is a computer scientist who describes his job as one in which you can start with nothing and create an environment that is engaging, interactive and socially beneficial. The only limits of this environment are your imagination and creativity.
The 2012 QV4 in Alberta, open to Polish Canadians aged 18-35, has as its theme, entrepreneurship, the dynamic spirit that enables one to create something from nothing, "be it business or social. And in this field your profession or vocation is irrelevant, what matters most is your willingness to create an impact."
"So if you are looking for a spark or a support network, or more importantly are willing to support others in their ventures," this is the place for you.
---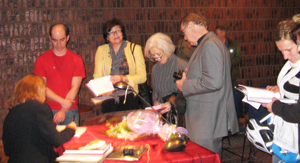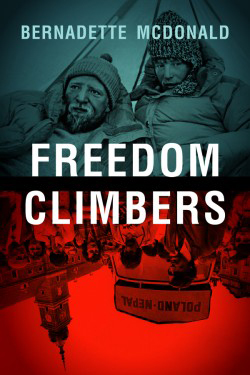 Freedom Climbers is Bernadette McDonald's triple award winning book about Polish mountain climbers: The Grand Prize at the Banff Mountain Book Festival, the American Alpine Association's Literary Award and Britain's prestigious Boardman Tasker Prize for outstanding mountain literature.McDonald's non-stop book tour in the U.S. and Canada was interrupted in March when she went to Poland to launch the Polish edition, Ucieczka na Szczyt.
Read a review of Freedom Climbersin CR.
Top photo: Author Bernadette McDonald signs Freedom Climbers at the Consulate General of Poland in Montreal, April 2012.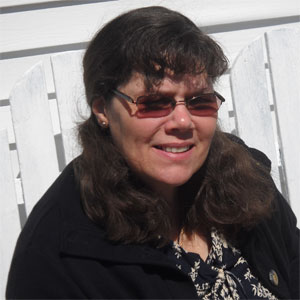 ---
The Slavic Performing Arts Heritage Festival at Luzerne County Community College in Shamokin, Pennsylvania sponsored for the first time this year a writing competition. Submissions, original works or critiques of published works of Eastern European prose or poetry, were adjudicated by Ruth Bonnie Pajka, Assistant Professor of English at Luzerne. The prize, donated by Vincent Chesney, included an award of $250.00 and a copy of Inside a Gestapo Prison: the Letters of Krystyna Wituska, published by Wayne State University Press.
The winner, Christine Delaplace (photo), a Luzerne student in the Social Sciences-History Department (Nanticoke Campus), lives in Moscow, PA. She enjoys quilting and other needle arts, and has a penchant for writing poems with little lines and rhymes.
Matka
by Christine Delaplace
In Memoriam: Dedicated to the memory of my uncle, Jan Tomczak,1922-1983, survivor of the Flossenbürg Concentration Camp in Germany, prisoner #17874. 
Jan lost his entire family, in Zgierz, Poland, for harboring and protecting Jewish people during WWII. Following his liberation by American forces in 1945, Jan immigrated to America, married my Aunt and had three children.
O, Jan said she
little Jan, little man
as he tasted the spoon of
potato soup, warm and steaming
In the cold, alone was he
and thought of her again
sounds of the milk bucket handle
two cows lowing in pasture
tears falling down his face
O, Jan said she
little Jan, little man
as he tasted her bread
buttered sweet, warm and steaming
In the cold, alone was he
and thought of her again,
hunger came in waves once more
lips were parched and dried
tears falling down his face
O Jan, said she
little Jan, little man
so long ago, not long to go
would he ever see her again?
Men in striped clothing
granite blocks and quarry rocks
wire fences, guards with guns
and a sign, Arbeit macht frei:
Work makes you free.